South Cobb Students Welcome Local Police for Cookout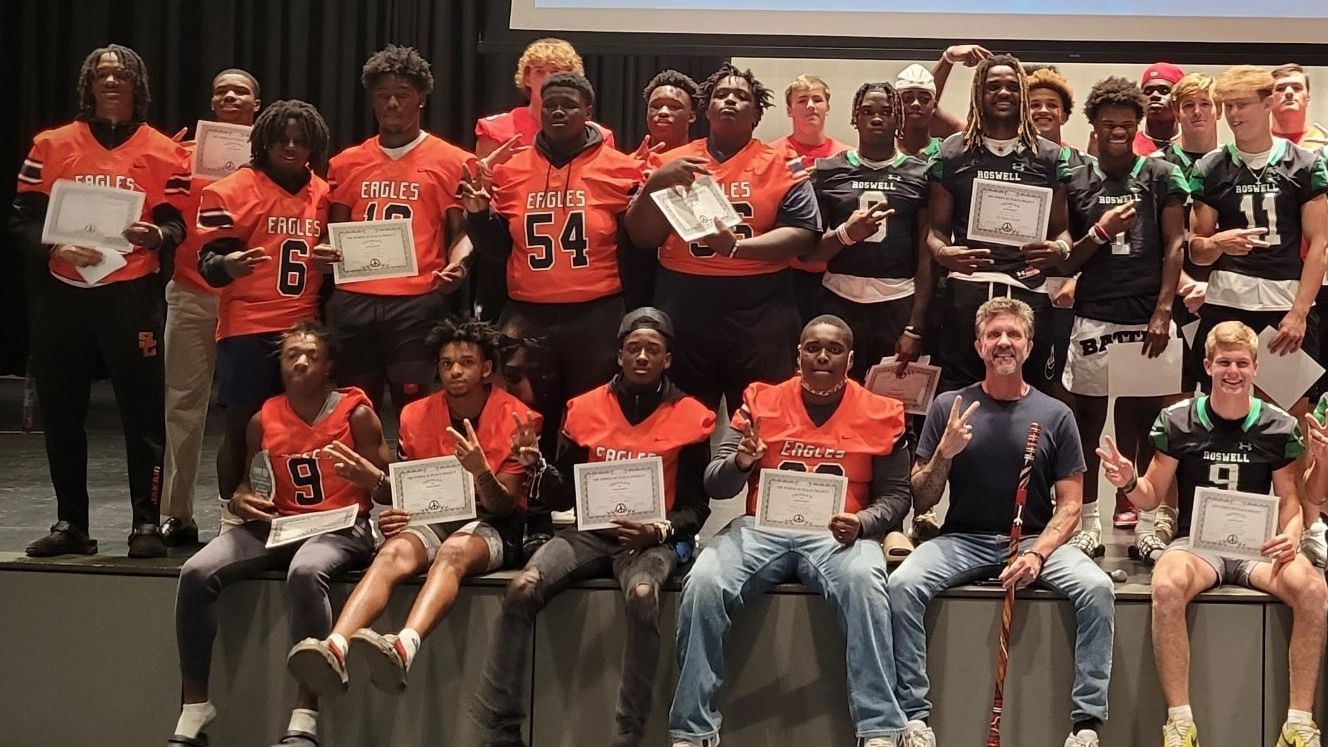 Kit Cummings' Power of Peace Project (POPP) has been doing great work in the Atlanta community generally and Cobb Schools specifically for many years. His most recent event was at Traymore Village in Austell, which brought together athletes from South Cobb High School and Cobb County Police for a cookout, swimming, and a cornhole tournament.
South Cobb is one of the schools participating in POPP's "Protect the Dream" campaign that seeks to bring together students and positive role models for better understanding. Forty participants from the school have gone through a 40-day course. The eight-week time is spent learning, discussing, and getting active in the community. Among other things, students learn character and leadership development, how to set goals, design big dreams, and develop healthy accountability. Above all, students are taught how to protect their dreams at all costs.
Protect the Dream asks students to focus on what they want in their future and to identify "dream killers" that may derail that dream. Instead of letting negative influences dictate the future, Protect the Dream teaches students to be intentional about their lives every day and make decisions that will get them closer to making that dream a reality.
"Hope is the new dope," said Kit Cummings. "I'm so proud of these South Cobb kids for bringing their community together. This wasn't easy for them, but they rose above what some of their friends and rivals might think of them and chose to set an example of respect for authorities for the little ones."
"The decision to make this event happen came from the students," he continued. "They chose 'Unhealthy Relationships' as their summer focus. They graduated from the program along with two other schools this past weekend. We're trying to help these guys become positive role models for the next generation and to change the culture and leave a legacy!"
Kit Cummings believes that it's time to raise up a whole new generation of young men and women who respect their parents and elders and to help parents understand and relate to their kids. POPP and Protect the Dream are some of the ways he is carrying out that belief as his own life's work.
"The mindset behind this event was to show that law enforcement, student-athletes, and the community are all in this thing together and should support one another," said South Cobb principal Tommy Perry. "The fun and fellowship had by everyone is the norm of our South Cobb students and community, and we will be doing more events like this in the future."
One attendee at the cookout was Hicks Malonson, a member of the North Cobb Rotary. "Don't believe the folks in the blue and the kids in the jerseys can't get along," Mr. Malonson wrote in a Facebook post. "You had a former DA, former chief deputy, and the current chief of police join with South Cobb HS football to share life and hot dogs and hamburgers. C'mon. We can do this. I was blown away."