Cobb Schools Post Record High Graduation Rate, Outshine State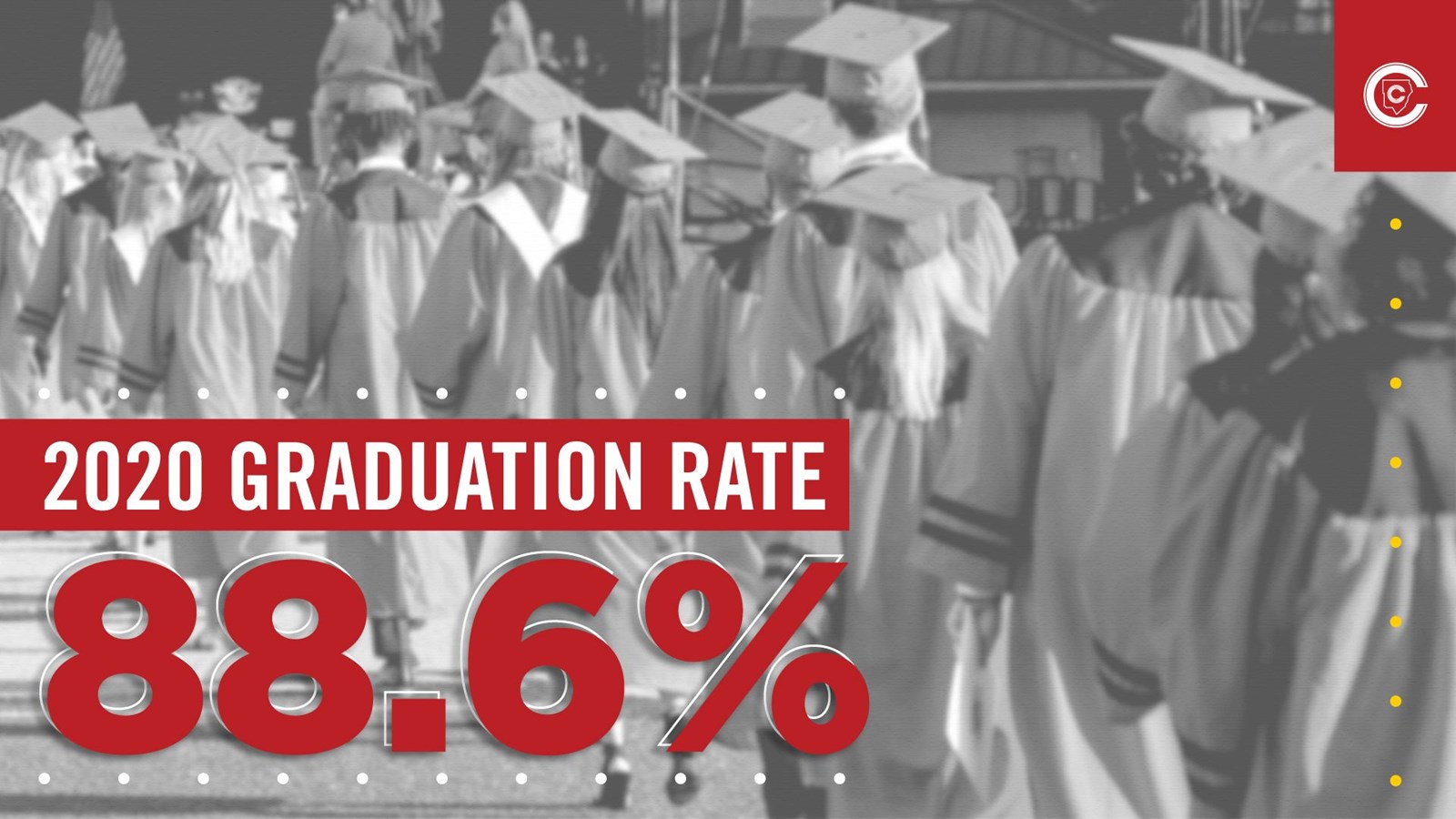 The Class of 2020 made history for more than how they wrapped up their final high school semester. Students in Cobb's Class of 2020 graduated at a higher rate than past Cobb graduates. Thanks to the continued support and leadership of the Cobb County Board of Education and Superintendent Chris Ragsdale, the Class of 2020 earned a graduation rate of 88.6 %—a 1.6 percentage point increase from 2019. This is the highest rate since the current method of measuring the graduation rate began in 2012.
Cobb's graduates also topped the state's graduation rate of 83.8% by 4.8 percentage points.
"No matter the challenges this year, our teachers and principals have helped a record number of Cobb students reach the graduation stage. The highest graduation rate in District history is evidence of our One Team's commitment to student success, even during a school year when our students, staff, and communities were faced with every possible obstacle," said Cobb Schools Superintendent Chris Ragsdale.
Cobb Schools was one of only two large metro District's to outpace the State's graduation rate: Atlanta (80.3%), Clayton (76.6%), Cobb (88.6%), Dekalb (76%), Fulton (85.5%), Gwinnett (83.2%), and Marietta City (83.7%). Cobb led the large metro districts by as much as 12.6 points. Cobb topped the next closest district by 4.9 points. While Cobb once again increased its rate at which students graduate, some metro districts slipped backward.
Harrison High School posted the highest graduation rate of 98.3%. Four other Cobb high schools were close behind: Lassiter High School (97.6%), Walton High School (97.5%), Hillgrove High School (96.4%), and Pope High School (95.8%). In total, ten Cobb high schools earned a graduate rate of 91% or higher.
"Our graduation rate is a testament to our culture here at Harrison and the relationships that we have with our students. Our entire faculty and staff, as well as our parents, are all deeply committed to the well-being and academic success of every student. We are also very thankful to our feeder schools who send us students who are well-prepared for the challenges of high school. No matter what is going on in the outer world, we promise to uphold our entire community's unwavering commitment to student success," said Harrison Principal Ashlynn Campbell.
Lassiter principal, Dr. Chris Richie, also praised Cobb's elementary and middle schools for their contributions to preparing students for success. "Over the years, we've had a focused collaborative effort to make sure all of our students are working toward their academic goals. The message begins in our feeder schools and is reinforced throughout our community. Setting college and career-ready goals is a consistent theme that our students, parents, teachers, and community embrace. Graduation rate is a tremendous reflection of the great work and values that our entire learning community places on education," Dr. Richie said.
The Cobb Schools graduation rate has risen by 7.2 points since 2015, and the graduation rate for five schools increased by more than 10 points over the same period, with Sprayberry High School posting the highest increase of 17 points. Campbell High School and McEachern High School pushed up their graduation rate by 16.5 and 13.8 points, respectively. Osborne High School's rate rose by 12.8 points while Wheeler High School jumped by 10.1-points overall, including a 2.8-point jump from 2019.
Fifteen schools in Cobb increased their graduation rate compared to 2019. The highest increases went to South Cobb High School (7.4 points), North Cobb High School (4.5 points), Pebblebrook High School (3.4 points), Kell High School (3.1 points), and Osborne High School (3 points).
As federally mandated, the Cobb Schools graduation rate of 88.6% includes students who were expected to graduate in 2020 and were enrolled for even a single day in the District. However, if the graduation rate were calculated based on students who were enrolled a minimum of two years in the District, the "real graduation rate" would increase to 94% and soar to 99.1% for students enrolled all four years in a Cobb School.