Awtrey's Late Work Plan UPDATED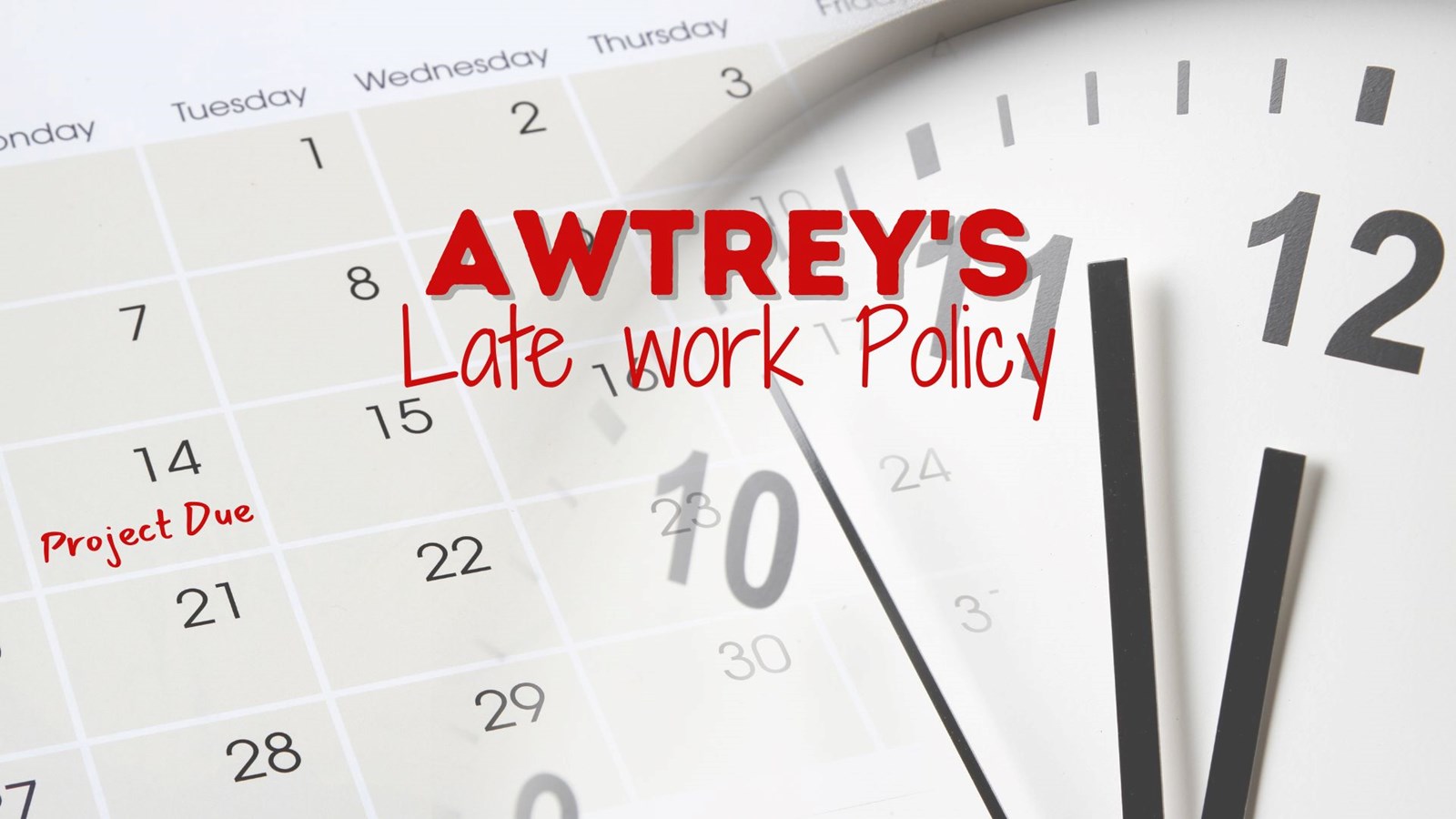 Thank you for the team effort to support our students with turning in assigned work on time. Completing assignments on time will help maximize the learning process. To further support realizing student potential and striving to model our vision of "Empowering Everyone to be the Best Version of Themselves", we appreciate your support with the following late work plan.
Our late work plan is meant for those assignments that are not homework or summative assessments. If homework is graded, it counts for no more than 5% of a student's grade, and late homework will not receive credit. Late homework will receive feedback only. Summative assessments (i.e., unit tests, performance tasks…) must always be completed, and if needed, alternative assessments may be provided to students to assess mastery of the content standards.
Other assignments/assessments that are meant to be formative (i.e., help to inform the learning process) can be submitted late for credit. Students will receive ONE OPPORTUNITY each 4½ weeks progress report period in each class to turn in these assignments late for FULL CREDIT when it is turned in within 2 SCHOOL DAYS from the original due date. While a "0" will initially be recorded in the grade book and coded as missing, the earned grade will be replaced when the extended deadline of two days is met.
When a student has a second (third, fourth…) incident of not submitting these assignments on time within the same 4½ weeks progress report period, an ADDITIONAL REQUIREMENT must be met for students to earn FULL CREDIT. A student is still offered to turn in these assignments within two school days of the original due date, and they must also serve an AFTERSCHOOL DETENTION within one week of the original deadline. Our goal is to help students receive full credit to reflect their earned achievement while supporting them by earning appropriate consequences for their choices.
Afterschool detentions are offered on TUESDAYS and THURSDAYS from 4:30-5:30. Students may sign-up by visiting our school website for the registration link (under the "Resources" tab) or using the provided links in the teachers' digital classrooms. The extended deadline requirement of two school days must still be met, and credit can be earned once the afterschool detention is served within one week of the original deadline. A "0" score will remain if a detention is not served, and it is the student's responsibility to schedule this detention.
Thank you for contacting the respective teacher for any late work questions or concerns, and we welcome contact with an administrator for any exceptional situations that arise that may warrant additional consideration. We appreciate our team effort to support our students for success in middle school and beyond!
Click below for afterschool detention registration (links also available on our school website and in the teachers' CTLS digital classrooms):