Report card for first six weeks - posted to CTLS 9/13
Good afternoon Campbell families,
We wanted to inform you that on Friday, September 9, the first six weeks grading period ended. Teachers have posted grades, and the report card for the first six weeks is now available to view on Parentvue and Studentvue. If you have any questions or concerns, please reach out to the classroom teacher or your student's counselor.
There are 12 weeks remaining in the semester, so students have plenty of time to pull up their grades. Students have the opportunity to attend Power Surge on certain Saturdays to makeup their assignments, work on missing work or missing tests. Content teachers will be available to assist with assignments. Students are asked to bring their laptops. The dates and subjects covered are on the attached Power Surge Flyer. Please make sure that your student takes advantage of this opportunity. Dr. Watkins
posted to CTLS 9/11
Parents/Guardians,
We want to thank everyone who helped to make last week's Homecoming festivities a huge success! Friday's Pep Rally was an overwhelmingly exciting event for all 2,900 students in the Gwyn-McClure gym as we celebrated all of our fall sports athletes, cheerleaders and dancers. Our varsity football team and coaches led us to victory over Miller Grove 34-30 at Friday's football game. Finally, all grade levels participated in the Homecoming dance on Saturday night and students had a great time in a safe space. A special thank you to all of our parents/guardians for picking up your student in a timely manner after both the football and the dance.
Parents, we know that a lot of information is being shared and we have worked really hard to centralize communication. Please share the information in each newsletter with your student. We don't want our students to miss out.
Power Surge Saturdays are back! Students can work on missed assignments/assessments with content teachers from 9-noon on specified Saturdays. Our first Power Surge will be for English and Science classes on September 17th! No registration is needed - please enter by the main office. There is a flyer attached with the dates.
Thank you,
Dr. Watkins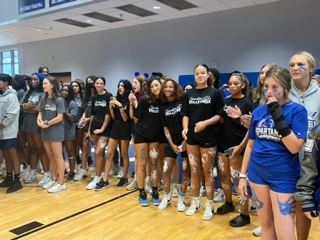 Announcements and Shout outs
IB Potluck Dinner - Wednesday, September 21st. 6:30-8pm in the CHS Cafeteria *RSVP on link sent via Remind by Monday, September 19th*
We Need You! If you are interested in volunteering , we have an opportunity for you. We will be conducting hearing and vision screenings during the first week of November. If you are interested in helping, please contact Dr. Estes at dannette.estes@cobbk12.org Online training and an in-person assessment is required.
Class Dues. Friendly reminder that Class Dues are due on MyPaymentsPlus and due by Sept 15th. Freshmen - $30;Sophomore $40; Junior - $50; Senior - $60
Don't Miss OUT. Buy your yearbook today!
Information from the CHS PTSA-
Counselor's Corner
Information is attached regarding standardized testing requirements at Georgia public colleges and universities.
College Info Night 09/22/22 6pm-8pm; Location: the PAC; Various Topics will be discussed.
The dates and times for the SAT/ACT are attached. Both tests are college entrance exams and all students are encouraged to register and take both or either of these tests.
If you have any questions about Dual Enrollment, please contact our counselor Jana.loftin@cobbk12.org
College Financing Seminar
Free financial aid panel being offered by Study Point Tutoring: Virtual panel: Wednesday, 09/14/22. Featuring experts on college financing. This panel will provide inside tips to make things easier as parents and students navigate the college application process. Registration and attendance are free, and it will be a great opportunity for parents to gain insights on navigating Financial Aid options, tips for maximizing merit aid awards, and advice on how to make savvy decisions that can lower their overall tuition bill. Study Point is hosting a free webinar on Wednesday, September 14th at 8:00pm ET / 5:00pm PT that brings together Financial Aid experts to share their insights on decision-making strategies to lower your overall tuition bill. They'll discuss how and when to tackle financial aid forms and applications; how to maximize your merit-based aid through scholarships and other sources; and the financial factors you should consider when looking at colleges.
Learn more and register at https://site.studypoint.com/event124. If you can't attend the webinar at that time, you should still register to receive a recording of it.
Katy Langhorst President StudyPoint Tutoring 1-877-883-9764 www.studypoint.com.
https://teams.microsoft.com/l/message/19:9052267d30814ca0a23ddd45f83fbcf0@thread.skype/1662045570716?tenantId=2fce1dfb-919f-4938-aab8-c47f0fc9182d&groupId=45c66086-4f3c-4d48-8f9b-097b01925dbe&parentMessageId=1662045570716&teamName=High School Counselors&channelName=General&createdTime=1662045570716&allowXTenantAccess=false
Advanced Placement (AP) Exams:
Registration/payment for AP Testing begins September 6. If your student is enrolled in an AP Class for fall semester, he/she will be receiving information this week from their teachers regarding registration and payment for exams. Fall semester and year-long classes will have until November 13 to register for their exams. If you are taking AP classes in the spring, you will register and pay for those classes next semester. AP testing will take place in May.
ALL Senior Herff Jones Orders are due on November 18, 2022 through atlgrad.com. Please see flyer for details.