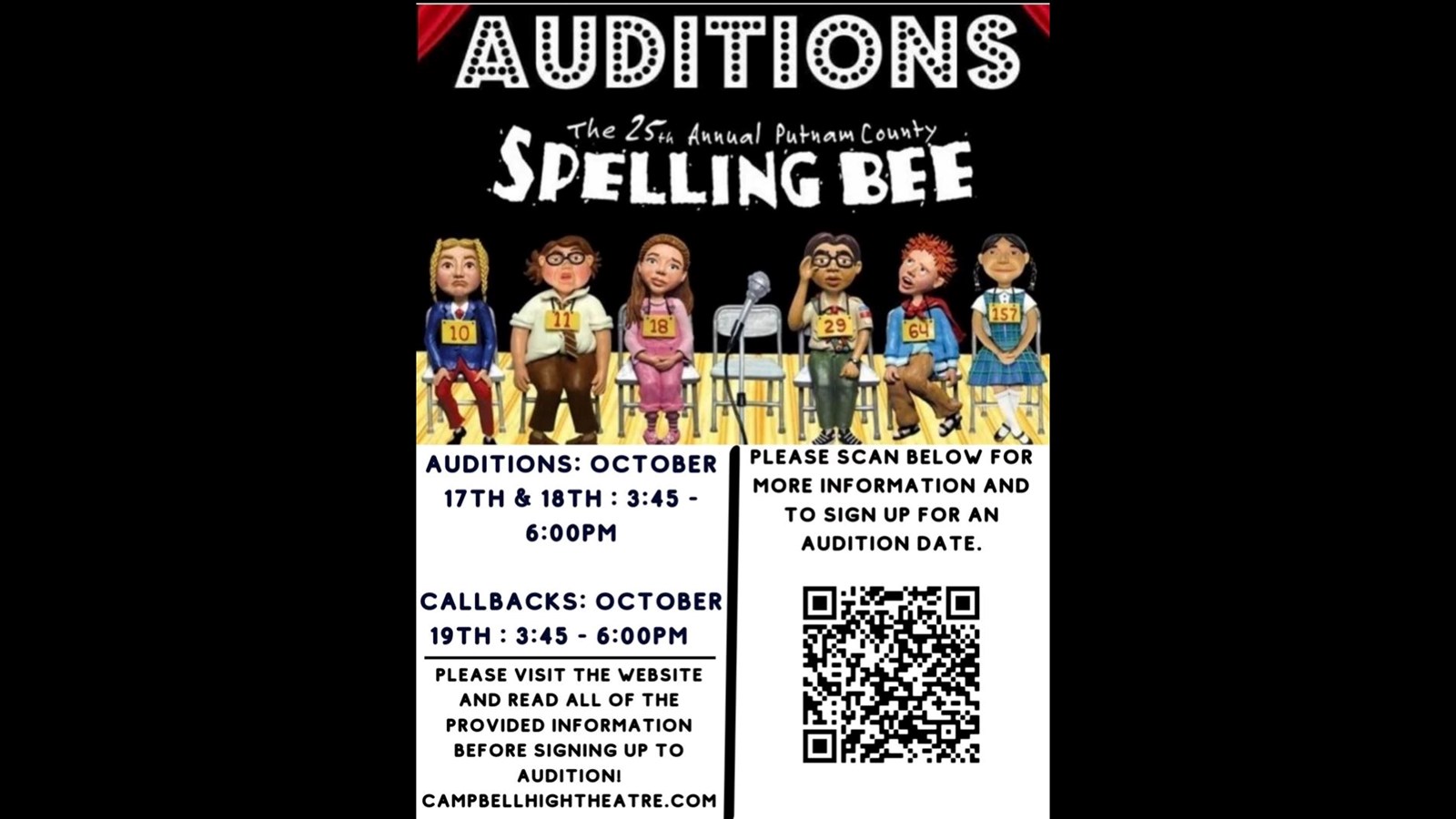 Parents/Guardians, Students, and Staff,
Parents, we need your assistance with encouraging your student to arrive to class on time. Students being tardy to class and skipping classes are the biggest discipline concern at Campbell HS. We know that when students are not in class that it is a safety concern, and they are not learning. The Principal's Student Advisory Council met this week for our second meeting of the year, and we decided for the second consecutive month to provide a reward to those students who arrive to each class on time. Last month, the time period was for two weeks. This time the time period will be for four weeks from October 17- November 11. The reward will be given on Thursday, November 17 during lunch time. Announcements were made to students last week, and we will continue with reminders. We ask that parents have conversations with your student about the importance of arriving to class on time especially when there are 8 minutes between each class period.
Campbell's Theater Arts students had three exceptional performances last week for their first play of the year- Antigone. We will let you know when they have their next performance so that you won't miss.
Thank you,
Dr. Watkins, Principal
ANNOUNCEMENTS
Turner Chapel AME College Fair. Turner Chapel AME Church will host their in person annual College Fair on November 5th from 11am to 3pm.
We are still waiting on the Spanish version of the PowerPoint slides from the College Information Night before we share both versions.
The Armed Services Vocational Aptitude Battery Test ASVAB will be given on Thursday, November 3, in room 306 (computer lab). ASVAB is phasing out their paper/pencil version and will be administering a computer-based version of the test. For that reason, we have limited space to the first 30 students to sign up, juniors or seniors only. The sign up is in flyer attached. Please let Jana.Loftin@cobbk12.org know if you have any questions.
Naviance is a delivery system and college/career search engine, but it also how we communicate with students, parents, and guardians, throughout the year. Specifically:

Your college application process begins with Naviance. Every college you apply to needs to be added to your Naviance account as well; Naviance is also where juniors & seniors use to sign up for college visits, because it's connected to the system that connects us with college admissions staff (through a system called "RepVisits").
Junior Advisement. Beginning on Tuesday, October 18th, the counselors will begin individual junior advisement meetings with students and parents. Passes will be sent to classes each block. It is very important for the teachers to send the students at the times indicated on the passes, so that we can remain on schedule. Here are the fall junior advisement dates: October 18th, October 20-28; November 7th, November 9-11. Parents will be signing in throughout the day to come to their scheduled appointments.
*Dual Enrollment Students: Mrs. Loftin will be contacting you about Junior Advisement.
The dates and times for the SAT/ACT are posted on the website. Both tests are college entrance exams and all students are encouraged to register and take both or either of these tests.
Advanced Placement (AP) Exams: Registration/payment for AP Testing begins September 6. If your student is enrolled in an AP Class for fall semester, he/she will be receiving information this week from their teachers regarding registration and payment for exams. Fall semester and year-long classes will have until November 13 to register for their exams. If you are taking AP classes in the spring, you will register and pay for those classes next semester. AP testing will take place in May.
ALL Senior Herff Jones Orders are due on November 18, 2022 through atlgrad.com.
Seniors, it is time to register to VOTE. Please read the flyer attached for more information.
We are so proud of several of Campbell's FFA students who have been participating and learning in competitive events across the north region last week.
Our Girls Fastpitch Softball Team did a collection for the CHS Comfort Closet and delivered the donations last week! The CHS Comfort Closet provides free personal care items for students and families in need. Students are able to access the Small Comforts Closets at any time to receive basic travel size toiletries and school supplies. There are 2 Small Comforts Closets on campus located by the Counseling Dept. suite and in Ms. Fain's office, who is our social worker. Families are able to visit the Comfort Closet to receive full sized personal & household care items by scheduling with Ms. Fain at Lara.Fain@cobbk12.org.
The Campbell Band Program would like to invite everyone to the Fall Band Concert on Thursday October 20 at 7pm in the PAC. Admission is free and doors will open to the public at 6:45pm.
Power Surge for Math and Social Studies classes will be held on Saturday, October 22nd from 9am until noon. Please bring work to complete and your laptop. Email Dr. Eaton if you have any questions (lisa.eaton@cobbk12.org)
Students are encouraged to participate in the Georgia Freedom to Read student essay & video contest. This contest concludes October 31st! We encourage all students to exercise their right to read! Read! Read! The Library Learning Commons is open to students throughout the school day and before school beginning at 7:30am. Please encourage students to come in and checkout a book! In addition, books are available for checkout 24 hours a day using the SORA app on a phone or personal computer. For more information about accessing eBooks, audiobooks, and more about the Campbell Learning Commons, go to our website www.campbellcommons.com. For more information about the Georgia Freedom to Read Essay & Video Contest, go to their website: https://sites.google.com/view/freedomtoreadgeorgia/home?authuser=0/
Auditions for the Spring Musical are coming soon. Please see the flyer for more information. You are able to scan the QR code to sign up for an audition slot. If you are in need of more information, please reach out to Mrs. Williams. lauren.williams@cobbk12.org
Attention Campbell Community the Campbell High School Chorus Program will present their fall concert "We Sing" on Tuesday October 18th at 7pm in the CHS Performing Arts Center. Admission is free.
Don't Miss OUT. Buy your yearbook today!