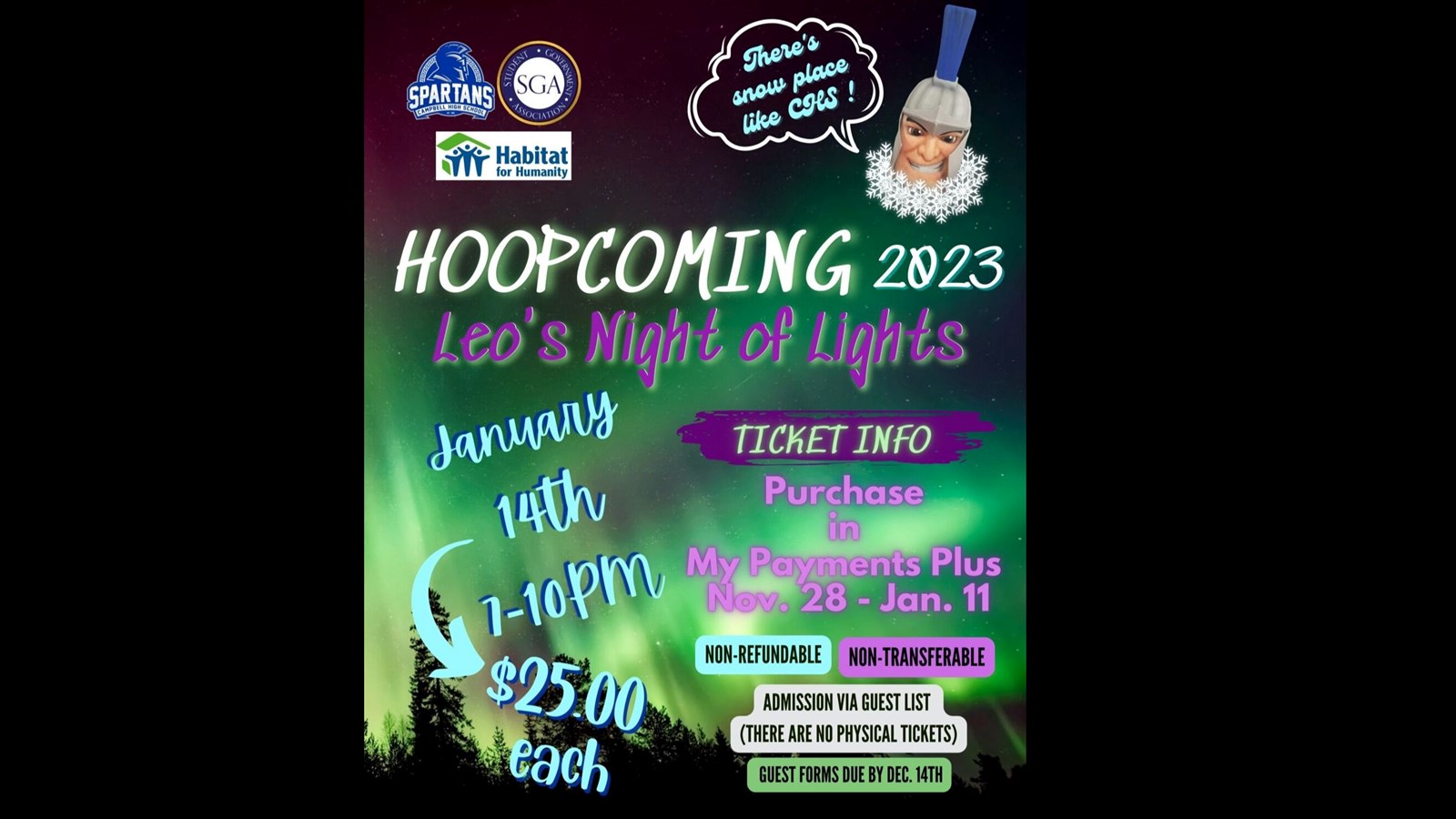 Parents/Guardians, Students, and Staff,
We hope that everyone had a blessed Thanksgiving break with your family and friends and that you all feel relaxed and ready to work hard to finish this semester strong and with a clear focus towards academic growth and success.
Parents are asked to please check your CTLS messages from the county. All parents are being asked to update your password for security purposes.
For the safety of all students, we want to remind parents and students that all students should leave the building each day no later than by 4 PM unless the student has tutoring or is involved with a club or sport and is under the supervision of a teacher after 4 PM each day.
A reminder to all of our parents and students that we will begin End of Course Tests (EOCs) on Tuesday, November 29. Students who are currently enrolled in American Literature, Algebra I, Biology, and US History will take the EOCs. Twenty-percent of students' grades will reflect the score received on the EOC. All students will be taking final exams the last few days of the semester and the information is below.
2022-2023 Fall Semester Final Exam Procedures:
All Final Exams will be Face to Face
No Final Exam Exemptions per Cobb County School District
Final Exams will count 10% - Ref. CCSD Administrative Rule IHAA-R Final Examinations
Exams will not be given early
Every class is required to take a Final Exam
Courses with an EOC test will have an assessment (unit test, project, etc.) at the scheduled time on the final exam day.
DATES to REMEMBER:
Virtual Day for ALL students- Tuesday, December 6 (Election Run-off)
Spartan Smalltalk with the Principal for Spanish Speaking Parents/Guardian- Wednesday, December 7 from 8:30-9:30 AM in the Media Center. Ms. Romero will help translate and a link will be sent.
Spartan Smalltalk with the Principal - Thursday, December 8 from 8:30-9:30 AM in the Media Center. A link will be sent.
Senior Announcements
The information below is for our parents of Seniors. Please read the information carefully.
Senior advisement activities took place before the Thanksgiving break. Any senior who did not get a chance to complete the graduation forms will have an opportunity to do so on Monday or Tuesday of this week. This process is very important and impacts a student's ability to participate in graduation.
Currently, the District has not set any graduation dates yet.
Order online at https://atlgrad.com/ Deadline has passed, but late orders accepted.
Announcements and Shout outs
Below are a few pictures from our International Festival held on November 18. We are so proud of our students and staff for working so hard to prepare a great program to celebrate Campbell's diversity and worldwide cultural representation.
Congratulations to the following students who are moving on to the next round of Georgia Honor's Program GHP interviews at the State level:

Communicative Arts: Zara Khan, Sandhya Rajesh, Abigail Streger, Fiona McDermott,
Math: Rachel Levin, Varsha Srinivasan
Science: Camila Cortes, Aarav Nagnur
Social Studies: Blair Berenson, Analice Bruce, Adelaida Jaramillo, Maariya Sheikh
World Languages: Sophie Henry, Kaila Li, Elio Mazzotta, Kori Robinson, Dia Sengupta
CTAE: Samiha Hossain
Dance: Sally Liu
Music: Manya Das
Visual Arts: Ashlyn Willis, Amy Tang

Power Surge tutoring for English and Science classes will be held on Dec. 3rd from 9am-noon. Please bring work to complete and your laptop. Enter the building by the main office.
Hoopcoming is Coming Soon!
Please read the flyers below and use the QR code for Court Nominations and to read about how you can purchase your ticket via My Payments Plus. Hoopcoming Dance Ticket Sales in MyPaymentsPlus; only 1000 tickets will be sold.