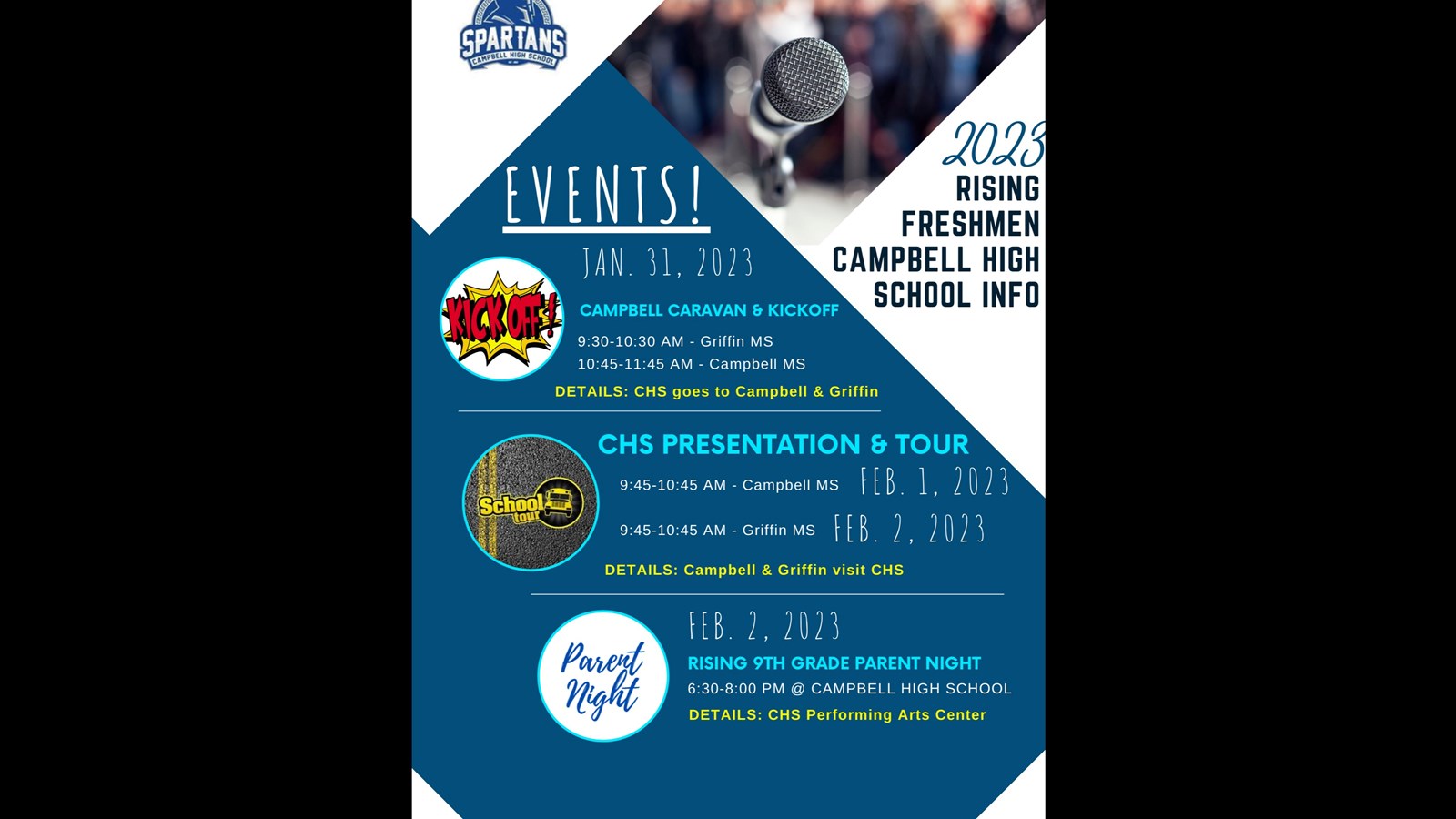 Parents/Guardians, Students, and Staff,
We successfully completed our first few days of the second semester of this school year. Students have one more day of advisement where they will be going to their homeroom classes to get schedule changes and adjustments to their schedules. We want to remind our parents and students that there is a process for schedule changes, and the process is posted below in the attachments with corrected counselor information. Parents who are concerned about their student's absences can monitor via Parentvue; parents concerned about student's tardies, please contact Ed.Shaner@cobbk12.org
If you are looking for an organization to make a donation before taxes are due, please consider making a donation to the Campbell High School (CHS) Foundation at: Donate to CHS Foundation. You can also contact the treasurer Jim Harris at irishjamr@gmail.com
We need parents/guardians input with our proposed Campbell Core Values. Please click the link below and complete the brief survey. Students and staff will also be asked to complete the survey. https://tinyurl.com/CHScoresurvey
We are excited to inform our school community that our third police officer has been hired, and he began last Tuesday. Officer Patrick Zsalay is located in the 2000 building with our 9th grade students.
For the safety of all students, we want to remind parents and students that all students are expected to leave the building each day no later than by 4 PM unless the student has tutoring or is involved with a club or sport and is under the supervision of a teacher after 4 PM each day.
Thank you,
Dr. Watkins
Senior News
Our CHS graduation ceremonies have been scheduled for Wednesday, May 24, at 3:30 PM, at the KSU Convocation Center.
Order online at https://atlgrad.com/ The deadline was November 18. Order now to take advantage of an $80 deposit (Orders have to be paid in full by 1/31/23).
Campbell IB News
We're proud to announce that, once again, Campbell IB students have EXCEEDED the national averages for Early Admission to both the University of Georgia and Georgia Tech. Congratulations! With many more college acceptances and offers to come, the Class of 2023 is off to a great start!
Academic Advisement - Save the date! We will send out the Sign-up Genius via Remind two weeks in advance, but you can save the dates now! Class of 2026 (rising 10th) - 1/23-2/2; Class of 2025 (rising 11th) - 3/7-3/15
IB Parents: If you have not signed up with the IB Booster Club, you could be missing out on important information from their newsletter. Please sign up on https://campbellib.membershiptoolkit.com/
We want to highlight the work of our students working with the CHS Water Project. If contribute to open a sanitized water source. Check it out here: https://thewaterproject.org/community/projects/kenya/spring-protection-wash-project-22087
OTHER
CAMPBELL OPEN HOUSE JANUARY 26...

Parking/Entrances Smyrna Powder Springs, Tiger, Performing Arts Center (PAC) parking lots. Greeters will be available to assist you with directions.
Students' Classroom Schedules Access your student's schedule through ParentVUE. Support will be available in the front office and the Learning Commons. Parents will follow students' schedules during the event.
On campus Support during Open House

Staff members, Administration and Student leaders will be available to assist you as you move throughout the building. Answers to questions/information concerning laptops, lunch applications, ParentVUE, Counseling will be available in the Learning Commons.

Reminder. Parents, please remember Open House is not a parent/teacher conference. Please feel free to leave your updated contact information with the teacher to schedule needed conferences at a later time.

If you are interested in playing Girls Lacrosse, please click on the form below and submit by January 15. Contact Sarah.Shaver@cobbk12.org. https://forms.gle/ow8DnZjVS3mNzZao7
Hoopcoming and Pep Rally is Friday, January 13. The dance scheduled for Saturday, January 14, has been canceled due to a low number of tickets sold (61). Refunds will be given.Don't Miss OUT. Buy your yearbook today!