Superintendent Ragsdale Announces Classroom Choice for 2021-2022 School Year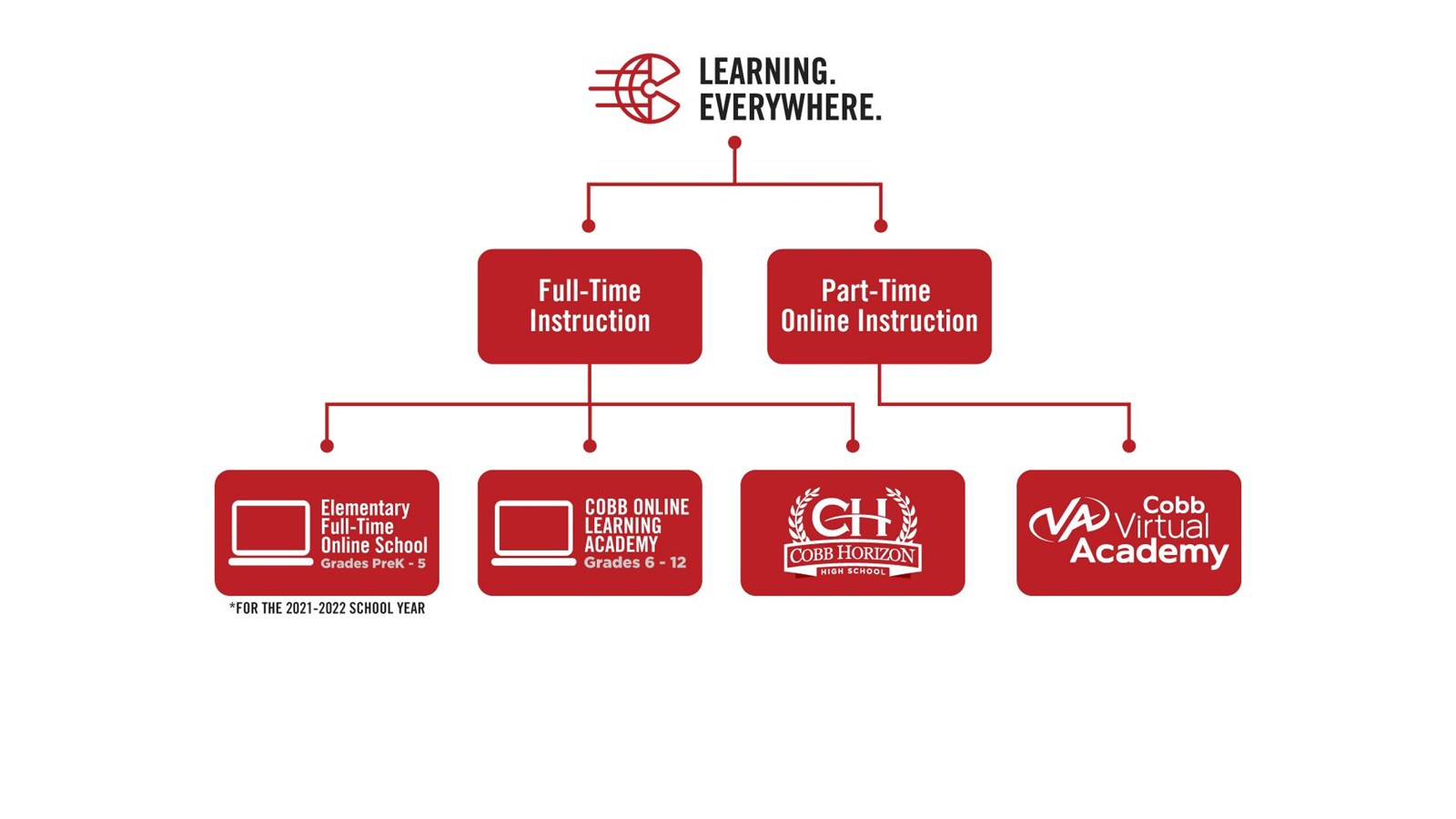 Daily life has changed over the past year due to COVID-19, and so, the focus and supports that the District provides students are also changing in response to how the needs of Cobb students have changed as a result of the pandemic.
Today, Superintendent Ragsdale confirmed the 2021-2022 school year will include a 5-day school week for both face-to-face and online learners with the same high-quality learning expected in any Cobb School or program.
"There are students and teachers who are thriving in the online learning environment. So, it is incumbent to us to provide the opportunities that allow each student to succeed. Although we are anticipating that most Cobb students will return to face-to-face in August, online learning will continue to be an option for Cobb students and families for the long-term," said Superintendent Chris Ragsdale.
Over the past year, Cobb's team of educators have listened and learned. They have been working tirelessly to develop plans for the next school year that will continue to provide high-quality learning aligned with Georgia's rigorous standards in a sustainable way that supports all students, in all learning environments. Feedback from students, teachers, and parents have all helped to inform the best way for teachers to teach and for students to learn in 2021-2022 and beyond.  
All publicly available details about online learning for Cobb students will be available on Monday, March 22 by 5:00 p.m. and will be found at www.cobblearningeverywhere.com, but Cobb learners can expect to:
Receive a high-quality education, with a high-quality platform, with high-quality digital content
Be taught by high-quality, professional educators who are experts in the classroom model that families choose
Be taught, five days a week, by a high-quality, professional educator in both face-to-face and online classrooms
All online learning will be supported through the new Cobb Online Learning Academy for online learners in grades 6 - 12, local school based online learning for students in grades preK-5, Cobb Horizon Academy as an alternative school for online learners, and the Cobb Virtual Academy for part-time online learners.
While the effects of the COVID-19 pandemic are not yet over, we do know uncertainty continues. The District remains committed to keeping school doors open and students "learning everywhere."
The District's Focus on Safety and Health
As families look ahead to the next school year, it is important to understand how Cobb Schools has responded to COVID-19 since the beginning of the school year. That is why Chief Medical and Science Officer Dr. Bob Lubitz from 30e was invited to speak to the Cobb Board of Education regarding the Iggy hand-rinsing stations, which is designed to enhance hand hygiene effectiveness.
"How many of you wash your hands correctly? Around the world, less than 5% of people wash their hands correctly....and that number is worse among children," Dr. Lubitz told the Board members.
In fact, people wash their hands for approximately seven seconds, according to Dr. Lubitz, and 80% of communicable diseases are transmitted by touch.
The Iggy solution used in Cobb Schools helps solve for those handwashing problems and reduces the spread of a long list of diseases, including the flu, viruses which cause the flu, pneumonia, bladder infections, and coronavirus.
After hearing the Iggy presentation, families can rest easy to know that the sanitizing technology is safe. Iggy has been through over 50,000 hours of field trials through independent clinical research laboratories. The safety of Ozone in water for adults and children has also been researched for decades. One student user described Iggy best: "It's like a car wash for my hands."
The District's Focus on Literacy
When parents ask themselves what they can expect from an education in Cobb Schools, the District's focus on literacy is a good place to start. As many parents know, reading on grade level by the end of 3rd grade is a significant predictor of long-term educational development.
That is why the District, 7 years ago, launched multiple literacy initiatives, led by the Superintendent with support of the Board, particularly previous Cobb Schools Board member David Morgan.
Chief Academic Officer Jennifer Lawson reviewed the literacy initiatives since 2014 including: birth to five literacy supports, pre-k, early kindergarten, early literacy, instruction in K-12 classrooms, formative assessments used through CTLS Assess, and interventions for at-risk students.
The work led by our teachers and principals has resulted in Cobb students' literacy fluency growing faster and at a higher proficiency level than their peers.
A quick look at the District's literacy statistics show in 2020, Cobb third, fifth, and seventh graders all outperformed their national peers on the Iowa Assessment. The Fall 2020 administration of the PSAT showed Cobb students also outperforming their Georgia peers in meeting the English Reading and Writing Benchmark. When last tested, Cobb students also demonstrated similar success on the Georgia Milestones.
In addition to the Board meeting announcements and presentations related to the new school year, the Cobb Board of Education also approved personnel changes including the appointment of a new principal.
Personnel Changes for Principal Level and Higher: 
Bates, Barbara, Appointment to Director, Procurement Services, Operations Division from Assistant Director, Procurement Services, Operations Division effective March 19, 2021.
Hallmark, Susan, Principal, Addison Elementary School, Retirement effective June 1, 2021.
Hamblett, Lynn, Principal, Murdock Elementary School, Retirement effective June 1, 2021.
Montgomery, Laura, Principal, Hightower Trail Middle School, Retirement effective July 1, 2021.
Pearce, Dr. Michelle, Principal, Still Elementary School, Retirement effective July 1, 2021.
Seibert, Cathie, Appointment to Principal, Fair Oaks Elementary School from Assistant Principal, Griffin Middle School effective June 1, 2021.