Osborne Laptop Distribution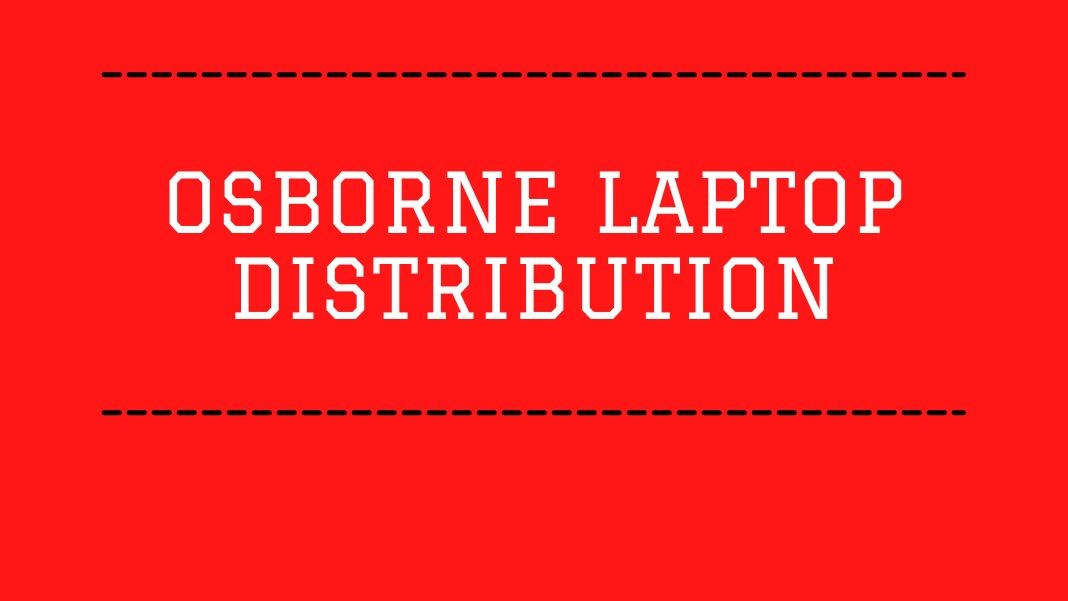 Osborne will be distributing student laptops as a part of CCSD's Learning Everywhere Student Laptop Distribution initiative. This initiative will allow every high school student participating in face-to-face instruction to receive a Dell laptop and carrying case. Any laptops issued to students last year MUST be returned in order to receive a new laptop. To receive the laptop, the enrolling adult must login to ParentVUE and click on the Student Device Liability Agreement menu option to opt-in. By clicking Opt-In, you indicate that you have also reviewed and accepted the full Technology Checkout Agreement regarding care and usage of the laptop. Your student will be assigned a new laptop while they are enrolled in the CCSD and will be required to return the device upon graduation or withdrawal from the district. If you opt-out, no laptop will be distributed to your student.
Don't have ParentVUE?
Email Katheline Vargas (Katheline.Vargas@cobbk12.org) or Brenda Soto (Brenda.SotoHurtado@cobbk12.org) and request ParentVUE access.
Click here for instructions on how to opt-in.
Once a student has been opted-in to receive a laptop, he/she can report to the Learning Commons to pick it up.
IMPORTANT: If your student was assigned a laptop for the virtual 2020-2021 school year, that device must be returned before a new one can be issued. All devices can be returned to the Osborne Learning Commons.
---
Osborne distribuirá computadoras portátiles para estudiantes como parte de la iniciativa de distribución de computadoras portátiles para estudiantes Learning Everywhere del Districtor Escolar Del Condado De Cobb. Esta iniciativa permitirá que todos los estudiantes de secundaria que participen en la instrucción presencial reciban una computadora portátil Dell y un maletín de transporte. Cualquier computadora portátil entregada a los estudiantes el año pasado DEBE ser devuelta para recibir una nueva. Para recibir la computadora portátil, el adulto que inscribio al estudiante debe iniciar sesión en ParentVUE y hacer clic en la opción del menú Acuerdo de responsabilidad del dispositivo del estudiante para optar para participar. Al hacer clic en Opt-In, usted indica que también ha revisado y aceptado el Acuerdo de pago de tecnología completo con respecto al cuidado y uso de la computadora portátil. A su estudiante se le asignará una nueva computadora portátil mientras esté inscrito en el Districtor Escolar Del Condado De Cobb y se le pedirá que devuelva el dispositivo al graduarse o retirarse del distrito. Si opta por no participar, no se distribuirá ninguna computadora portátil a su estudiante.
¿No tienes ParentVUE?
Envíe un correo electrónico a Katheline Vargas (Katheline.Vargas@cobbk12.org) o Brenda Soto (Brenda.SotoHurtado@cobbk12.org) y solicite acceso a ParentVUE.
Haga clic Aqui para obtener instrucciones sobre cómo participar.
Una vez que el estudiante ha optado para recibir una computadora portátil, puede presentarse en Learning Commons para recogerla.
IMPORTANTE: Si a su estudiante se le asignó una computadora portátil para el año escolar virtual 2020-2021, ese dispositivo debe devolverse antes de que se pueda emitir una nueva. Todos los dispositivos pueden devolverse a Osborne Learning Commons.