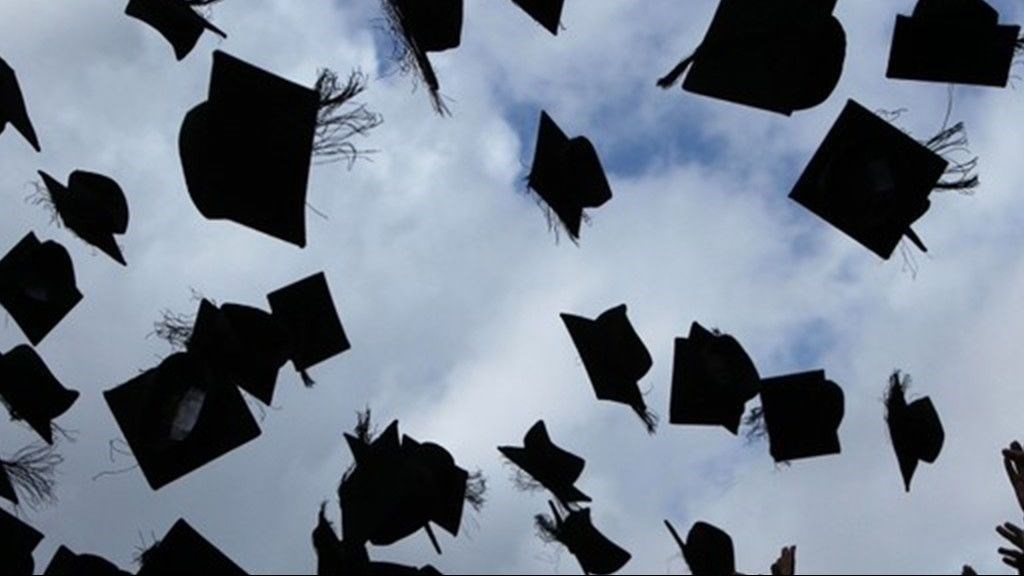 UPDATE 4/13/21
Pebblebrook High School
Cobb County School District
One Team
One Goal
Student Success
Dr. Dana C. Giles, Principal
April 13, 2021
Senior Parent(s):
Your student's senior year has entered the final stretch. There are many events and activities that remain in their last months of high school. We encourage all seniors to take advantage of all the opportunities that await them.
The culmination of your student's high school career will be commencement on Friday, May 28, 2021, at 7:00 PM at Cantrell Stadium on the campus of McEachern High School. We have enclosed important information about commencement with this letter. You may also find the information at our website (https://www.cobbk12.org/pebblebrook/page/17492/graduation), or the Cobb County School District website (http://www.cobbk12.org/graduation/).
Graduates in the Class of 2021 will each receive six (6) guest tickets for family to attend commencement after adjustments were made to the seating configuration at Cantrell Stadium. Public health guidelines including, but not limited to, social distancing, face masks, and symptom screening will be implemented. Tickets are required for all guests, including babies and children.
In closing, we urge you to follow your student's academic progress through the end of the semester to ensure that he/she finishes the year in good standing and does not build any obstacles that might prevent graduation. All outstanding fees and fines must be remitted before a student is cleared to graduate.
Sincerely,
Deanna Munlin
Assistant Principal
Randall Schlanger
Assistant Principal
Pebblebrook High School
Dr. Dana C. Giles, Principal
Class of 2021 Commencement Contract
The commencement ceremony is a dignified ceremony to honor the senior class. Participation in the commencement ceremony is optional. In order to participate, students must follow guidelines. Please read the following information. If the student wishes to participate in the commencement ceremony, please print both the student's and parents' first and last name at the top, sign at the bottom, and return to the main office by May 18.
I, ______________________________________ and ___________________________________
PRINT STUDENT FULL NAME PRINT PARENT FULL NAME
understand that to participate in the commencement ceremony for Pebblebrook High School the following requirements must be met:
The student will adhere to all attendance requirements for the practice and the ceremony. This includes arriving promptly and remaining throughout the entirety of the activities.
Students remaining on campus after final exams must be in a supervised setting. Students with permission for early dismissal will leave campus in an orderly manner.
All financial obligations must be cleared prior to the commencement practice and the commencement ceremony. This includes, but is not limited to, payment for lost textbooks, Media Center fines, unreturned technology, and extracurricular fees. DEADLINE: May 18.
Any disruptive behavior will result in the immediate removal of that person from the ceremony. This would include anything distracting from the dignity of the ceremony (See Rehearsal and Ceremony Behavior Section).
Students will follow the dress guidelines for the practice and the ceremony, or they will not be allowed to participate in the commencement ceremony. Students must wear the current year's cap and gown. Students must remain properly dressed throughout the ceremony (See Ceremony Behavior Section).
Any student exhibiting inappropriate behavior during the ceremony will not receive a diploma at that time but will instead be required to report to the principal's office on Friday, June 4, 2021.
Both student and parent have read and understand the information provided in the Commencement Information and Scheduled Activities Handout.
STUDENT SIGNATURE:
PARENT SIGNATURE:
My son/daughter may leave school after his/her final exams on Tuesday, May 18.
My son/daughter may not leave school after his/her final exams on Tuesday, May 18.
Pebblebrook High School
Class of 2021
Commencement Information and Schedule of Activities
Friday, May 28, 2021, 7:00 PM
Walter H. Cantrell Stadium
McEachern High School
LOCATION OF VENUE AND DIRECTIONS
Cantrell Stadium is located on the campus of McEachern High School at 2400 New Macland Road, Powder Springs, GA 30127. From Macland Road turn south onto New Macland. From Richard D. Sailors Parkway turn north onto New Macland. Additional approach information and alternate routes are available on the district website (www.cobbk12.org/graduation).
PARKING
Graduates are to park in the Taylor Farm parking lot (labeled GP on the campus map) using the entrance on Brand Road. Graduates should be encouraged to bring/wear comfortable shoes for walking from the Taylor Farm parking lot to the Health, Physical Education, and Wellness Gym (HPEW) and Cantrell Stadium.
Guests will park in any available lot (#1, #2, and #3 on the map) using entrances on New Macland Road and Gaydon Road. Overflow parking will be available off-site. Directions will be available on the district website (www.cobbk12.org/graduation).
Guests with disabilities and elderly guests needing individualized assistance should enter the campus of McEachern High School at either the north entrance on New Macland Road or the northwest entrance on Gaydon Road. Accessible parking (labeled as ADA on the map) will be available in front of the Performing Arts Center (labeled as PAC on the campus map). Officers will direct guests to parking.
PUBLIC HEALTH MEASURES
The Cobb County School District (CCSD) considers the health, safety, and overall well-being of students, teachers, staff, and guests to be of paramount importance. While COVID-19 continues to impact our communities, measures must be taken to implement required public health guidance. The District will adhere to guidance from local, state, and federal authorities and follow the guidance of the Cobb and Douglas Public Health Department.
Safety measures to be implemented include, but are not limited to, the following:
Graduates and stage guests will each be seated six (6) feet apart.
Family groups of four (4) must maintain a social distance of six (6) feet from other family groups, graduates, and working staff except for brief encounters such as entry to the venue and purchase of concessions and merchandise.
Audience must sit in designated seats.

Grandstand seating is clearly marked with CCSD logo "SIT HERE" labels.
Limited field seating is available in chairs grouped in sets of four (4).
At the conclusion of the ceremony, graduates and family/guests are asked to exit the stadium and depart campus without congregating in large groups.
Those and other specific measures necessary for the ceremonies will be outlined on the district graduation web page (www.cobbk12.org/graduation) no later than the week prior to commencements using guidance available at that time.
GENERAL BEHAVIOR
Seniors and their parents should carefully read all the information in this packet. Seniors are responsible for knowing and following all directions and schedules in this packet. Before taking part in any commencement activity, each senior must have a signed Commencement Contract on file.
All rules and policies of the Cobb County School District will be enforced. Students must remain properly dressed throughout the ceremony and are expected to follow all directions as explained. Failure to do so will result in exclusion from the ceremony.
Commencement is an optional, dignified, and formal ceremony for graduating seniors, their families, and guests. Possession of any disruptive objects or disruptive behavior may lead to immediate removal from the ceremony.
A senior contract signed by the student and a parent must be returned to the main office no later than May 18 for each student participating in commencement.
We ask the cooperation of all who attend the commencement ceremony to help make it a dignified ceremony. Please refrain from any inappropriate noises that will detract from the dignity of the ceremony. Since this ceremony is an official function of Pebblebrook High School, all Cobb County School District and Pebblebrook High School policies, rules, and regulations are in effect.
· Only students in proper attire will be allowed in the processional.
Seniors must meet all graduation requirements in order to participate in commencement and receive a diploma. All required courses must be successfully completed by Tuesday, May 18, or the student will not graduate with this class. Please note: No work will be accepted after the final exam is given.
All financial obligations, including payment for lost textbooks, extracurricular fines, etc., must be cleared before final grades can be given and before the senior will be allowed to participate in commencement practice on Wednesday, May 26.
Senior final exams for 3rd and 4th block are Monday, May 17, and 1st and 2nd block are Tuesday, May 18.
Students must remain properly dressed throughout the ceremony and are expected to follow directions explained during rehearsal, or they will be excluded from the ceremony. DO NOT THROW CAPS!!! Restitution for any damage to the venue, district property, or vendor property will be the responsibility of the graduate or guest who causes said damage.
Disruptive students will be removed and WILL NOT be allowed to participate in the ceremony.
All car keys, cell phones, cameras, and other personal items should be left in the care of family members or friends in the audience.
Balloons, noisemakers, strollers, and signs WILL NOT be allowed in the venue. In addition, any object which impedes the view of others or impacts the safety of others is not allowed in the venue.
Spectators are asked to behave appropriately during the ceremony by holding their applause until all students have received their diplomas, remaining seated during the program, and honoring the graduates with attire and behavior befitting a formal ceremony.
COMMENCEMENT PRACTICE
Commencement practice will be Monday, May 24 at 6:00 PM on Zoom. Below is the login information for the virtual rehearsal.
Topic: Graduate Virtual Rehearsal Meeting
Time: May 24, 2021, Last name A – L 6:00PM
M – Z 6:45PM
Join Zoom Meeting
https://cobbk12-org.zoom.us/j/9283427441?pwd=dEt5S2ZhV2orUUtWK0dtc3R2MlFvQT09
Meeting ID: 928 342 7441
Passcode: Class2021
TICKET PICK UP & CELEBRATION
Commencement tickets will be distributed on Wednesday, May 26, at 12:00 PM in the Jackson Gym. Only students who have ordered this year's cap and gown will receive tickets to commencement. We will also have food trucks and music to start celebrating your accomplishment.
COMMENCEMENT DAY
Seniors report to HPEW Gym (See Map) at 5:30 PM.
Doors open to ALL FAMILY AND FRIENDS at 6:00 PM.
Processional of graduates begins at 7:00 PM.
Graduates will recess immediately to the McEachern Cafeteria to receive their diplomas.
We ask all family and friends to remain in their seat until all the graduates exit the stadium. Guests and graduates are asked to depart the venue at the conclusion of the ceremony.
COMMENCEMENT CAP AND GOWNS
Herff Jones will deliver caps and gowns on March 24 at Clay Elementary School. If students are absent on the delivery day, the main office staff will collect their products.
Questions concerning these items should be directed to Herff Jones office at (770) 795-1626. Each student participating in commencement must have the correct gown, matching mortar board, and tassel.
COMMENCEMENT ATTIRE
Caps and gowns must be worn by all graduating seniors. Please press the gown before commencement. Please do not hem commencement gowns. The cap is worn flat on the head with the point at the center of the forehead and the tassel hanging on the right side.

Women: Wear a solid colored dress and dark dress shoes with the gown. The dress may not hang below the gown. Navy or black dress shoes are required. Please keep in mind all graduates will be walking up and down stairs and low-heeled shoes are encouraged.

Men: Wear a white shirt, dark solid slacks, dark dress shoes, and dark socks.

No jeans, shorts, sandals, open toe shoes, sport shoes, or flip flops will be allowed for women or men.
COMMENCEMENT PHOTOS AND VIDEO
We have arranged for Cady Studios to take an individual photograph of graduates as they receive their diploma. Cady Studios will mail each graduate a proof of the photo and ordering information. The graduates will also receive information to access their photo online.
A live webcast will be publicly available via the school district website (www.cobbk12.org/graduation). Video services will be provided by Cobb County School District.
Copies of the ceremony may be purchased on DVD. Information about this service will be provided at the district website (www.cobbk12.org/graduation/) or Pebblebrook High School's website (https://www.cobbk12.org/pebblebrook/page/17492/graduation).
QUESTIONS
If you have questions concerning any commencement information or activities, please contact Mrs. Deanna Munlin or Mr. Randall Schlanger at (770) 819-2521.
Pebblebrook High School
Cobb County School District
One Team
One Goal
Student Success
Dr. Dana C. Giles, Principal
Updated 3/24/21
Senior Meeting Video
Commencement Information
Date, Time, Location:
Friday, May 28, 2021 – Cantrell Stadium, McEachern High School
Graduate arrival time: 5:30 PM Commencement Start Time: 7:00PM
Commencement "Virtual Rehearsal":
We will not be able to hold a face to face rehearsal, so it is imperative that all senior join our Zoom meeting for our virtual rehearsal. Date and time to follow.
Commencement Attire to Include Cap and Gown Info:
To participate in Commencement, you must have the 2020 – 2021 PHS cap and gown. Your cap and gown cannot have any decorations except school approved cords/stoles from student organizations.
Gentlemen are not required to wear a tie this year as we will be outside, and it will be warm. Dark slacks, dress shoes, button down shirt with a collar.
Ladies please consider your shoes. You will be walking a good distance to and from the field as well as walking on the turf on the field. High heels are probably not your best choice. Remember you will also have to walk up and down the stairs to the stage.
Final Thoughts:
Much more information will come out soon. Please make sure you are following the senior Remind, listen for announcements, and check the senior page on the website often.
So many times, people have said, "This isn't about you", well this time it is all about you and what you have accomplished. We are proud of our falcon family and soon it will be your time to soar.