Hillgrove Celebrates 33 Athletes Signing for College Sports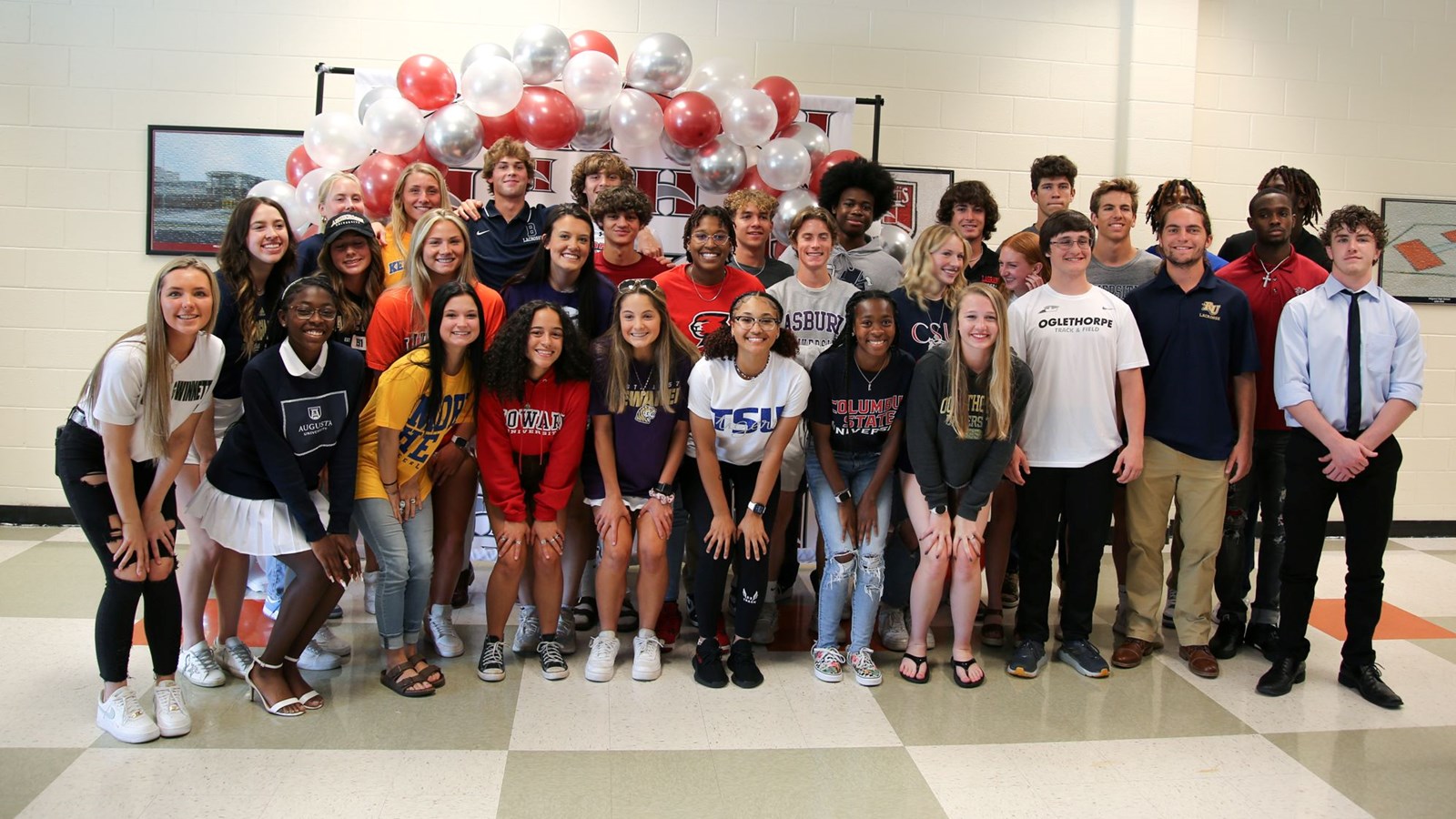 One of the many events that populate a high school's year-end calendar is a signing event for student-athletes who will continue their educations and sports careers at the collegiate level. Hillgrove recently held theirs on a Sunday afternoon in the school's cafeteria. A total of 33 athletes representing 13 different sports were honored by friends, parents, and school administration.
Athletic Director Jonathan Brown got the event started with a short welcome speech. Scattered around each athlete's table were Take Five candy bars and buckets of popcorn. "The candy," said AD Brown, "is to remind you to stop and take a moment to thank those at your table for all the work they have put in to help make you successful."
"The popcorn is a reminder about life," he continued. "When you make popcorn, not all the kernels get equally popped. Some get burned, and some don't pop at all, but some are perfect. Today, each one of you is perfect and I'm so proud of all of you!"
All of the athletes were called up by sport and given the opportunity to speak and offer thanks of their own. All thanked their parents, coaches, and teammates for their support. Ajani Henley, men's volleyball commit to Lincoln Memorial University, specifically thanked his mom for driving him all the way to Tennessee and back to compete in his games.
Riffing off AD Brown's comments, men's basketball head coach Greg Moultrie reminded all the athletes that popcorn needs heat and flowers need rain. "Adversity is necessary to advance," Coach Moultrie said before introducing his players committing to play at the next level: Joseph Jordan and Isaiah Pettigrew.
Wrestler Connor Powell announced that he would be attending Johns Hopkins University in the fall. The Powell family has been instrumental in all aspects of Hillgrove's wrestling program for years, and Connor's graduation marks the end of an era. He thanked his parents for their support and his older brothers for pointing the way.
Lacrosse players Will Moore and David Morris thanked their families, and Moore thanked his father and sister for getting him involved in lacrosse. Morris thanked Coach Tarve Riggins and dedicated his success to his late father. "This is for you, Dad," he said emotionally, "rest in peace."
The largest group of commits—six in all—came through the Hillgrove Track and Field program. Of the six, three are pole vaulters, and two of those are brother and sister. William and Victoria Landa are both headed to Oglethorpe University in Atlanta. Their teammate Jenna Rolen will be pole vaulting for Columbus State University. Kaeleigh Brooks will also be headed to Columbus State, and Ava Brooks and Ayva Dottin will be attending and running track at UAB (University of Alabama Birmingham) and Augusta University, respectively.
Five athletes from Girls Lacrosse were also recognized for their college decisions. Most of the girls also played flag football for Hillgrove's state championship team last fall. Emily Bond (Kent State), Meredith Dawson Anderson University), Lauren Render (Virginia Tech), and Mia Wright (Howard University) were all teammates on both teams and helped make each program successful. The fifth lacrosse player is Emma Perritte and she will be attending Reinhardt University next year.
Other sports well-represented by Hillgrove athletes at colleges are men's soccer (4); women's soccer (3); baseball, cheer, football, and softball (2); and swimming (1). The complete list of signees is below.
To conclude the afternoon and the celebration, Principal Angela Stewart took the mic to offer her own thanks to the students. "Thank you for your grit and determination and for representing Hillgrove well," she said appreciatively. "Spend some time to celebrate and enjoy this moment!"
Congratulations to all 33 Hillgrove grads and student-athletes advancing to the next level! Your hard work has paid off, and we can't wait to see what you'll do next.
Girls Lacrosse
Emily Bond – Kent State University
Meredith Dawson – Anderson University
Emma Perritte – Reinhardt University
Lauren Render – Virginia Tech
Mia Wright – Howard University
Swimming
Jimmy Franck – University of Montevallo
Baseball
Brody Hollingsworth – LaGrange College
Will Collins – South Georgia State CC
Track
Kaeleigh Brooks – Columbus State University
Ava Brooks – University of Alabama in Birmingham
Ayva Dottin – Augusta University
William Landa – Oglethorpe University
Victoria Landa – Oglethorpe University
Jenna – Rolen – Columbus State University
Boys Soccer
Quin Delamater – Boston University
Aidan Boyle – Maryville College
David Stretch – Calvary University
Josiah Wehling – Asbury University
Softball
Morgan McQuagge – Georgia Gwinnett College
Jasmine Blackburn – Tennessee State University
Football
Emory Floyd – South Carolina
Marc-Rubens Joseph – Lenoir Rhyne
Boys Lacrosse
Will Moore – Reinhardt University
David Morris – Berry College
Cheer
Emma Graham – Morehead State
Emily White – GA Tech
Wrestling
Connor Powell – John Hopkins
Girls Soccer
Lacey Carder – Sewanee: University of the South
McKenzie Minor – LaGrange College
Maya Cramer – Young Harris College
Boys Basketball
Joseph Jordan – Bethany College
Isaiah Pettigrew
Men's Volleyball
Ajani Henley – Lincoln Memorial University