Cobb Wrestlers and Coaches Recognized at Year-End Banquet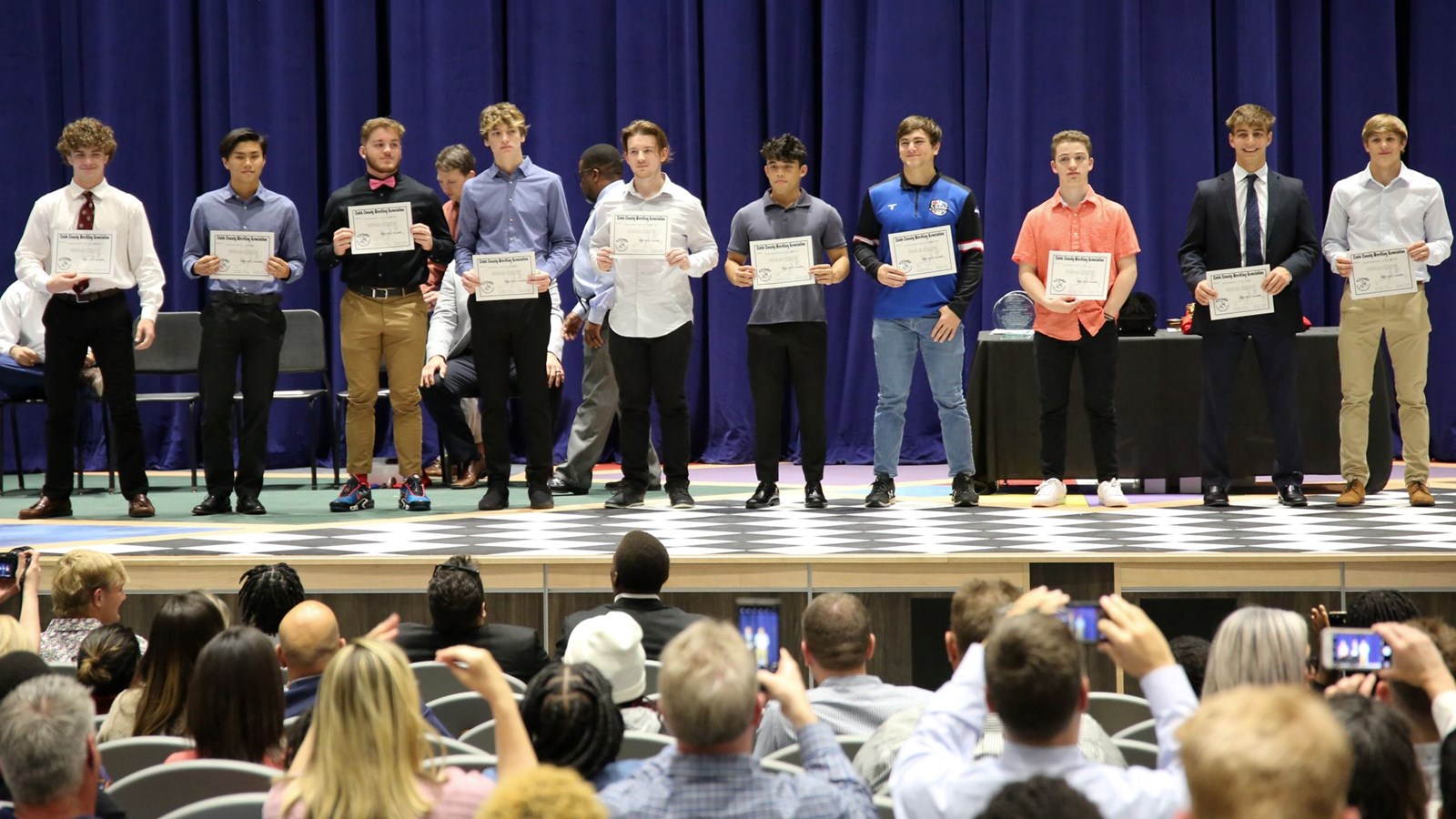 The Cobb County Wrestling Association (CCWA) held its annual year-end wrestling award banquet late last month. The CCWA honored wrestlers, coaches, and parents from all over the county. Four new members were also inducted into the CCWA Hall of Fame.
This season was a great one for Cobb wrestling. The county had 4 male state champions, and 3 female. All of the male state champs came from Cobb Schools: David Panone, Lassiter (138 lbs); Joey Robinson, Pope (160 lbs); Zyan Hall, Wheeler (170 lbs); and Zion Rutledge, Hillgrove (220 lbs). Two of the three female state champs were from Cobb Schools: Lisa Glymph, Marietta (112 lbs); May Prado, Lassiter (132 lbs); and Genevieve An, Kennesaw Mountain (142 lbs).
The CCWA makes a point to recognize success both on and off the mat and 16 wrestlers were recognized with the Scholar Award by maintaining a 4.0 GPA or above. 13 of the 16 were Cobb Schools wrestlers, with Connor Powell from Hillgrove as the wrestler with the highest GPA: an astounding 4.661. Connor's mother, Karen, was also selected as "Person of the Year" for her many years of service to the Hillgrove Wrestling program.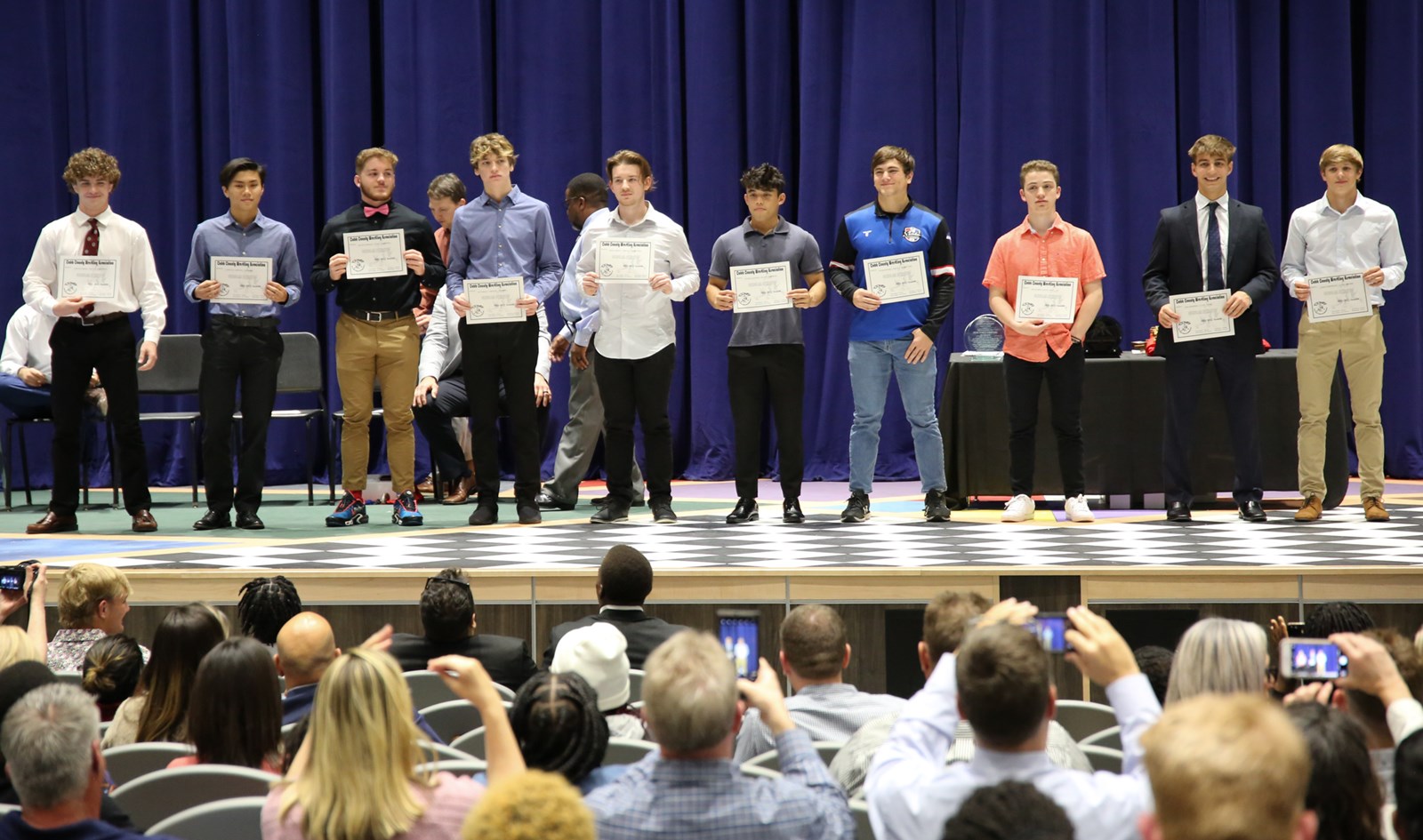 Scholars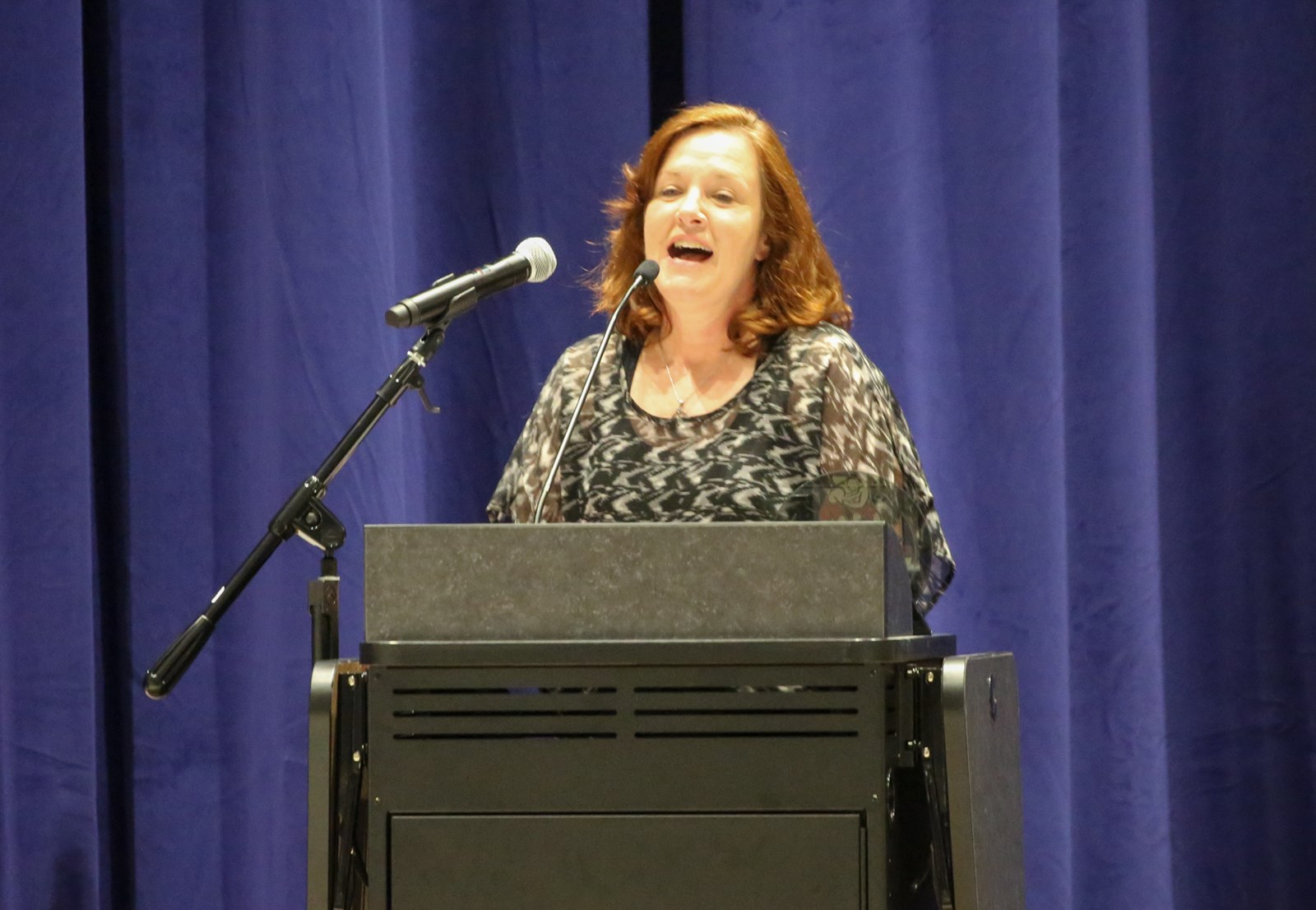 Karen Powell
Lassiter's Tony Brown was chosen as Assistant Coach of the Year, and Campbell's Elijah McCain won the Sportsmanship Award.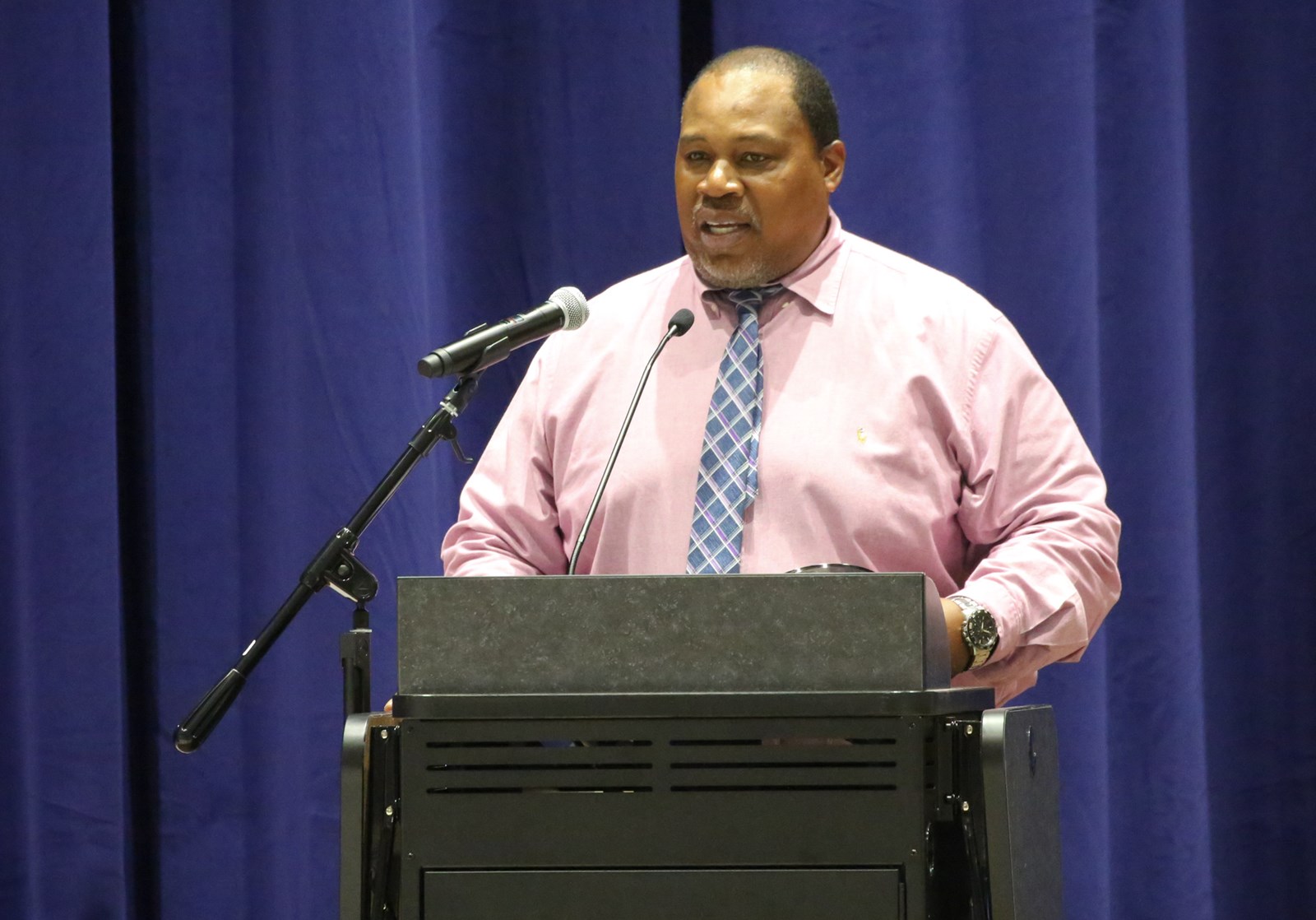 Tony Brown
A somber note during the event was the Adversity Award, which was given to first-year Hillgrove wrestler, Ricky Penella. Ricky's mother died unexpectedly at the age of 39 earlier this year and he leaned on his coaches and competition to cope with his grief. "Wrestling has taught me so much," Ricky said emotionally, "and it helped me through the hardest time of my life."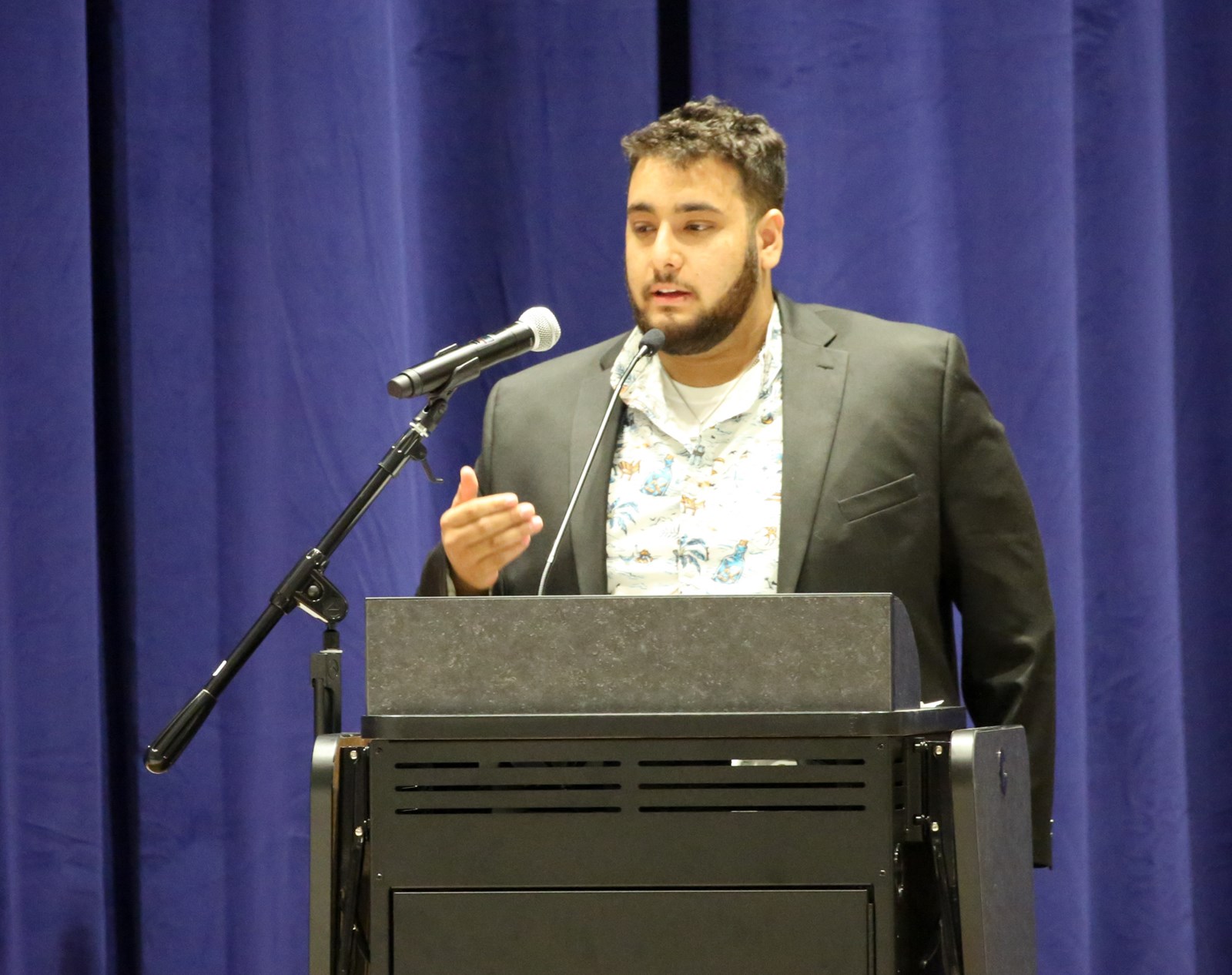 Ricky Penella
Lassiter was announced as the Team of the Year, and North Cobb's Jeffrey Bettis was awarded Coach of the Year. "It was an honor and very humbling to be selected as Coach of the Year," Coach Bettis said. "This recognition reflected a team effort from everyone involved in our program, which includes our school's administration, assistant coaches, parents, and wrestlers. We have improved greatly over the past few years and we look forward to what the future holds for the North Cobb program."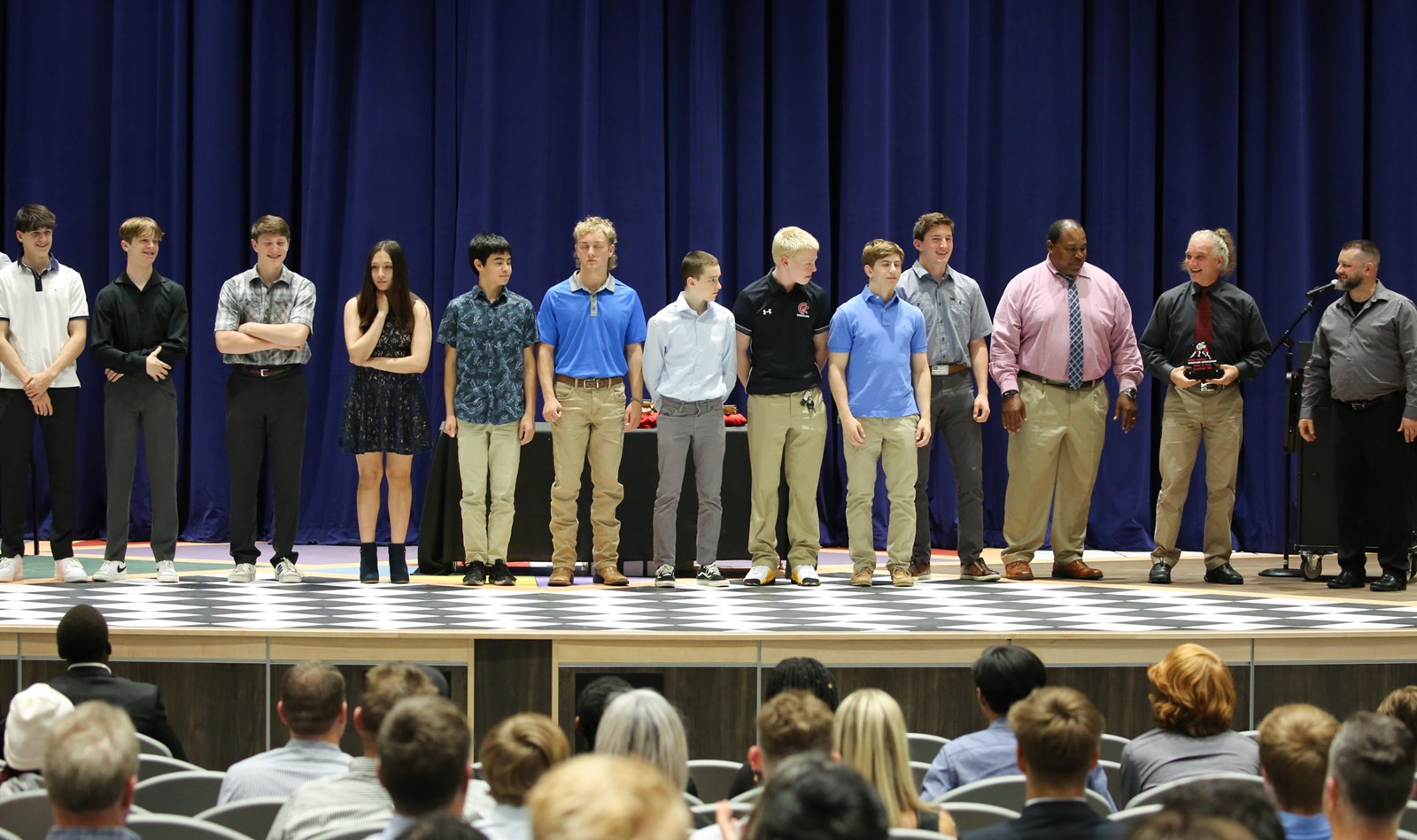 Lassiter Wrestling team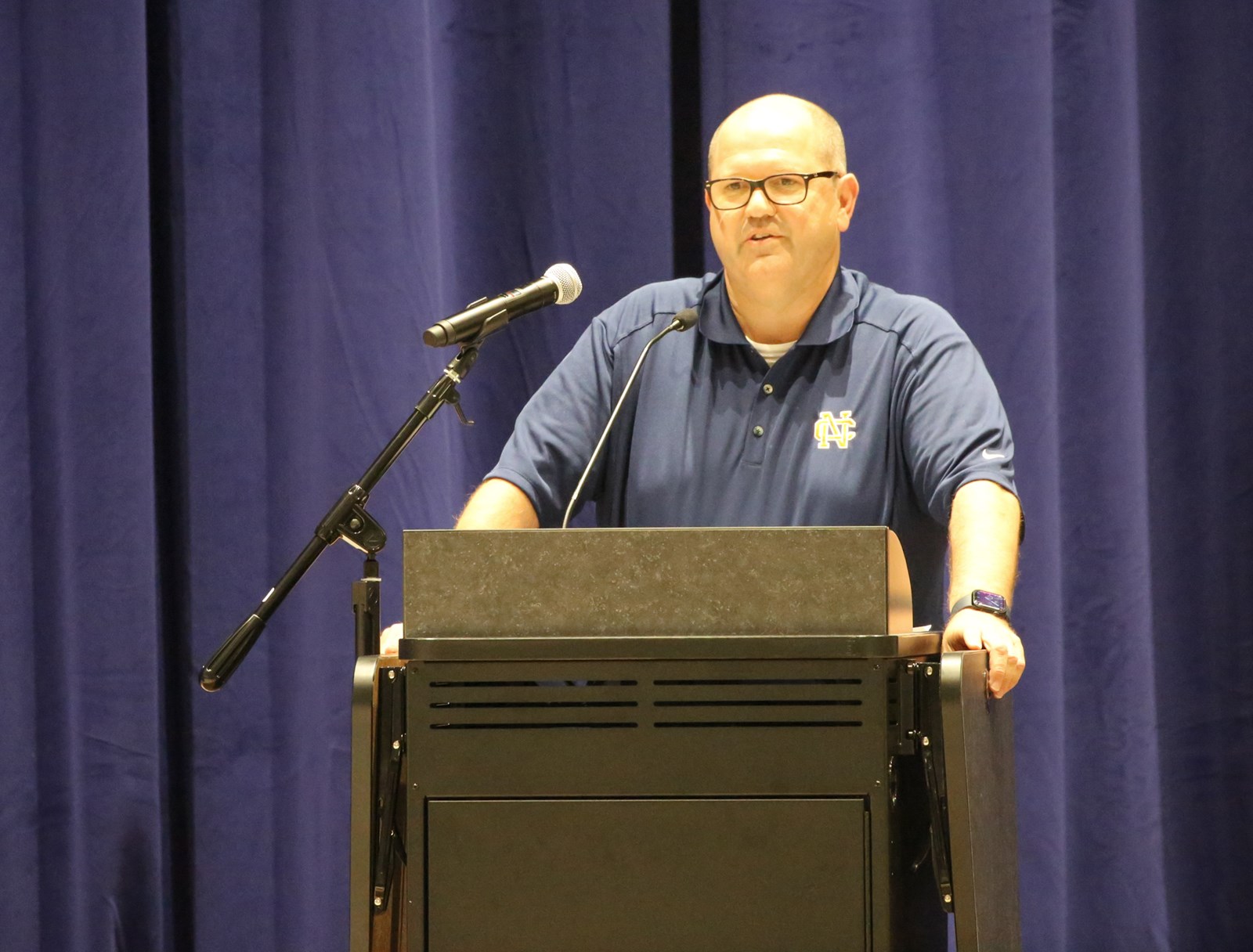 Jeffrey BettisMay Prado from Lassiter and Lisa Glymph from Marietta were honored as Female Co-Wrestlers of the Year. Both won state championships at the Girls Wrestling Championships in Macon. Genevieve An also won a state championship for Kennesaw Mountain. As sophomores, Prado and An will be back again next season.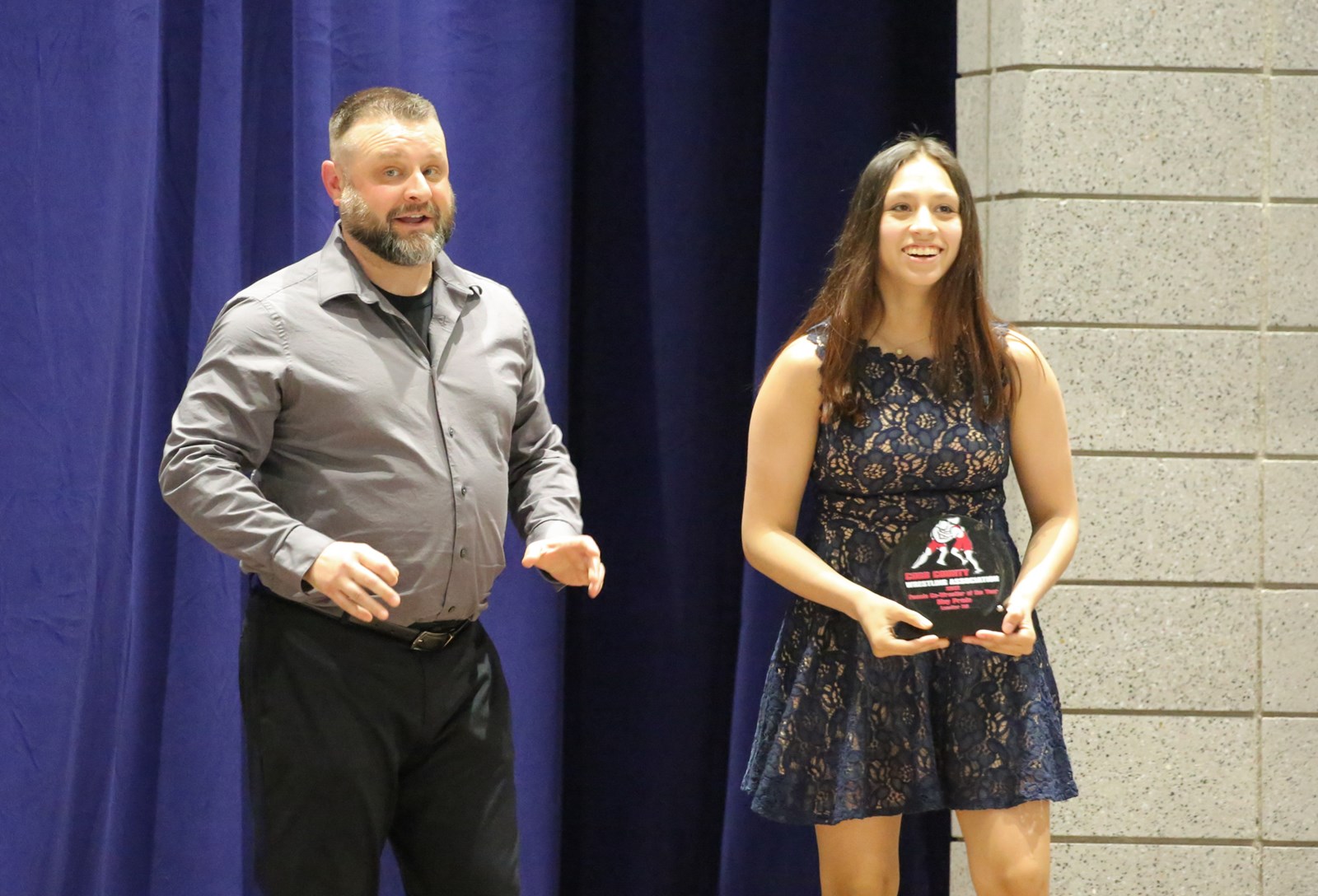 Coach Brickley with May Prado
Wheeler's Zyan Hall was awarded Wrestler of the Year. Zyan is a state champion as well as the winner of Outstanding Wrestler at the Cobb County Tournament earlier in the season. Zyan is committed to the Naval Academy in the fall and will be continuing his wrestling career in Annapolis.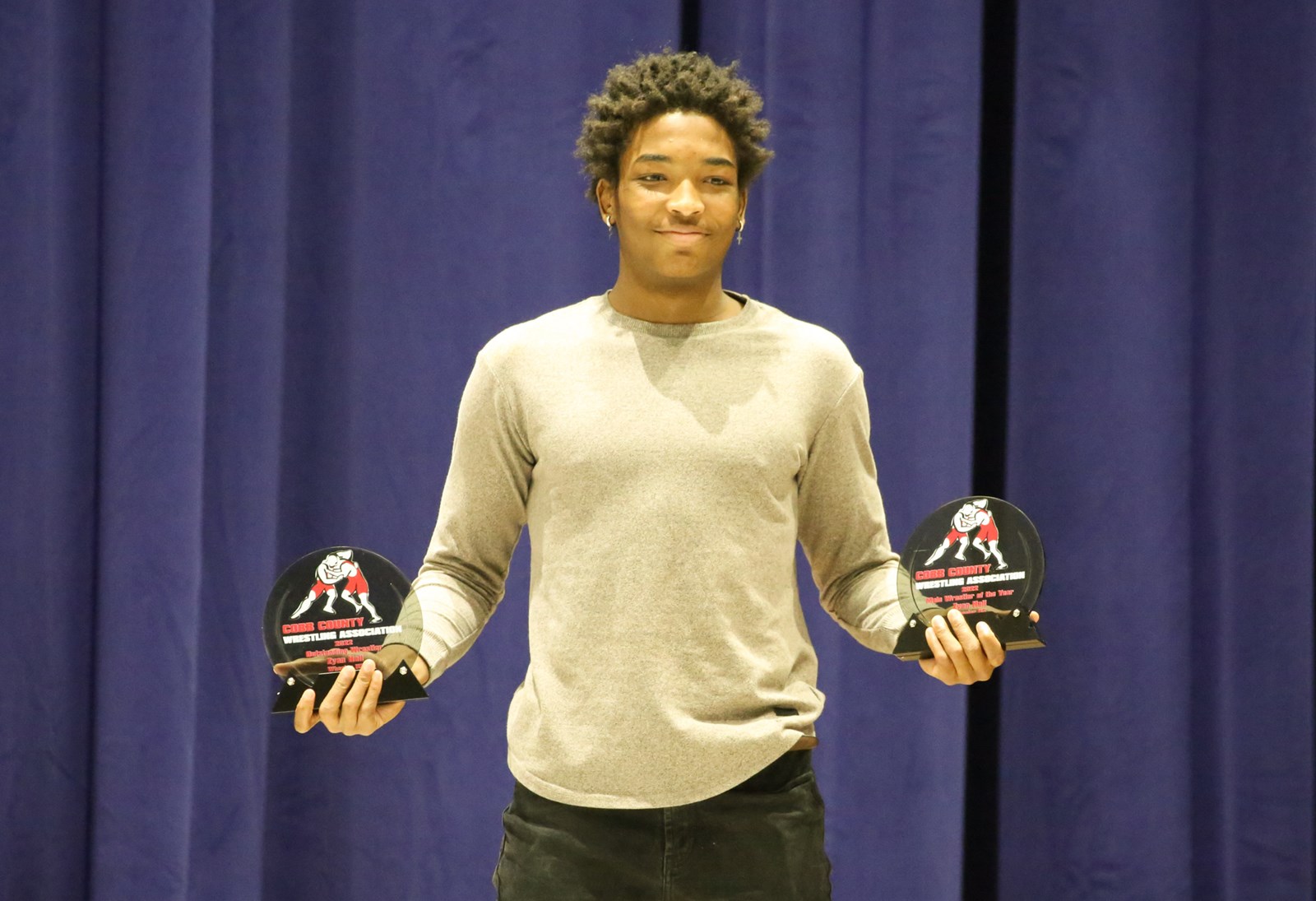 Zyan Hall
As the evening concluded, three wrestlers and one coach were welcomed into 2022 Class of the Hall of Fame: Ricardo Atkinson (Hillgrove), Jeffrey Crocker (Harrison), and Christopher Rodrigues (Walker), and Coach Roberto Rivera (Kennesaw Mountain). "Wrestling is the best sport because it teaches life skills," said Jeff Crocker, now the head coach at Harrison. "And wrestling people are the best people in the world!"
The first and second teams All-County are listed below, as well as the Female All-County Team. Congratulations to all winners and to Cobb County for another great year of high school wrestling!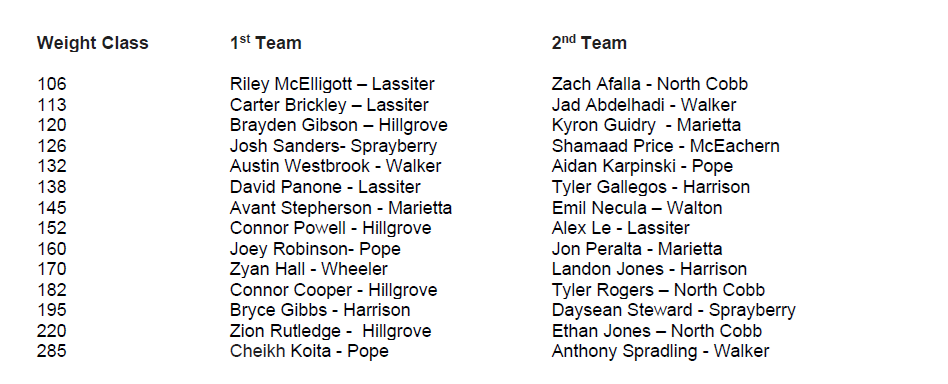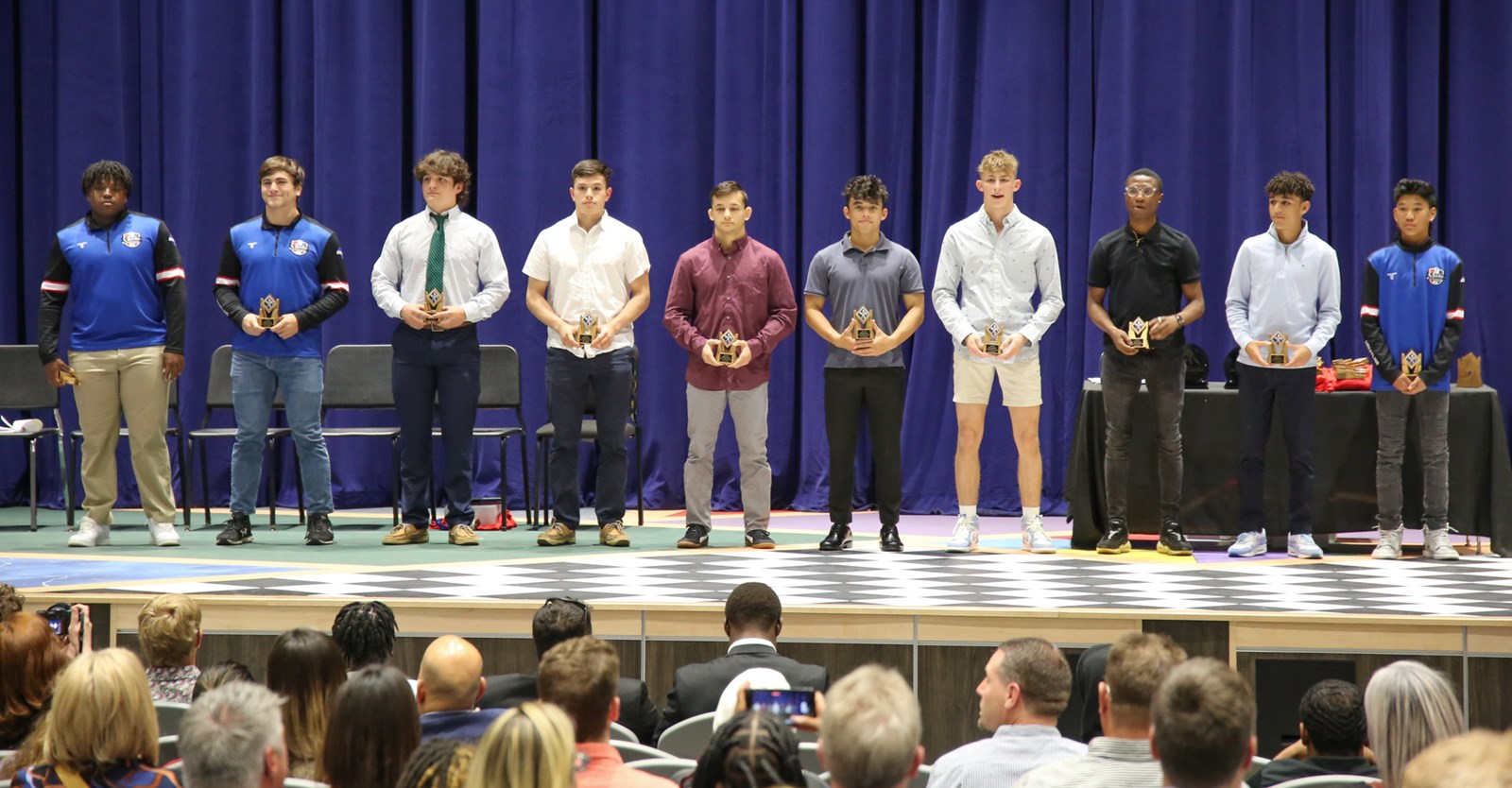 Second Team All-County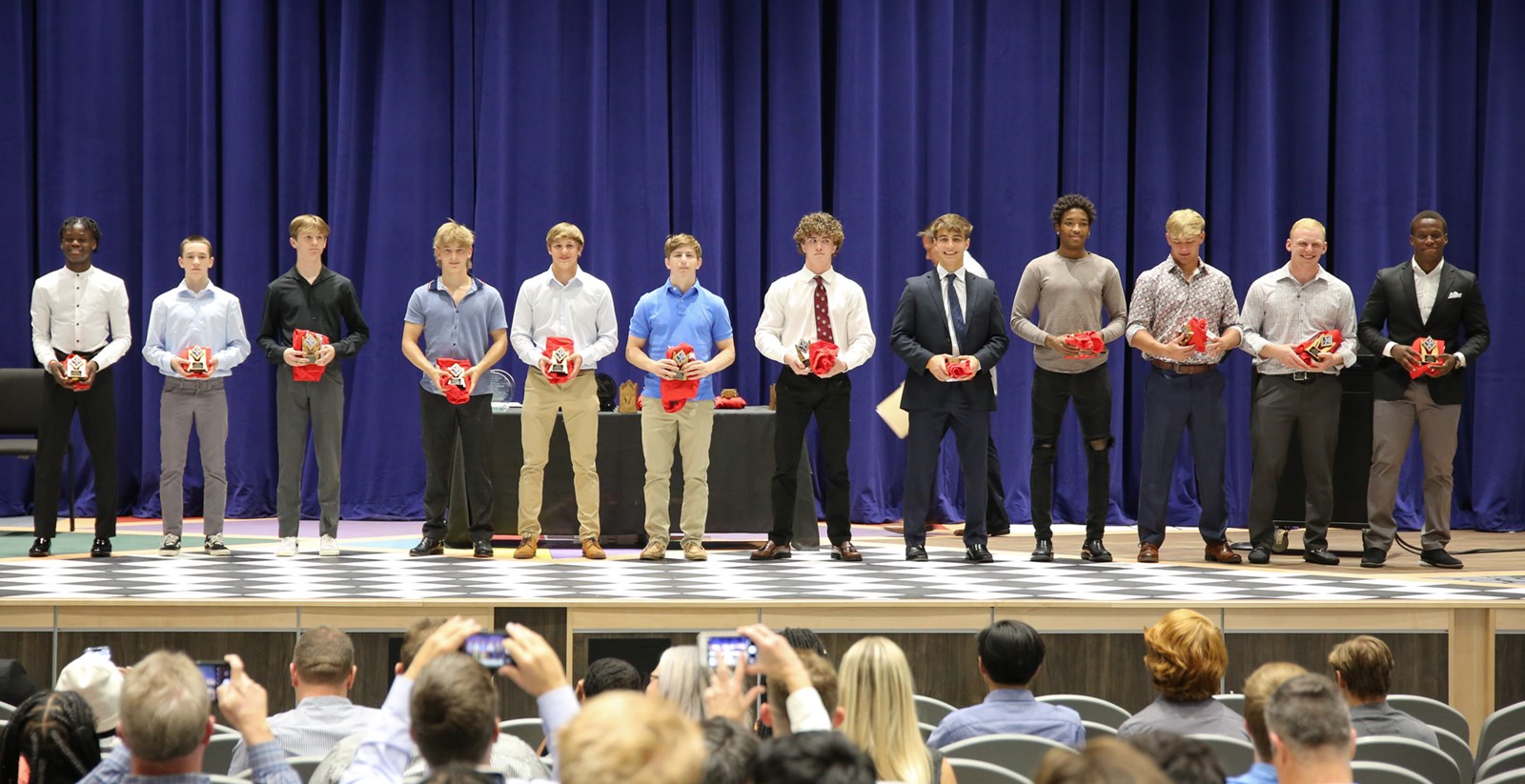 First Team All-County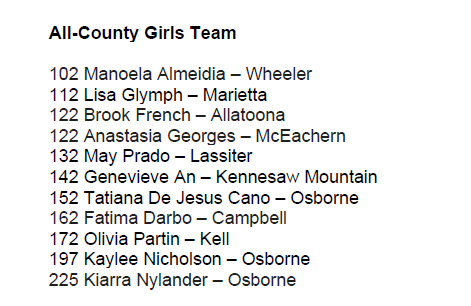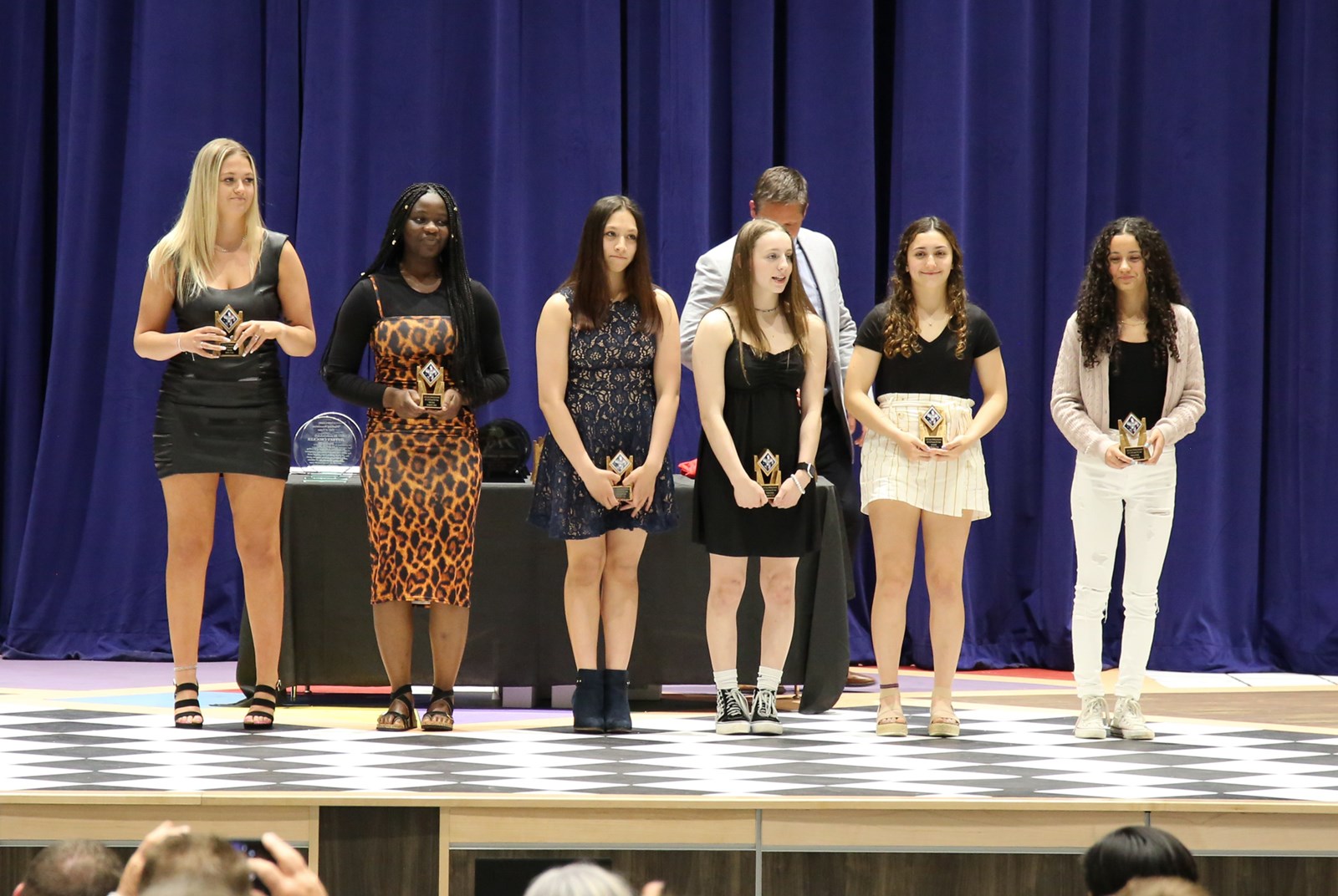 Female All-County