Allatoona and Harrison Coaches Win October Coach of the Month Award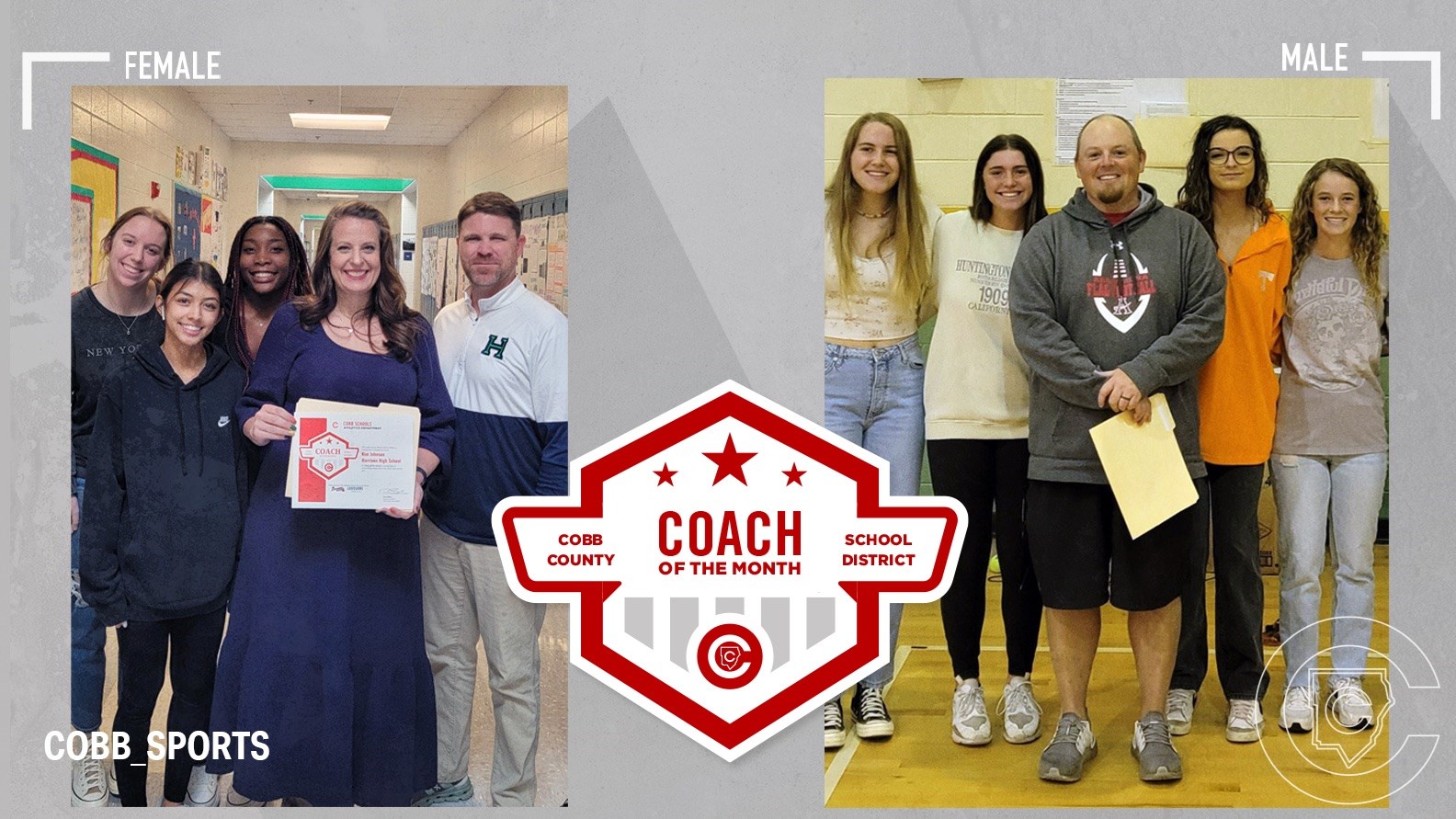 The Cobb Schools' Athletic Department has selected September's Coach of the Month winners. The Coach of the Month award shines a light on a female and a male coach doing great work in the Cobb County School District.
In conjunction with the Atlanta Braves and Good Game Atlanta, the winners receive a complimentary one-night stay at Aloft Atlanta at the Battery and dinner from Good Game Atlanta.
"This is a small token of our appreciation for their efforts both on and off the field," said Cobb's Director of Athletics, Don Baker. "Coaches teach a full day, and when the bell rings at 3:30, their days are only half over. They continue to work with our student-athletes for hours each week, oftentimes at the expense of their own spouses and children. We believe we have the best coaches in the state and want to celebrate them as much as possible!"
The October winners are from Allatoona and Harrison. Jordan Davis coaches flag football for the Buccaneers, and Kim Johnson is the head volleyball coach for the Lady Hoyas.
Jordan Davis, Flag Football, Allatoona
The Allatoona Flag Football program has only been in existence for two years, and in that short amount of time Coach Davis has helped the team achieve tremendous success. In the first year of the program, the Bucs played in the Final Four of the state tournament and have continued to grow ever since.
This year—Coach Davis's third season—the varsity girls have started strong with a 6-0 record. The Buc offense has outscored their opponents 122-25, and have posted three shutouts. In addition to the Varsity's success this year, Coach Davis also started a JV program, giving even more girls the opportunity to participate.
"Coach Davis is an excellent role model for our Allatoona students," said Principal Candace Wilkes. "His work to coach and encourage this group of female student athletes reaffirms the message we promote: to be strong, self-confident, and empowered as young women."
"When someone takes on the task of establishing a new sports program, they have to realistic that it will take time," Principal Wilkes continued. "He has worked incredibly hard and models and teaches the values that parents want to be instilled in their children: fair play, respect, loyalty, competition, sacrifice, and grit. His impact on these young ladies is invaluable, and will help them have the skills we want in future adults in our community."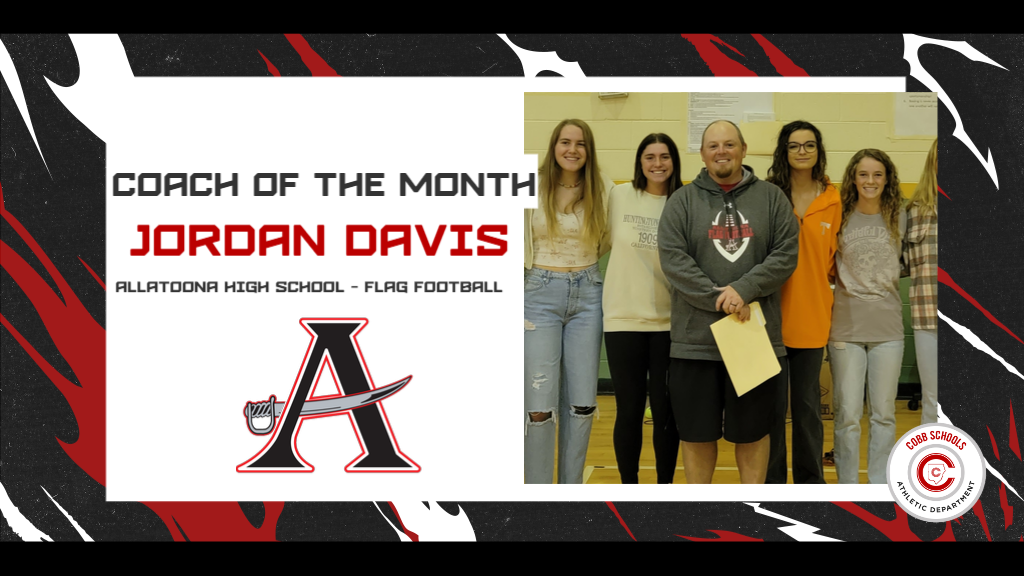 Kim Johnson, Volleyball, Harrison
After a slow start to their 2022 season, Coach Johnson rallied the Lady Hoyas and went on to flip the script in September, including a 6-game win-streak. Heading into October with a renewed focus, momentum, and a 19-12 overall record, the Hoyas made it through to the 7A state tournament and got to the Elite 8 round with shutout wins over Archer and Richmond Hill.
Harrison Principal Ashlynn Campbell had nothing but praise for her teacher/coach. "Coach Johnson truly embodies our school's vision of Helping Our Youth Achieve Success. She embraces this philosophy to her core as she genuinely cares about her students and players and their success in the classroom, on the court, and in life. She has been teaching math for twelve years and coaching for eleven here and she is also a Harrison graduate, so she is a Hoya through and through."
"But what I love about Coach Johnson the most is her passion," Principal Campbell said proudly. "I believe it is her passion that keeps her students and players motivated and engaged."
"She has been a source of inspiration for our volleyball program this season," agreed Harrison Athletic Director Wes Ellis. "She tackles challenges head-on and displays resilience and perseverance to her athletes. She is very outgoing and also very motivated. She has an infectious, positive personality and she builds great relationships with her students and athletes."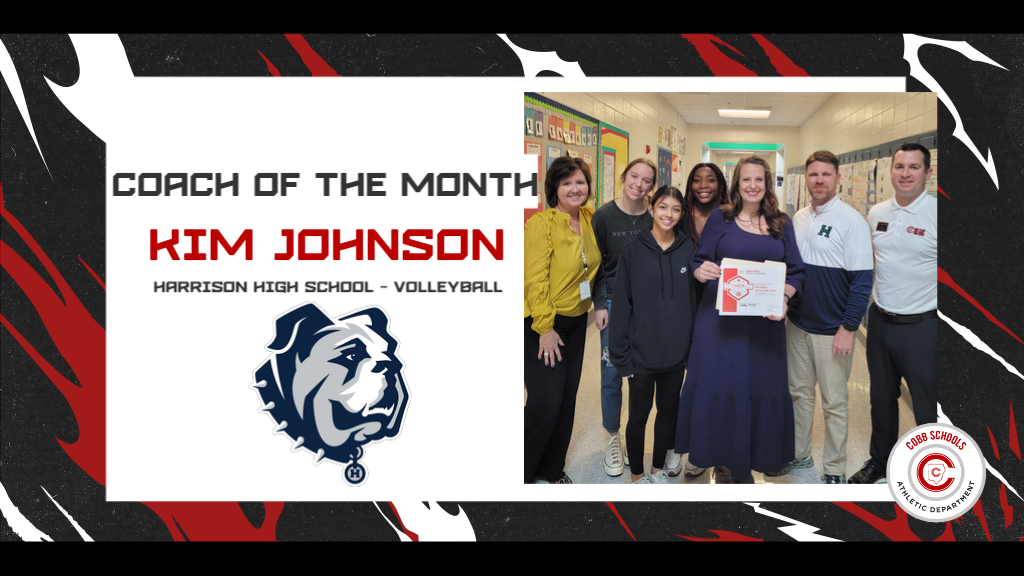 Great job, Coaches Davis and Johnson! Your efforts and example are exactly what makes Cobb the best place to Teach, Lead, and Learn. Your tireless leadership for your students and your athletes at Allatoona and Harrison are an encouragement and deserve to be rewarded with the Coach of the Month award. Congratulations!