Lassiter and North Cobb Coaches Honored with Coach of the Month Award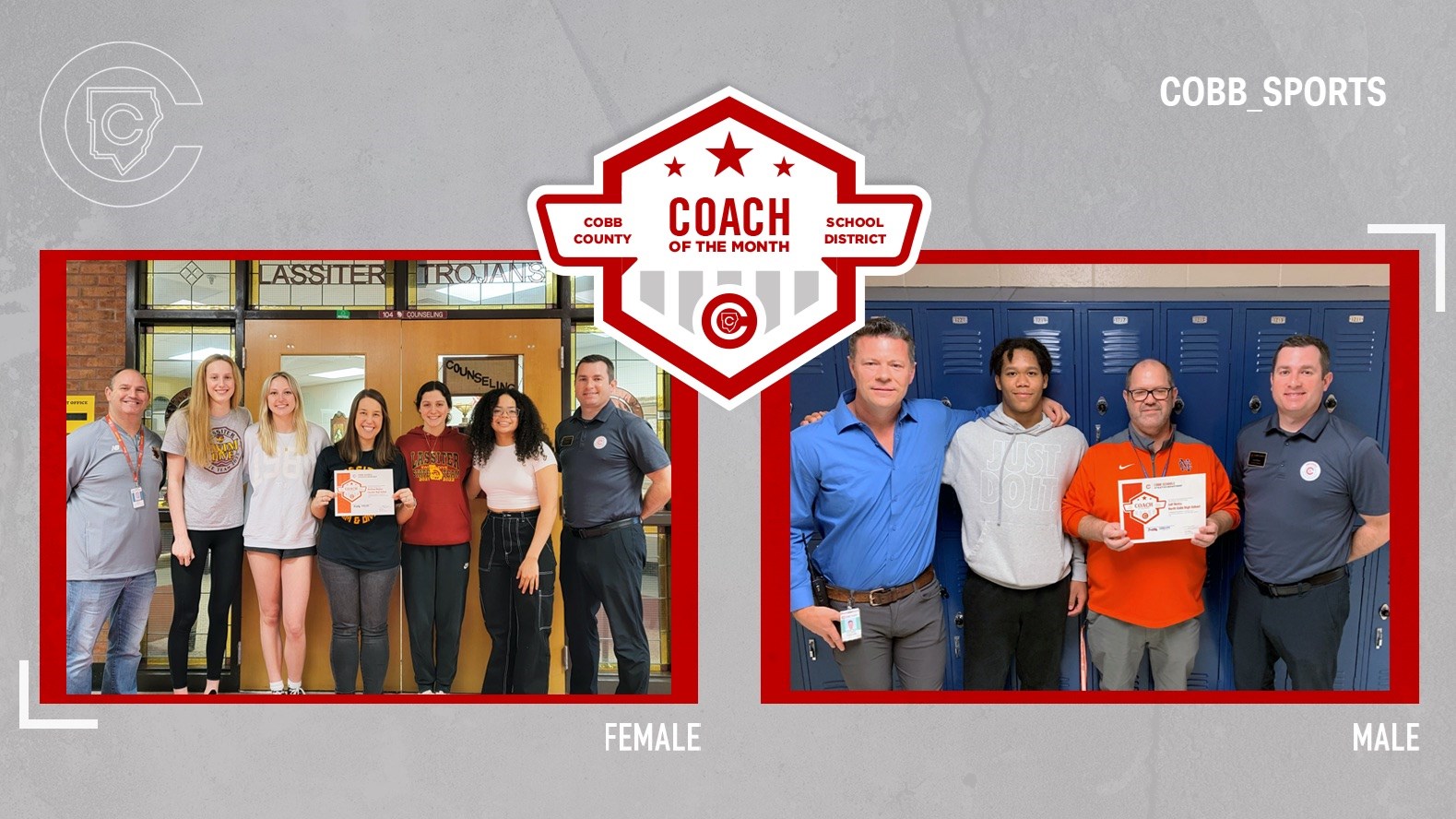 The Cobb Schools' Athletic Department has selected the latest Coach of the Month (COM) winners. The COM award highlights a female and a male coach doing exceptional work in the District.
In conjunction with the Atlanta Braves and Good Game Atlanta, the winners receive a complimentary one-night stay at Aloft Atlanta at the Battery and dinner from Good Game Atlanta.
"This is a small token of our appreciation for their efforts both on and off the court," said Cobb's Director of Athletics, Don Baker. "Coaches teach a full day, and their days are only half-over when the bell rings at 3:30. They continue to work with our student-athletes for hours each week, often at the expense of their own spouses and children. We believe we have the best coaches in the state and want to celebrate them as much as possible!"
The winners for February are from Lassiter and North Cobb. Brittany Hughes is the Trojans' Swim and Dive coach and Jeff Bettis coaches wrestling for the Warriors.
Brittany Hughes, Lassiter, Swim & Dive
In her tenth year as Lassiter's Swim and Dive head coach, Coach Hughes has just led the girls' team to their fourth consecutive state championship! Three state titles in a row and last year's Coach of the Year apparently wasn't enough for the mighty Lady Trojans and Coach Hughes. The 2020 team won the 7A title, and the 2021, 2022, and 2023 teams have claimed the 6A state championship trophy.
"Coach Hughes is amazing," said Lassiter Athletic Director Scott Kelly. "She has been here for 12 years and she definitely goes above and beyond the call of duty. She serves many students and makes sure that they have the best high school experience they can. She does an awesome job with all the students and it is very apparent that she cares for all of them."
"She is a counselor, which means she has to wear many different hats. She is a part of Lassiter Sources of Strength and she heads up our Lassiter Ambassadors. She is always finding ways to support the Lassiter community. We're so happy she's a part of our school!" AD Kelly said with a smile about his Coach of the Month.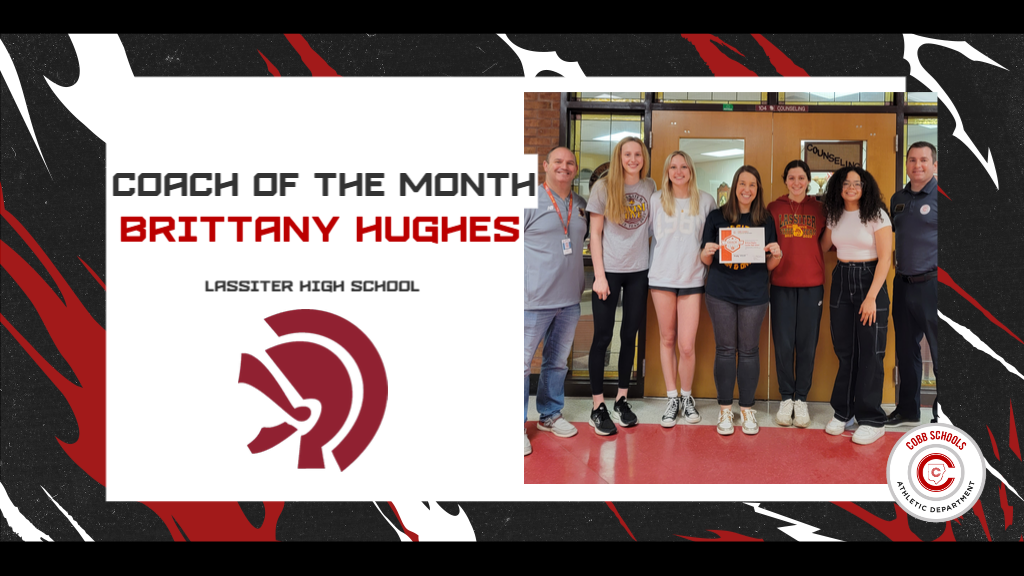 Jeff Bettis, North Cobb, Wrestling
A former Warrior wrestler himself, Coach Bettis led his team to their first-ever traditional Region Championship. The team also came within three points of winning the Duals, and sent five wrestlers to state with one third-place finish. Coach Bettis has been leading the Warrior wrestlers for the last six years and been improving them a little bit each year. He is also the freshman football coach, department head for Social Studies, athletic coordinator, Hall of Fame executive board member, activity bus driver, and much more. On top of all that, Coach Bettis is an elder in his church and an avid fisherman.
"Coach Bettis is a high character individual that does everything the right way," said North Cobb Athletic Director Matt Williams. "He is the perfect example of a coach that gets the most out of everything he does. He has been in education for 29 years. As an alumnus and wrestler for North Cobb, this first region championship for wrestling means the world to him and North Cobb."
"He is the epitome of what a teacher/coach does each day with his students," agreed North Cobb Principal Matt Moody. "His commitment and perseverance to rebuilding our wrestling program have paid off. His commitment to academics is no different. For many years, he supported our Governor's Honors Students as they went through that intensive process."
"He influences students and athletes at North Cobb each day in the most positive manner. He loves our school and the communities of Acworth and Kennesaw and is continually giving back to make our campus a better place for current and future Warriors," Principal Moody said proudly.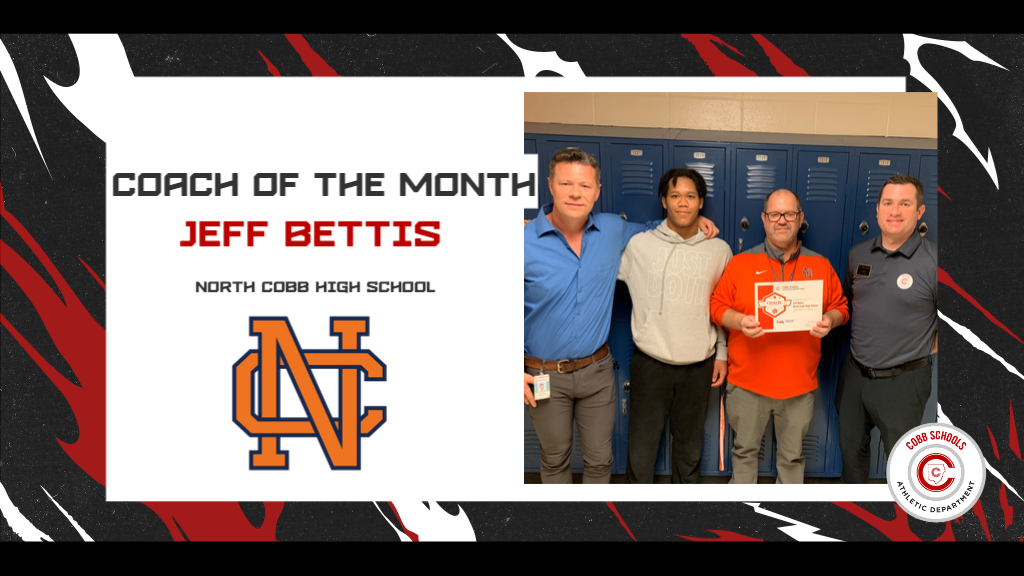 Well done, Coaches Hughes and Bettis! You are both outstanding examples of leadership, dedication, and selflessness. We are so happy you are part of the Cobb Schools team and helping to make it the Best Place to Teach, Lead, and Learn!