21 Trojan Seniors Commit to Next Level at Signing Event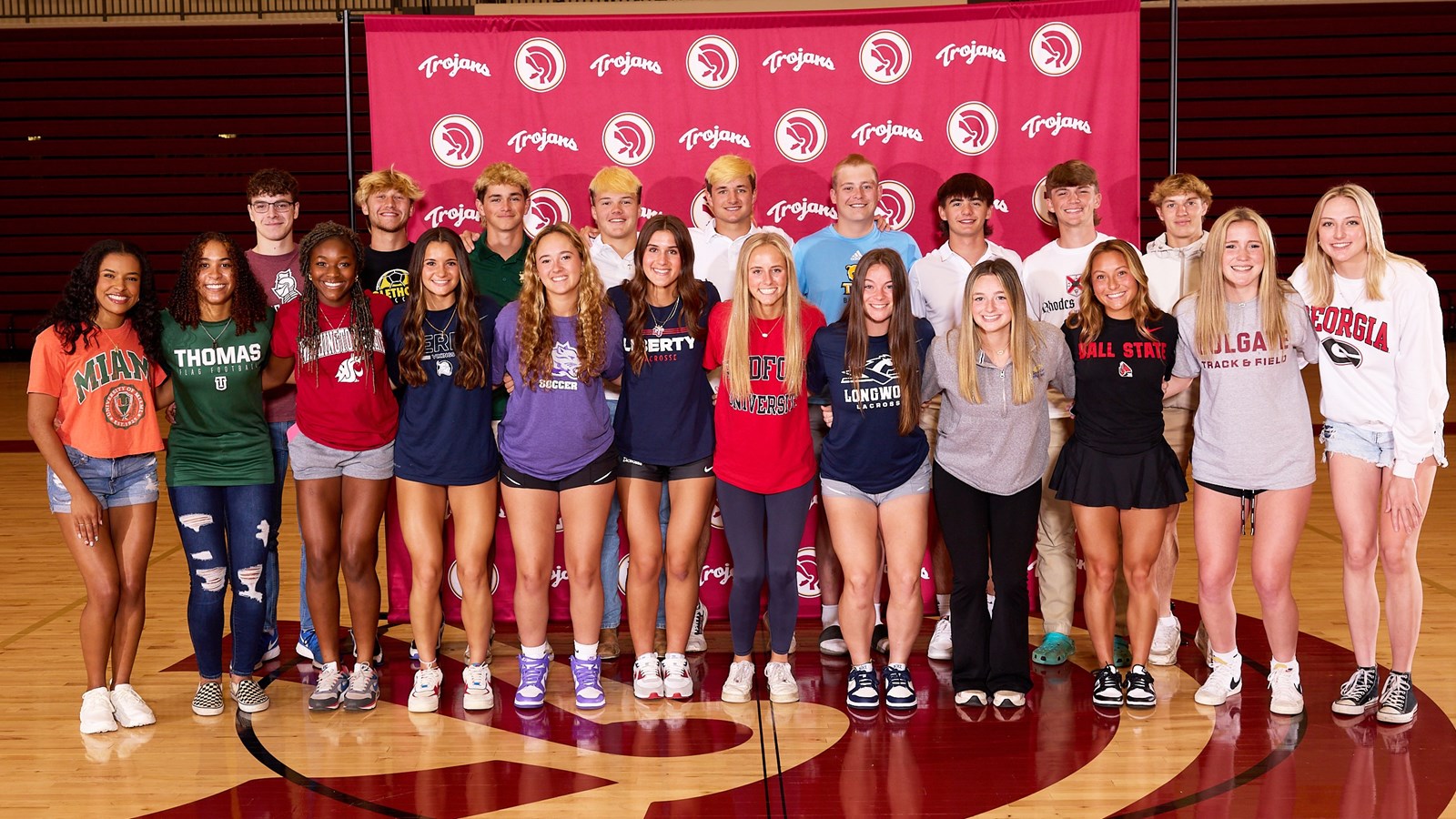 Lassiter High School recently celebrated 21 senior student-athletes signing national Letters of Intent with premier universities including University of Georgia, Miami University, and Washington State University.
The commitments represented collegiate athletics programs in baseball, cheer, cross country, flag football, lacrosse, soccer, swim, and tennis.
This class of athletes made up a part of the 2022 6A Boys and Girls Soccer State Soccer Championship teams, the 2021 Baseball 6A State Runner-ups, as well as the 4-peat 6A Girls Swim and Dive State Championship teams and have an average 3.84 GPA.
"This is about celebrating what these student athletes have accomplished in the classroom and in their respective sports. These athletes represent Lassiter every day and we couldn't be prouder of the legacy of hard work and commitment they will continue to demonstrate as collegiate student athletes," commented Lassiter Athletic Director Scott Kelly.
The full list of student athletes and their respective colleges and sports are below.
Baseball:
Dixon Noland, Birmingham Southern University
Hayden Sottile, Birmingham Southern University
Luke Manry, Piedmont University
Brandon Trichell, Rhodes College
Patrick Deegan, Truett McConnell University
Collin Strovinskas, Georgia Highlands College
Cheer:
Sydney Gonzalez, University of Miami
Cross Country:
Hailey Bradley, Colgate University
Flag Football:
Zoë Jackson, Thomas University
Lacrosse:
Caitlin Gavin, Embry-Riddle Aeronautical University
Ava Menna, Liberty University
Kyla Caimano, Radford University
Morgan Badger, Longwood University
Soccer:
Nena Watts, Washington State University
Maddie Kluth, Young Harris College
Kelsie Crosier, Berry College
Nathan Jordan, Oglethorpe University
Bradley Hungerbuhler, University of South Carolina Upstate
Swim:
Parker Tanke, Bellarmine University
Elizabeth Tilt, University of Georgia
Tennis:
Izzy Tanjuatco, Ball State University
Congratulations to all 21 of these student-athletes and their families. We know that each of will carry the Trojan winning tradition forward with you to the next level and continue to do great things and be inspiring examples. Well done!