Coaches from Campbell and North Cobb Honored as Coaches of the Month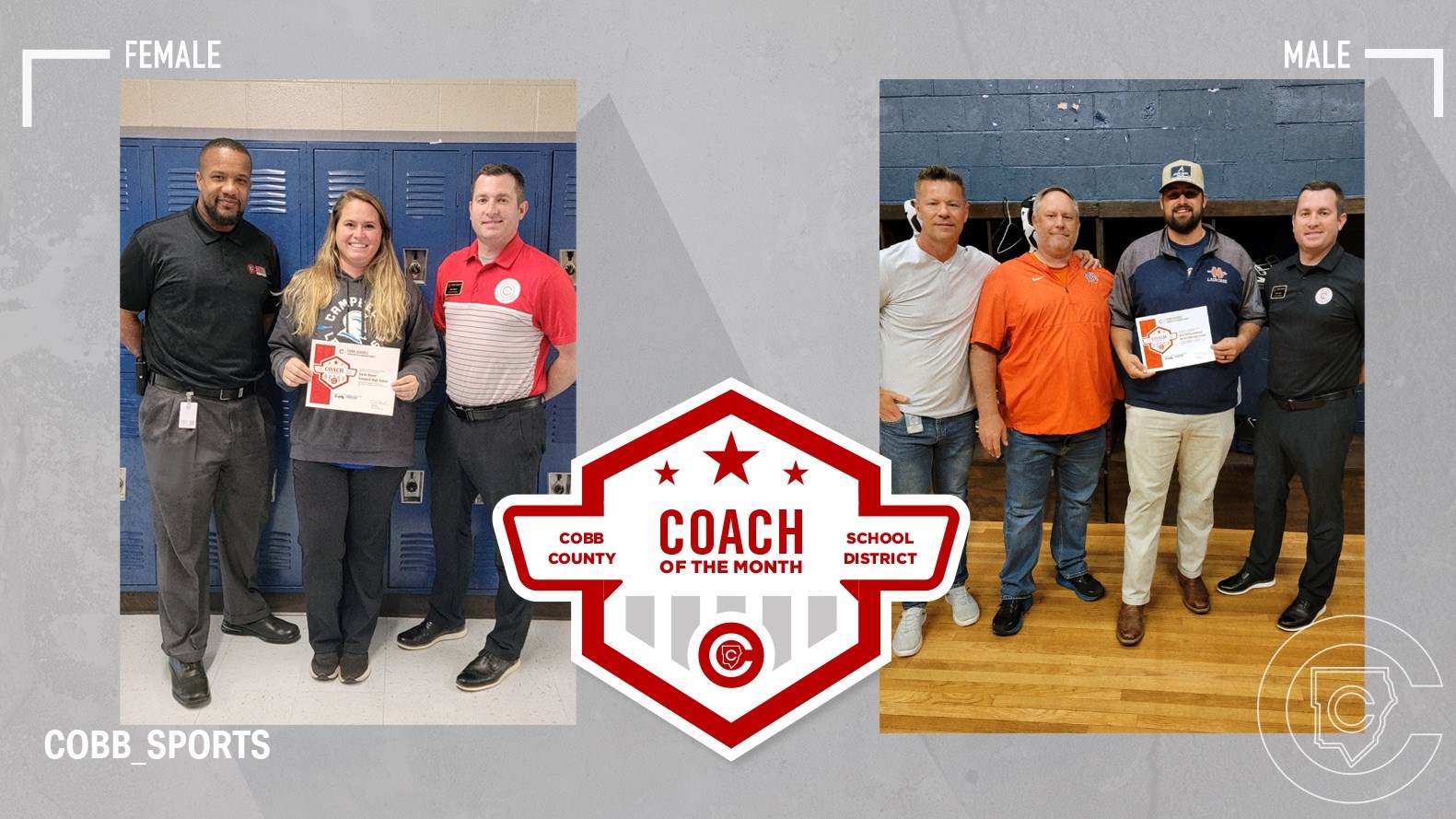 The Cobb Schools' Athletic Department has selected the latest Coach of the Month (COM) winners. The COM award highlights a female and a male coach doing exceptional work in the District.
In conjunction with the Atlanta Braves and Good Game Atlanta, the winners receive a complimentary one-night stay at Aloft Atlanta at the Battery and dinner from Good Game Atlanta.
"This is a small token of our appreciation for their efforts both on and off the court," said Cobb's Director of Athletics, Don Baker. "Coaches teach a full day, and their days are only half-over when the bell rings at 3:30. They continue to work with our student-athletes for hours each week, often at the expense of their own spouses and children. We believe we have the best coaches in the state and want to celebrate them as much as possible!"
The winners for April are playoff-winning Lacrosse coaches from Campbell and North Cobb. Sarah Shaver is the Lady Spartans Coach and Kyle Vankauwenberg is the Warrior Boys Coach.
Sarah Shaver, Campbell, Girls Lacrosse
In only her second year of coaching the team, Coach Shaver led the Spartans Girls Lacrosse to a Sweet 16 finish. The Lady Spartans finished the second half of their season very strong with a six-game win streak before being eliminated by North Paulding in the 7A state tournament.
"Coach Shaver brings a highlight to the Campbell Girls Lacrosse program, which ultimately sheds light on our main focus being the student-athletes," said proud Athletic Director James Thigpen. "She has been a teacher at Campbell for eight years, and she has coached for four years. She has done well with our lacrosse program considering where it has come from, and she has been able to point things in the right direction to catapult future success."
"It is a great feeling anytime a coach from your athletics program wins such an award," continued AD Thigpen. "It brings a sense of humble pride, and is says that something is being done right."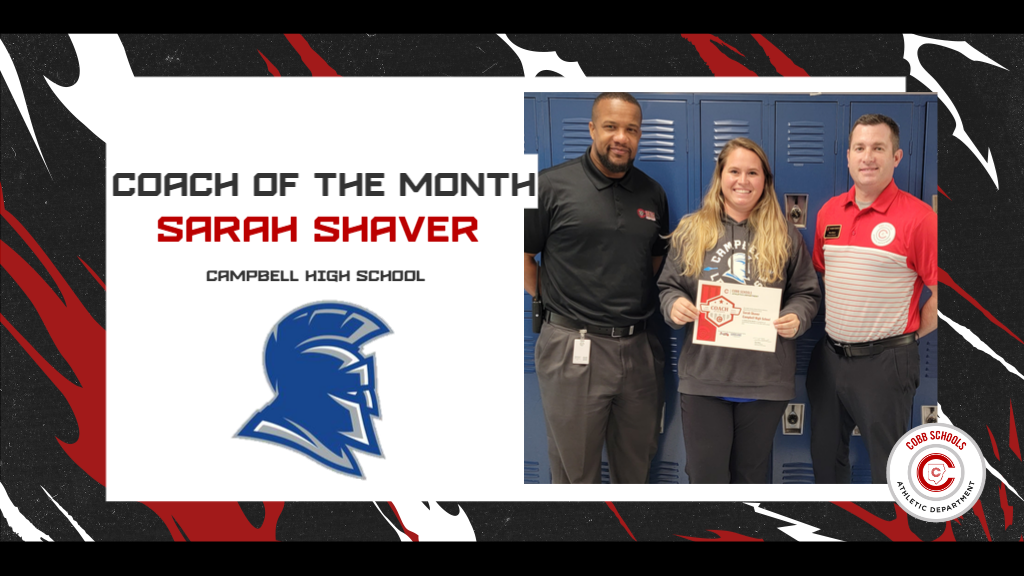 Kyle Vankauwenberg, North Cobb, Boys Lacrosse
Coach Vankauwenberg led the Boys Lacrosse team to their first playoff appearance in three years and first playoff win in school history. The Warrior Boys finished the season with an Elite 8 finish and a 15-5 overall record.
"Coach VK is one of the hardest working coaches in our building," said AD Matt Williams about his Coach of the Month. "He just grinds at his job without making excuses or complaining. He has been at North Cobb for 5 years and has been the Head Boys Lacrosse coach for the last three. Coach VK teaches in the special education department at North Cobb and has also taught history and math. He is married and has a brand-new daughter."
"He has a strong desire to succeed and isn't afraid to put in the time or energy to get there. He is very easy to get along with and he doesn't cut corners. We're so glad to have Coach VK at North Cobb!" AD Williams concluded.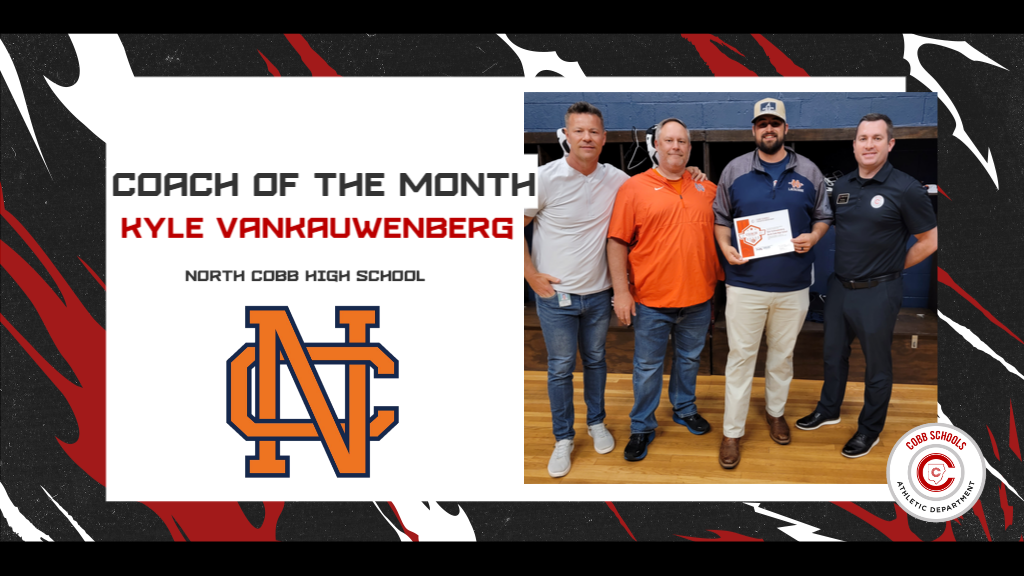 Congratulations Coaches Shaver and VK! Great job on the field and preparing your student-athletes for success in all they do. Both of these lacrosse programs will be ones to watch in the future!