Lassiter Soccer Sweeps 6A Championships with Dual State Titles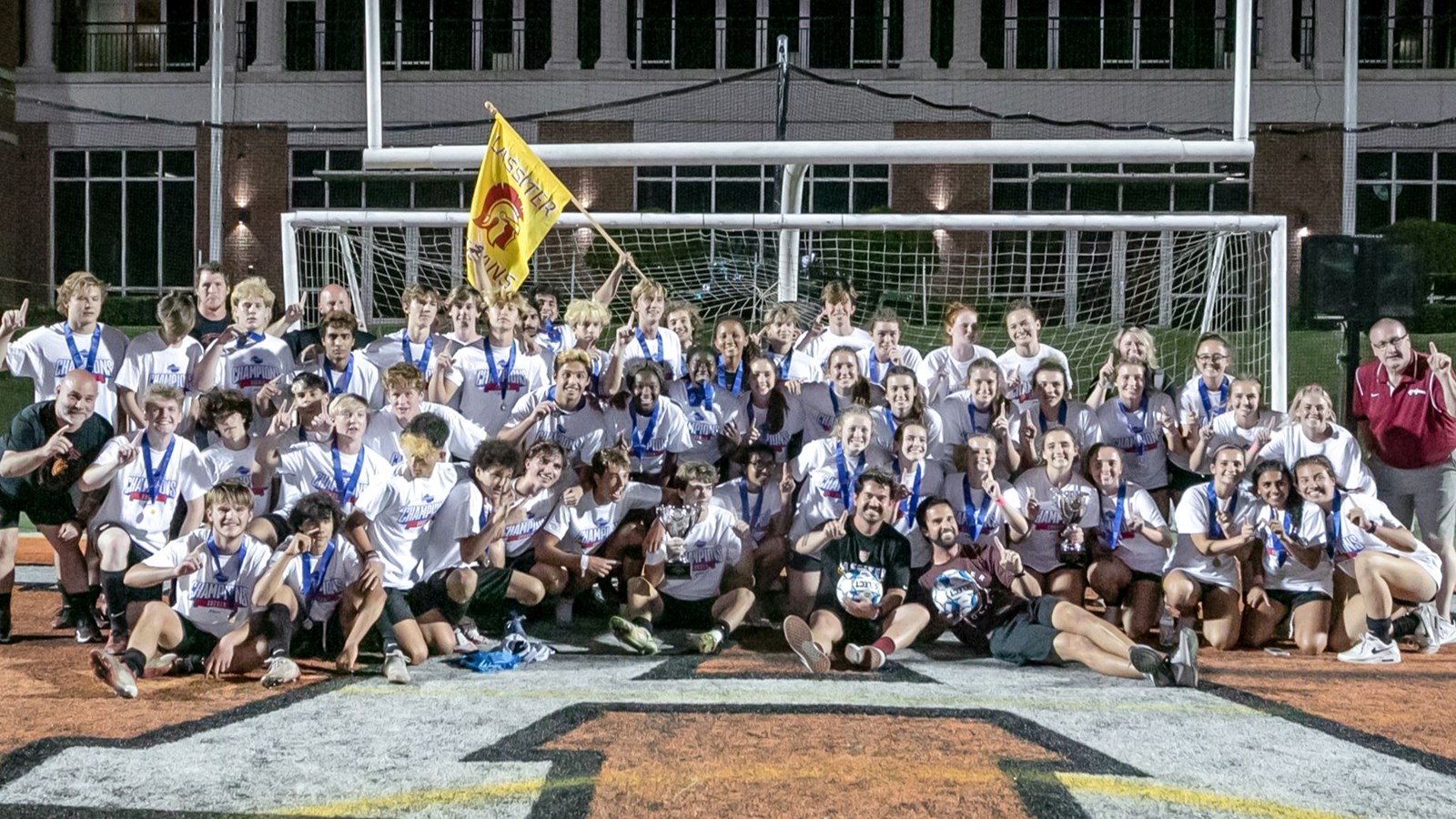 The Lassiter soccer program has had a remarkable season for the ages. Both teams—boys and girls—lost half as many games as they tied. The combined record for Trojan soccer in 2022 was 35-2-4. Both teams were the Region 6-6A champ and both tore through opponents on their path to Friday's state championship games held in Macon.
The girls team retired Lanier in the first round of the GHSA playoff tournament, and continued with home wins over Lakeside (Dekalb), Johns Creek, and Chattahoochee to find themselves in the Finals against Cambridge for the championship. A competitive game took place on Mercer's Anderson Field and after 100 minutes of play the game was still scoreless. It came down to penalty kicks to crown the champ.
After five PKs the game was tied once again at two apiece. Campbell Stoll scored Lassiter's first go-ahead goal and recent Athlete of the Week Malia Loadwick made the championship-winning save to keep it that way. The Lady Trojans got the party started in the stands, winning the state title by a single goal, 1-0 (3-2 PKs).
"This TEAM!" said head coach Robbie Galvin with pure excitement. "We were a team of destiny and this season was very special. I am so proud of this group of girls. I am their coach but also their biggest fan."
Without a single loss this season (16-0-4), the Lady Trojans had a determination and focus that doesn't come around very often. Their national ranking of #10 was confirmed for any doubters in Friday's come-from-behind, never-say-die victory.
"Several players commented early in the season that there was something different about this team," Coach Galvin continued. "They were not talking about the talent but instead about the climate and culture. We lost our beloved teammate and friend, Libby Rountree, this past summer in a tragic car accident. This group came together, supported one another, and we were on a mission to honor Libby well. They deserve all the success that have had this year."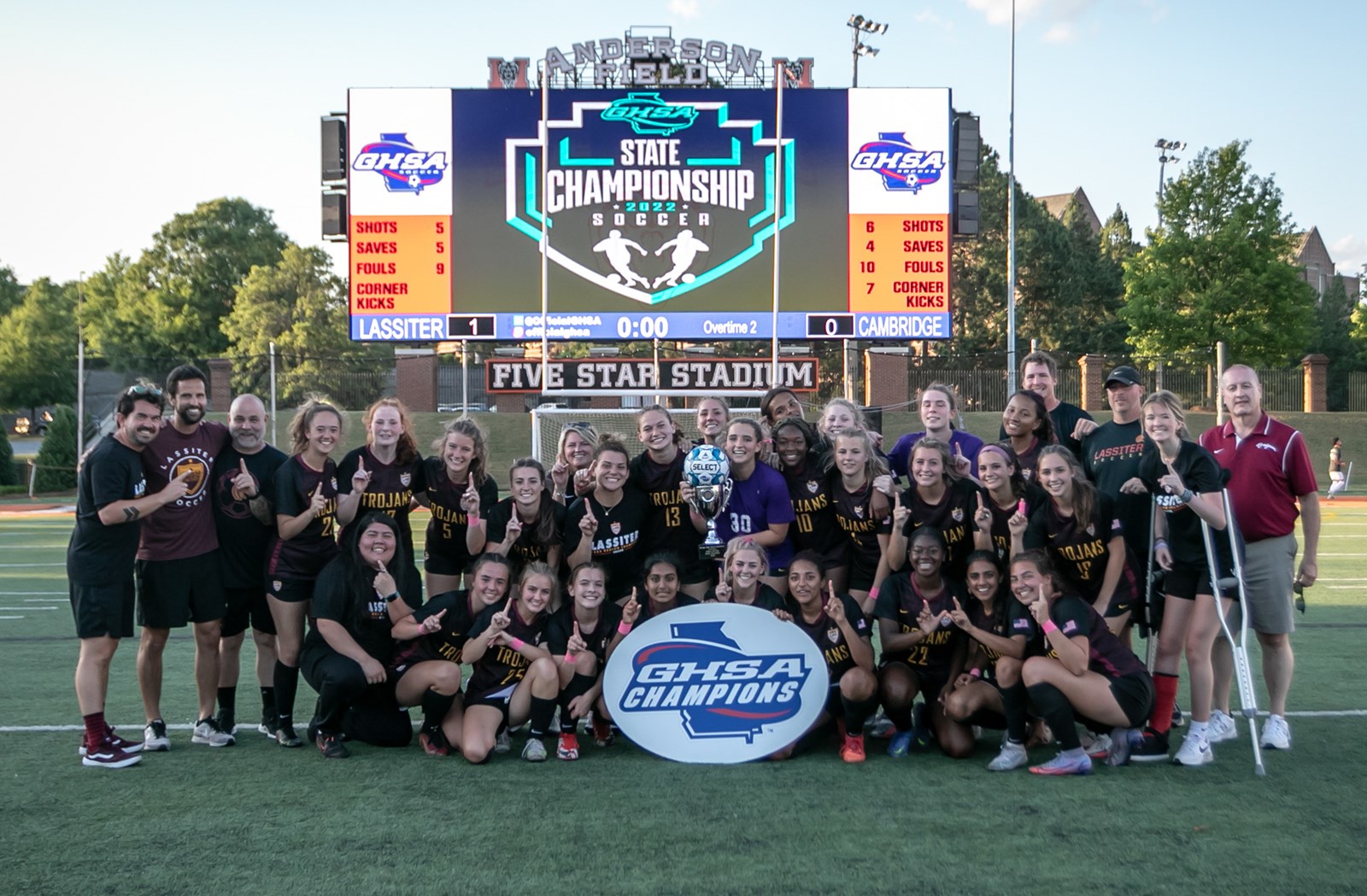 Photo by Rachel PearceAfter the girls' impressive win, it was the boys turn. The 19-2 Region Champs were on an intense postseason run of their own. After shutting out Buford in the first round 4-0, the Trojans won the next three games by a single point—North Atlanta (2-1), Grovetown (3-2), and Central Gwinnett (2-1)—to advance to the Finals against Region 5 champ Dalton.
The Trojans scored three goals and held the Catamounts to one to secure the state title, 3-1. It was the second GHSA championship for Lassiter within three hours of each other!
"We knew we had a very talented group entering the season but the intangibles are what make them so special," said proud head coach David Penny. "These boys showed trust, commitment, and the ability to respond to adversity from early on in the season. We shared a pivotal moment during the season after a loss that galvanized our team. We won 12 straight games from that point to earn a state title."
"It was an incredible season and this means so much to me, but this was a team win," said Coach Penny appreciatively. "I am thankful to all my former players for making me a better coach as well as to my assistant coach, Sam Hunt. I have the best assistant coach in the state. The support from my family, especially my wife during a long, stressful season, and the Lassiter community has been overwhelming."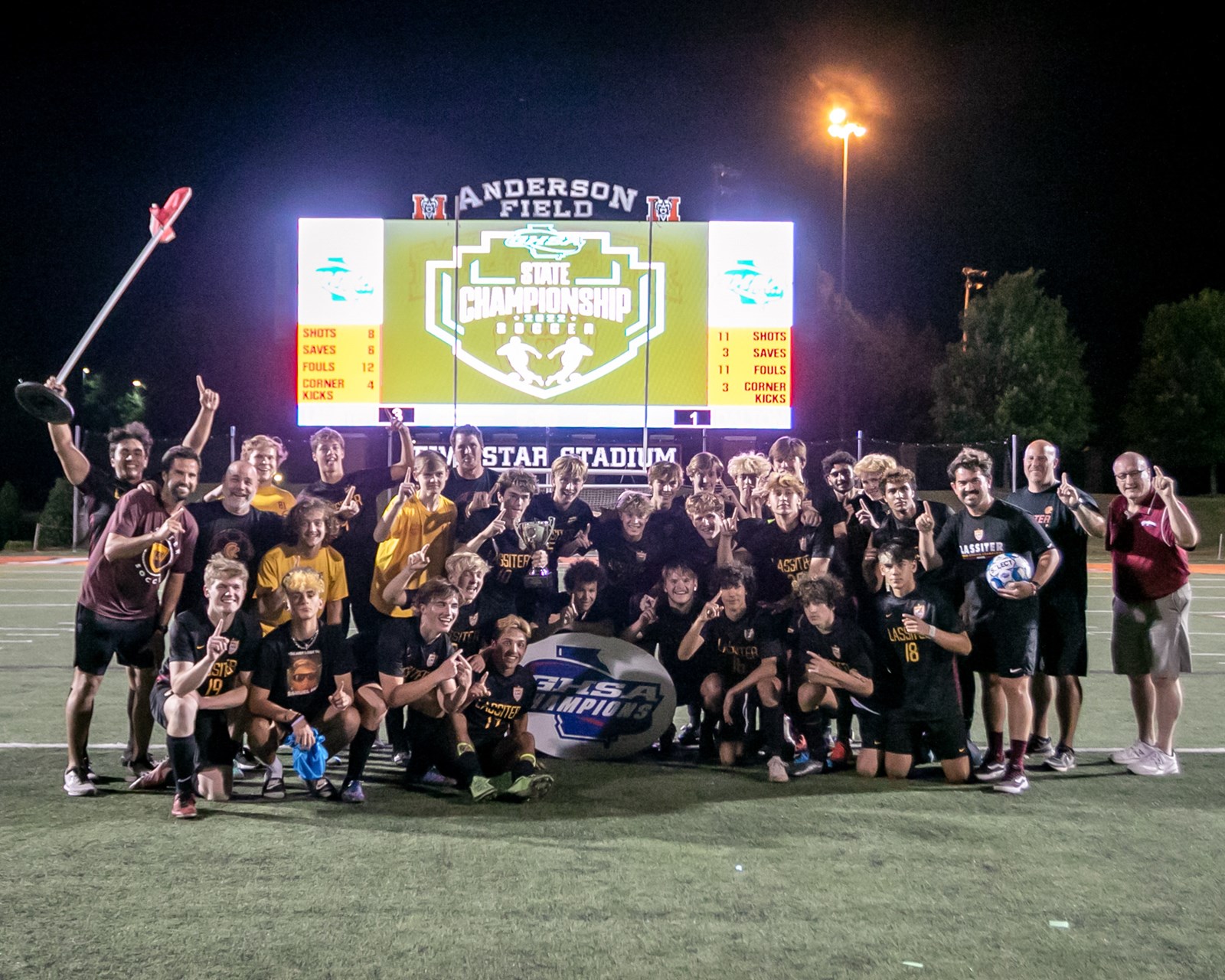 Photo by Rachel Pearce
These titles are the first for the Trojan boys in twenty-six years and six years for the girls. Both coaches were well aware of the importance of the wins for Lassiter as a whole, and what it means for Trojan soccer moving forward. "I am so happy for this team and for Lassiter, past, present, and future," Coach Penny concluded. "It was truly special to share the day with our girls team, Coach Galvin, and all of the fans who made the trip."
Coach Galvin was in complete agreement: "Sharing a state title run with the boys... magical!" he said. "One Program! Two Champions! Go Trojans!"
Congratulations to Lassiter for an amazing year of soccer and a double state championship! Now let's get ready to defend those titles in 2023!
Special thanks to Rachel Pearce for the photos used in this article