Pope Celebrates Fall Scholarship Signees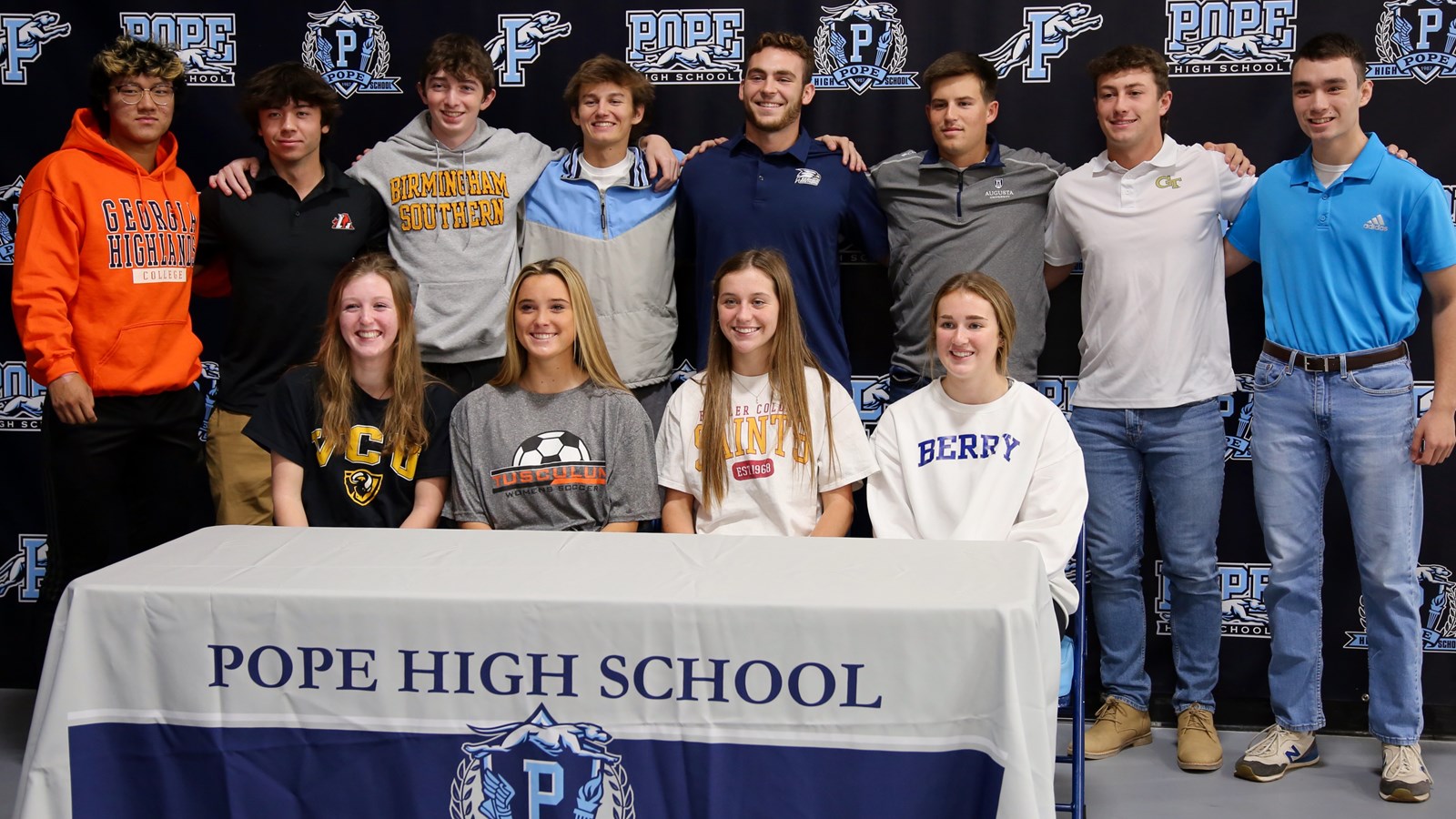 Pope High School's gymnasium was the scene for a recent celebration of more than a dozen student-athletes officially signing their Letters of Intent (LOI) to further their academic and athletic careers at the collegiate level.
Friends and family gathered around decorated tables in support of their athlete and listened as each gave a short explanation of where they are going and why they chose that school. Five sports were represented at the event: baseball, soccer, lacrosse, softball, and volleyball.
Caroline Heintzelman got the presentations underway by announcing that she would be attending Tusculum University in Tennessee for soccer. She said the campus appealed to her because of the coaches and the people. Her teammate, Presley Morales, was not present but will also be playing soccer in Tennessee next fall; Presley is committed to Middle Tennessee State.
Next, Becky Blaydes revealed that she would be attending Berry College in Rome, Georgia on a beach volleyball scholarship. The Greyhound Volleyball team won the 6A state championship over Sequoyah in early November thanks in part to Becky's six kills in the match. The Pope ladies rallied back from a 2-0 deficit to win three straight games and secure the title, 3-2.
Pope's other fall state champion, the Fastpitch Softball team, also boasted two LOI signees. Emily Ricci will be attending Flagler College in Saint Augustine next year and her teammate, Jadyn Laneaux, will be attending LSU. The 2022 Greyhound Fastpitch squad lost only a single game all season to 2021's state champion (and East Cobb neighbor) Lassiter in mid-August. The team won out the rest of their season, claiming both the Region 7-6A championship and the 6A state championship over Apalachee in late October.
Representing Pope Lacrosse, Mary Grace Tibbs signed her LOI to attend Virginia Commonwealth University. She said she loved both the coaching staff and the campus at VCU. In Boys Lacrosse, Graham Driscoll is heading to Birmingham Southern due to their great reputation in both academics and athletics and because it's a small college in a big city. David Friend will be joining the lacrosse team at the University of Alabama-Huntsville next fall. He chose the school to get a great education and because he loved their facilities. Two other lacrosse players moving on to the next level from Pope are Kylie Fragala and Liam Murray. Kylie is committed to Lander University in South Carolina and Liam will be joining Emily Ricci at Flagler College.
Pope's 2022 6A state champion baseball team is sending six of its seniors off to the collegiate level. Kent Schmidt chose Georgia Southern because he loved the campus and thinks their baseball program is moving in the right direction. Calvin Koo committed to Georgia Highlands since it was close to home and a good route to continue playing the sport he loves. Blythe Keisler loves Augusta University for its location and coaching staff. Carson Kerce will be staying in Atlanta and playing for Georgia Tech because of the great campus and coaches at the downtown university. David Lovell announced his intention to attend Covenant College because it has a great atmosphere and a good location. With the final announcement of the day, Eli Overstreet made it known that he would be playing his college baseball for LaGrange College. Eli said he decided on the school because of its program and facilities.
After the formal part of the presentation, the student-athletes took photos with their friends and family, and celebrated their futures with cake and snacks. Pope Athletic Director Josh Mathews thanked everyone for coming out and congratulated the signees one last time for their accomplishments. We look forward to your collegiate careers and know that each of you will represent Cobb well at the next level. Great work, Greyhounds!