Walton Inducts Second Class into Its Sports Hall of Fame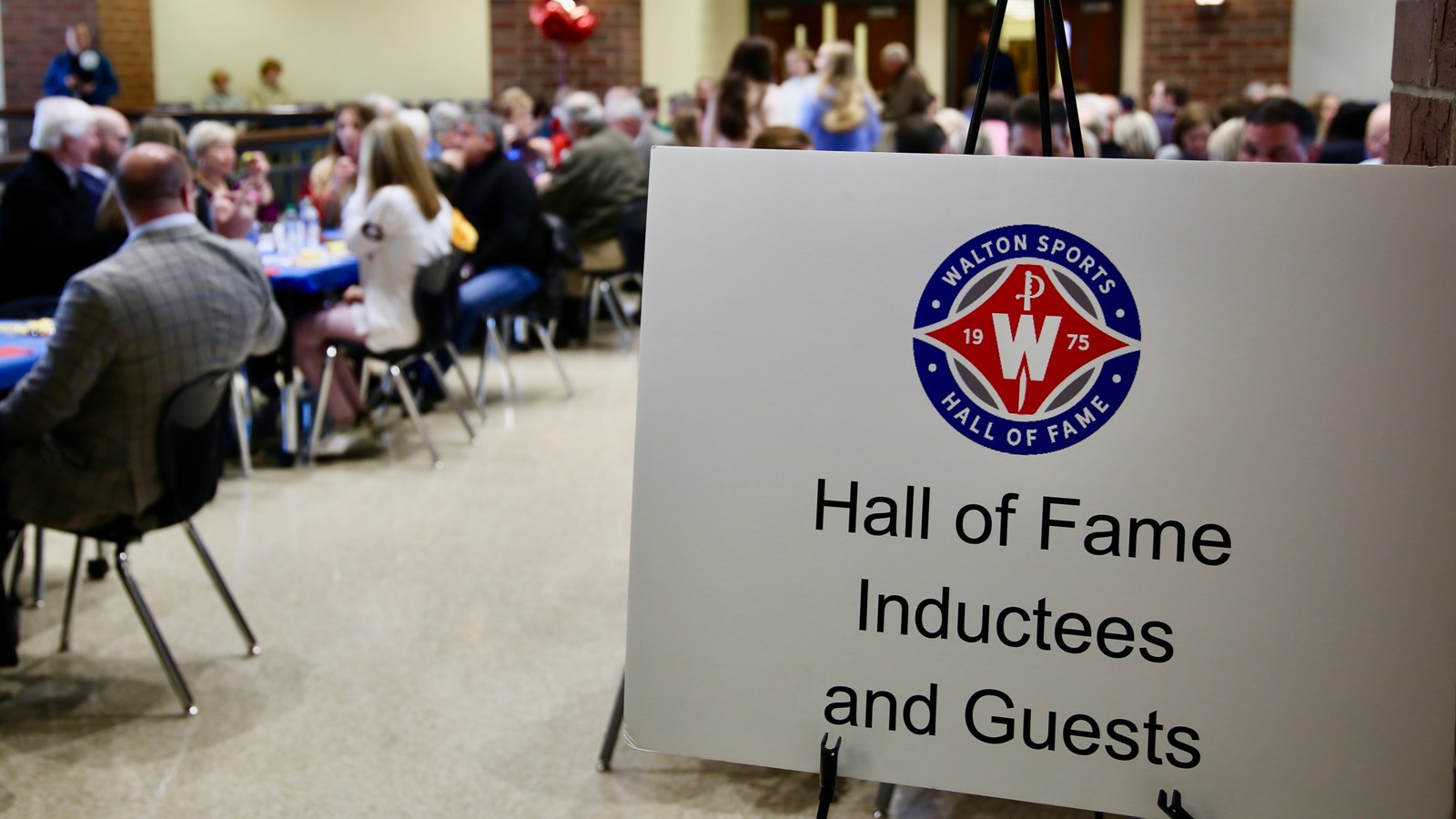 On Saturday, January 14, Walton High School inducted its second class into the school's Sports Hall of Fame. Six were inducted—5 individuals and one team—and officially etched their accomplishments and legacies into Walton sports history.
Following a light brunch of refreshments and cake, the ceremony began with a welcome from Walton Athletic Director Chris Williams. After a few remarks about the beautiful new facilities around the school's campus, AD Williams handed the mic to Todd Downes who introduced the first inductee, softballer Kaili Howard. Mr. Downes mentioned that Kaili's extraordinary career and outstanding stats could not be contained on the nomination form, literally. The form was too short to include them all, he said to laughs.
When Kaili came to the podium, she was accompanied by her daughter. The humble pitcher does not enjoy the limelight, but she smiled warmly and took it all in before proceeding with her short acceptance speech. She thanked her coaches, family, and teammates for their love and support throughout her Walton career. "I am truly honored by all of this and couldn't be prouder to be a part of the Walton High School family," she said to applause and cheers.
Next up was swimmer Erin Reisinger, who was introduced by her club coach, Pike Hightower. From 2008 to 2010, Erin's dominance in the pool was so legendary that Coach Hightower referred to it as her "reign of terror." "The other swimmers were fighting for second place," he said. Her 2009 state record for the 100-yard backstroke stood for 13 years until it was finally broken last season.
Erin also thanked her family and said she was grateful for all the memories and the experiences that she had while at Walton. She recognized her coaches for not only teaching her how to be a great athlete but also for providing a kind and supportive environment.
Catcher Jim Morgan took the podium next to accept the award for the entire 1992 baseball team. He told the crowd about the infamous curse-exorcising seance on the team's bats that took place prior to playing Wheeler that season. "It was then that Coach Jordan knew what kind of nut jobs he was dealing with," Mr. Morgan said.
"I immediately shut the door and went out," Coach Jordan said from his table as the room erupted in laughter.
As all those present from the 1992 state championship team came forward, Coach Dennis Jordan also joined them and said how proud he was of that team and what they accomplished. "It was the best group of parents and the best group of players in my 17 years of coaching sports," Coach Jordan said. "It's not like this anymore. I was so fortunate to be a part of it."
An inaugural member of the Hall of Fame, Keith Grunewald, came forward next to induct Coach Jordan. "From 1988 to 2002, Coach Jordan was the best coach in the best region in the best state in America. I don't think anyone can argue with that," Mr. Grunewald said to applause. "But more importantly than teaching me about the game, he taught me how to be a better man, a better husband, a better father, a better friend, a better person."
"This place, when you walk in the door, gives you an atmosphere of being the best," Coach Jordan said after accepting his award. "I was a mere part of it; the want-to that was evident here during that time was instilled and supported by the parents. They let me be me, but we couldn't have done it without them."
Sharon Loughran was up next to introduce soccer inductee De Nowak. Ms. Loughran was accepting an award of her own—the United Soccer Coaching Association's National Coach of the Year—and couldn't be at the ceremony personally, but sent a video in her place. Coach Loughran was Ms. Nowak's coach at Walton her senior year. "She possessed key characteristics that distinguished her from anyone I had ever seen in a leadership role," Ms. Loughran said about De Nowak. "She gave credit when things went well, and took responsibility when they didn't."
"I am glad to have something tangible to point to, so maybe my kids will realize that they get their athletic ability from me," Ms. Nowak said with a smile about her award. "My time at Walton was my most favorite time ever playing sports."
The final inductee of the day was dual-sport athlete (Football and Lacrosse) Chase Thomas. He was introduced by his father, Tom Thomas. "It all starts with the leadership and the coaches," said the elder Thomas. "Chase was determined and motivated and loved to win. He was a leader on the field, but he always had the utmost respect for his teammates."
"It means so much to be the first football player inducted into the Hall of Fame. It's such an honor," Chase said. "I had such a great supporting cast that wanted to see me accomplish my goals: my parents, my teammates, and my coaches. But I would like to thank my wife most of all and the life we have now with our two amazing boys. The joy I get from the three of you is greater than anything I did on the field. Thank you, and Go Raiders!"
"We now have 14 in the Walton Hall of Fame," AD Williams said to conclude the ceremony. "You are the cream of the crop of one of the best sports programs in the entire nation. You've got a lot to be proud of, and so do we. Once a Raider, always a Raider."
Congratulations to the second class of inductees to the Walton Hall of Fame! Your dedication to sport, but more importantly, to those around you, is inspiring and a great example of what it means to be a student-athlete. Thank you for your examples of dedication, perseverance, and sportsmanship!