Welcome to the Cobb County School District employment information page. Before you begin your application, please familiarize yourself with the information below, which will help to expedite the process.
---
2023 Cobb County School District Job Fair!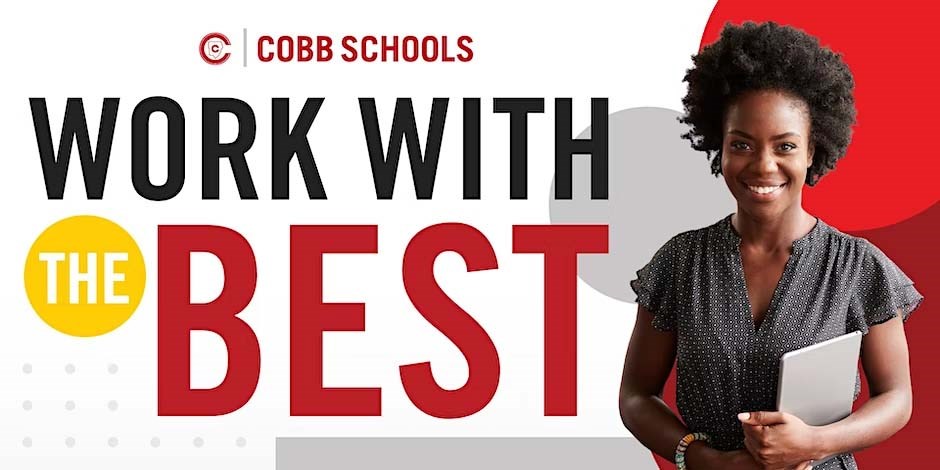 The 2023 CCSD Job Fair is for candidates seeking teaching positions for the 2023-2024 school year, as well as support staff positions. All CCSD K-12 schools will be represented at the job fair and organized by school levels. Maps will be available upon arrival.
When: Saturday, March 25, 2023
Where: Truist Park
Time: 9:00 AM - 12:00 PM
We are excited that you have chosen Cobb County School District as the place you want to work. We have been named Best-In-State-Employer in Georgia for 2022 by Forbes Magazine!
How to prepare for the Job Fair:
Candidates must complete a CCSD application before attending the job fair. To create a CCSD application account and/or complete the application, click here.

---
Reminder: In addition to completing your employment application, you must apply for a specific job to be considered for it.
Job Notifications are now available!
If you would like to receive job notification e-mails for future postings, log into your application, and from the menu, go to Jobs > Job Notifications. Follow the instructions on the screen to enable notifications on your selected job categories. You can also enable notifications from individual job postings by pressing the Notify me about jobs like this button.
---
Job Vacancies
---
Certified

Classified

Administrative

Substitute Teacher




Click on a category for information and FAQs regarding the application process
Certified
Classified/Parapro
Administrative
Substitute Teacher

Teachers

Certified Supervisory

Supply Counselor

Supply Social Worker

Counselor

Speech Language Pathologist

Occupational Therapist

Physical Therapist

Media Specialist

Social Worker

School Psychologist

Non-Teaching Supervisory

After School Program

Bus Driver

Campus Police

Clerical

Clinic Substitute

Custodians

Food Service

Food Service Sub

Maintenance

Professional/Tech.

School Nurse

Technology

Warehouse/Inventory

Principal

Assistant Principal

Support and Services Administrator (SSA)

Central Office Assistant Director Level and above

Substitute Teacher

Supply Teacher
PLEASE NOTE - The Human Resources Office does NOT provide application status updates via the telephone. Confirmation of receipt of application will be sent via e-mail once the application has been successfully submitted