Kennesaw Mountain and Osborne Proud of Inaugural Coaches of the Month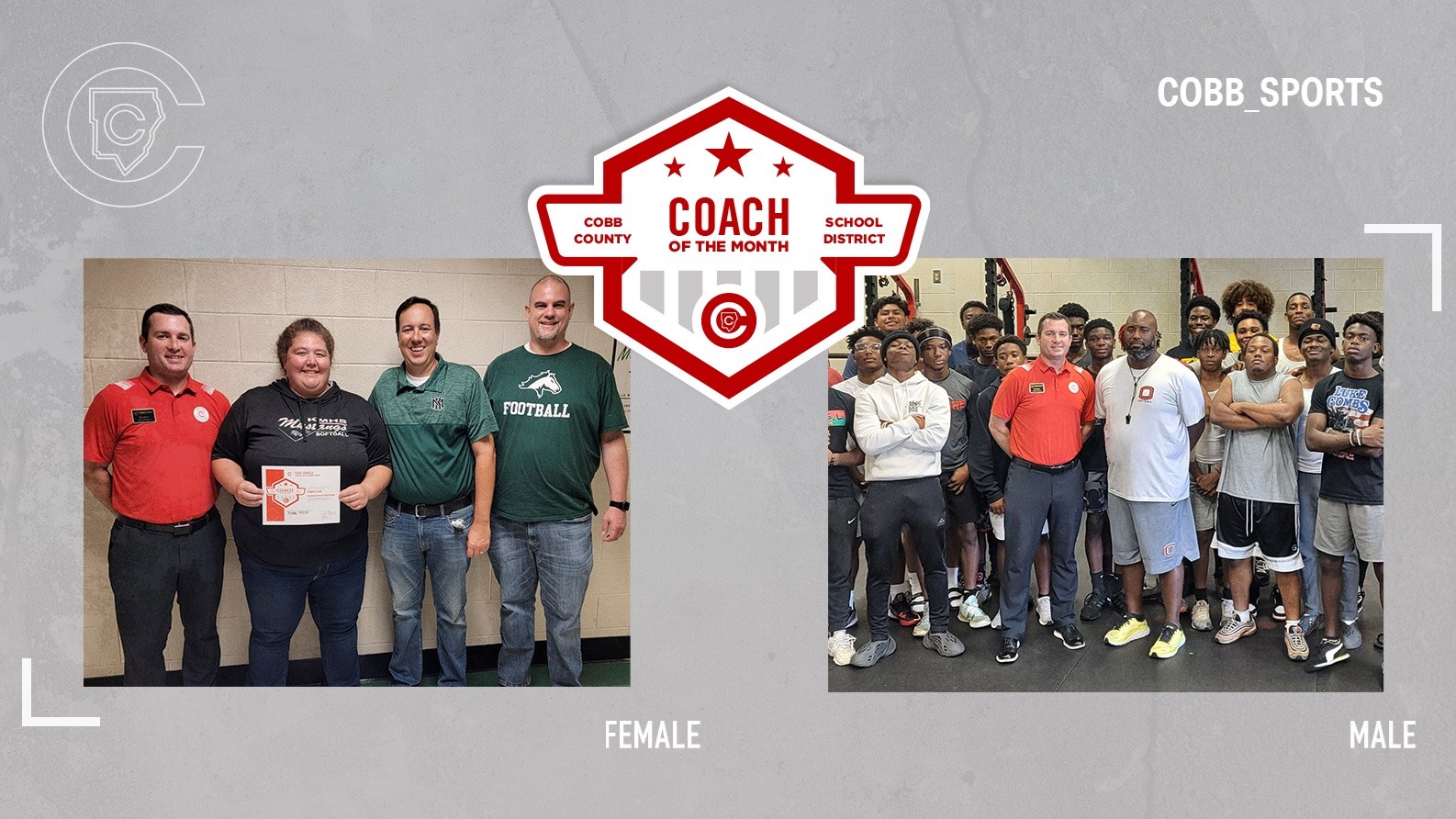 This year, the Cobb Schools' Athletic Department is beginning a new District award by recognizing a male and female "Coach of the Month." The purpose of the Coach of the Month award is to shine a light on some of the great work that Cobb County School District coaches do day in and day out.
In conjunction with the Atlanta Braves and Good Game Atlanta, each Coach of the Month will receive a complimentary one-night stay at Aloft Atlanta at the Battery and dinner from Good Game Atlanta.
"This is a small token of our appreciation for their efforts both on and off the field," said Cobb's Director of Athletics, Don Baker. "Coaches teach a full day, and when the bell rings at 3:30pm, their days are only half over. They continue to work with our student-athletes for hours each week, oftentimes at the expense of their own spouses and children. We believe we have the best coaches in the state and want to celebrate them as much as possible!"
The first two winners of this brand-new award are from Kennesaw Mountain and Osborne. Angela Lack coaches fastpitch softball for the Mustangs, and Luqman Salam is the Cardinal head football coach.
Kennesaw Mountain, Angela Lack, Fastpitch
This is Coach Lack's first year as head coach, and the Lady Mustangs are off to a great start: 5-0 in region play (5-7A) and an overall record of 8-2. Leading with positive energy, Coach Lack has built confidence into her team over summer workouts and into the fall season. She is also the Teacher of the Year at KMHS and was named Most Positive Female Coach in Georgia by Positive Athlete in 2019.
"Coach Lack is, first and foremost, a great person," said Kennesaw's Athletic Director, Philip Matthews. "She has a heart for students, be it those in her class or on her team. She wants kids to have a great experience both in the classroom and on the field and works tirelessly on a daily basis to ensure that happens."
"She has a positive attitude that is contagious to those around her," said Principal Nathan Stark. "She is kind and encouraging to everyone. Students love being around her because of these traits."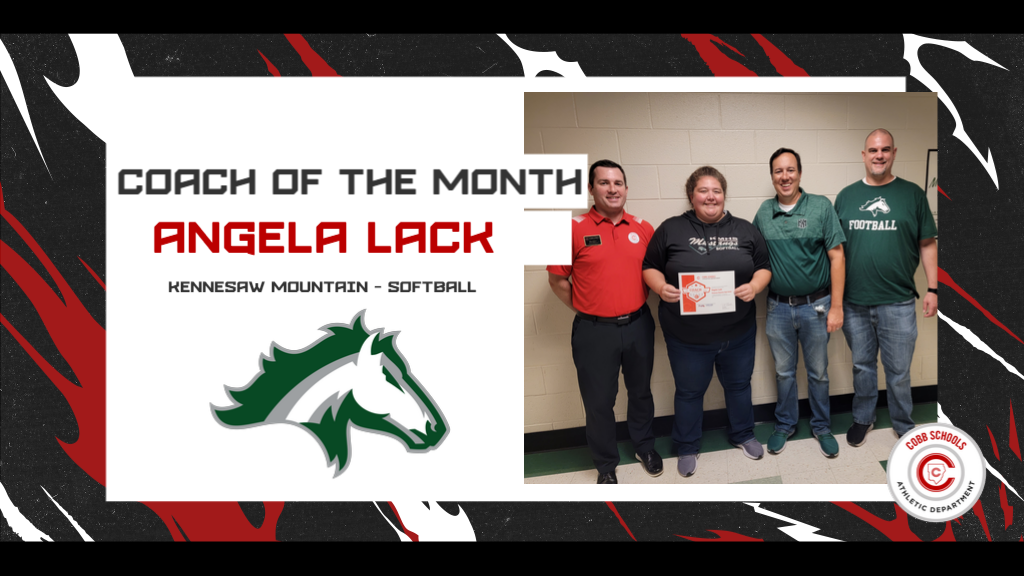 Osborne, Luqman Salam, Football
In his second year as head coach of the Cardinals, Coach Salam has grown the Osborne program more than any other program in the state of Georgia. The Cardinals were recently named Team of the Week by Georgia High School Football Daily, thanks to a fantastic start to their season and a 2-0 record for the first time since 2001.
Coach Salam is a leader that people love to follow and has built one of the best high school staffs in the state. He is helping to turn around a program that has been down for a very long time by leading with humility and grit.
"Coach Salam has added so much value to our athletic program," said Osborne's Athletic Director Ronald Boggs. "He has tremendous people and leadership skills. Our kids are taking on his traits, and it shows on and off the field."
"The growth of our program on the field under Coach Salam's leadership is tremendous, but the growth of our kids as young men is even greater," continued AD Boggs proudly. "The example that he sets influences us all to be better!"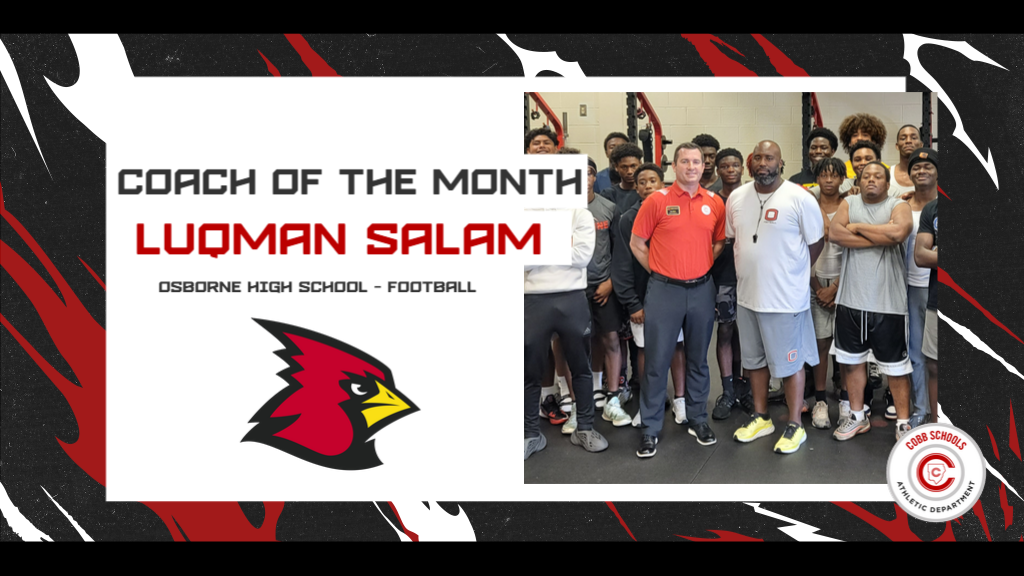 Congratulations, Coaches Lack and Salam, and also Kennesaw Mountain and Osborne. With incredible teachers and coaches like this, it is obvious why Cobb is the best place to teach, lead, and learn!