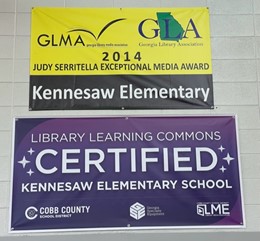 Welcome
Mission
Our Kennesaw "Learning Commons" Mission: To serve as the information center of the school and actively promote the love of reading.
About Us
Policies
• Kindergarten students may check out one book at a time; all other students may check out two books at a time.
• Students may check out only one chapter at a time.
• Students should use a shelf marker when selecting books from the shelves.
• Checkout is for two weeks; students may renew books for another two weeks.
• Students are responsible for the books they check out. If a book is lost or damaged beyond repair, the student will be charged the cost of the book. Unfortunately, we are unable to accept store-bought books as a replacement.
Mrs. Beth Finnegan, Librarian
Mrs. Finnegan became the librarian at Kennesaw Elementary in 2001. She loves her job, especially helping students find great books, collaborating with teachers on lessons, reading stories aloud, and making learning fun. You can reach her at beth.finnegan@cobbk12.org
Mrs. Cam Daniel, Library Paraprofessional
Mrs. Daniel has served as the library paraprofessional at Kennesaw Elementary for seven years. She enjoys working and helping students each day. You can reach her at cam.daniel@cobbk12.org
Electronic Resources
Cobb Digital Library
If you are unable to access Cobb Digital Library through your CTLS, go to cobb.mackinvia.com.
Select Kennesaw Elementary as your location. Enter your Office365 username (first.last@students.cobbk12.org) and your computer password (first initial/last initial/birthmonth and birthday)
CTLS updates
The Library Learning Commons updates CTLS weekly. Use CTLS to get to Cobb Digital Library, Beanstack, Destiny (our library's catalog), and Sora ebooks.
Sora ebooks
There are many ways to read fantastic eBooks! You can always access eBooks through CTLS through the Library class home page.
If you want to read eBooks or listen to audiobooks on Sora, you can follow the instructions here:
Go to https://soraapp.com/library/cobbcountyga
1. Click Log in using Cobb County School District.
2. Click Log in with Active Directory
3. Then, put in your Office 365 username and computer password.
4. The first time you access Sora, you'll need to add the Cobb County Public Library.
5. Click Cobb County School District (top middle of page), add new library, add Cobb County Public Library.
6. The first time you try to borrow a book from the Cobb County Public Library, you'll need to put in your student number as card number and your 4-digit birthdate for the password (mmdd, example February 25 would be 0225; December 23 would be 1223).
Beanstack
Beanstack is our reading log and reading challenge platform.
Everyone already has an account tied to your student number.
Here's one way to log minutes: go to
https://cobbkennesaw.beanstack.org/reader365
1. Log in with your student number and your 4-digit birthday: mmdd (example, if your birthday is March 6, the password if 0306; if your birthday is December 29, the password is 1229).
2. From there, click the big red button to Log Minutes. We will be participating in county-wide and nation-wide challenges.
If you're interested, you can download the app: Apple or Google Play.
You can access Beanstack through CTLS as well.
Free Little Library
"The Finnegan Express"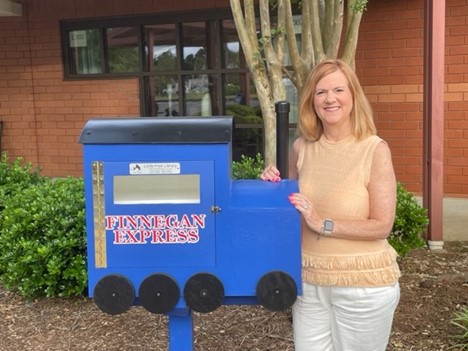 We are so excited to announce the opening of the Finnegan Express (our very own little free library). We want to foster a love for books and reading by inviting you to visit our library at any time. Here are some simple guidelines to help us.
You may take or drop off one book a week.
Please only drop off children's books as we wish to promote this for our Kennesaw Community.
If you have more books you would like to donate for future use, please contact the media specialist Beth Finnegan at beth.finnegan@cobbk12.org
Thank you for taking good care for our little library.