Mrs. Debbie Tennyson, Principal
Greetings Cougar Nation!
I am honored to be the principal of Kincaid Elementary School! Kincaid is a precious school, with a rich history of traditions, that is tucked away in a quaint, park-like setting within our community. We are the home of the most passionate staff, who are truly devoted to children. I am dedicated to lead and work collaboratively with our team to live our mission to RISE…reach, inspire, support and engage our students each and every day! My vision as a leader is to promote and nurture a student-centered learning community where mutual respect and personal responsibility are the expectations for all, and where students are empowered to do and be their best each day.
Originally from Michigan, my educational career path began more than 25 years ago, teaching in inner-city Detroit. Along the way, I made my home in Georgia and continued my journey in the Cobb County School District where I have served students as an elementary teacher, instructional lead teacher, technology integration specialist and assistant principal. I graduated with a Bachelor's Degree from Wayne State University, and received a Master's Degree and Specialist Degree from Georgia State University. I LOVE to learn about new educational practices…and this past year I just received my certification as a Microsoft Innovative Educator.
I am proud of all that Kincaid has to offer in the areas of the arts, math, science and STEM. We have worked hard to ensure our students have a guaranteed, quality experience at Kincaid throughout their years. We are fortunate to have a committed parent group, volunteers, PTA and Foundation, who all support supplementing these programs with additional technology, funding and resources. I am passionate about literacy and believe the most important work we do in an elementary school is to build a strong foundation to empower our children to be proficient in the areas of reading, writing and math.
I am the busy mother of a 13 year old daughter. We all enjoy being a part of the Kincaid family and community! In my spare time I enjoy playing tennis, watching and reading thrillers, and getting away to the beach whenever I can! During the quarantine, we were one of the many families who adopted a puppy, so now "Nugget" makes our family complete.
I look forward to seeing you again soon…or if you are new, getting to know you and your child this year.
With Cougar Pride,
Mrs. Tennyson
---


Mrs. Jane Griffeth, Assistant Principal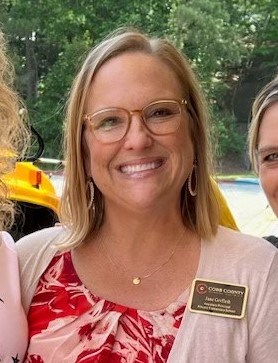 Jane Griffeth, AP
Greetings Cougar Nation!
I am honored to serve Kincaid Elementary as the Assistant Principal. I previously worked as a special education teacher at Kincaid many years ago and have always loved the friendly, warm, and welcoming atmosphere Kincaid is known for! My passion is special education and advocating for the unique needs of ALL students. My background includes working in the corporate world as a Corporate Trainer, serving as a Special Education Teacher, and working for three years as a Support and Services Administrator in the Cobb County School District. It is a pleasure to serve the wonderful children, families, and community of Kincaid! I have been married to my sweet husband Chris for 22 years and we have two children, an 11th grade son (junior at Harrison Highschool) and a 20 year old daughter, 2021 graduate! Most of my "free" time is spent cheering on my son from the sidelines of the lacrosse field or watching my daughter compete in horse shows. These are my FAVORITE things to do! I also like to spend time with friends and family, go on cruises, spend time at the beach as much as possible, read, cook, and just enjoy life! Let's have a fabulous year!
Mrs. Griffeth