Cobb Schools Announces Historic Partnership with University of West Georgia to Empower Educators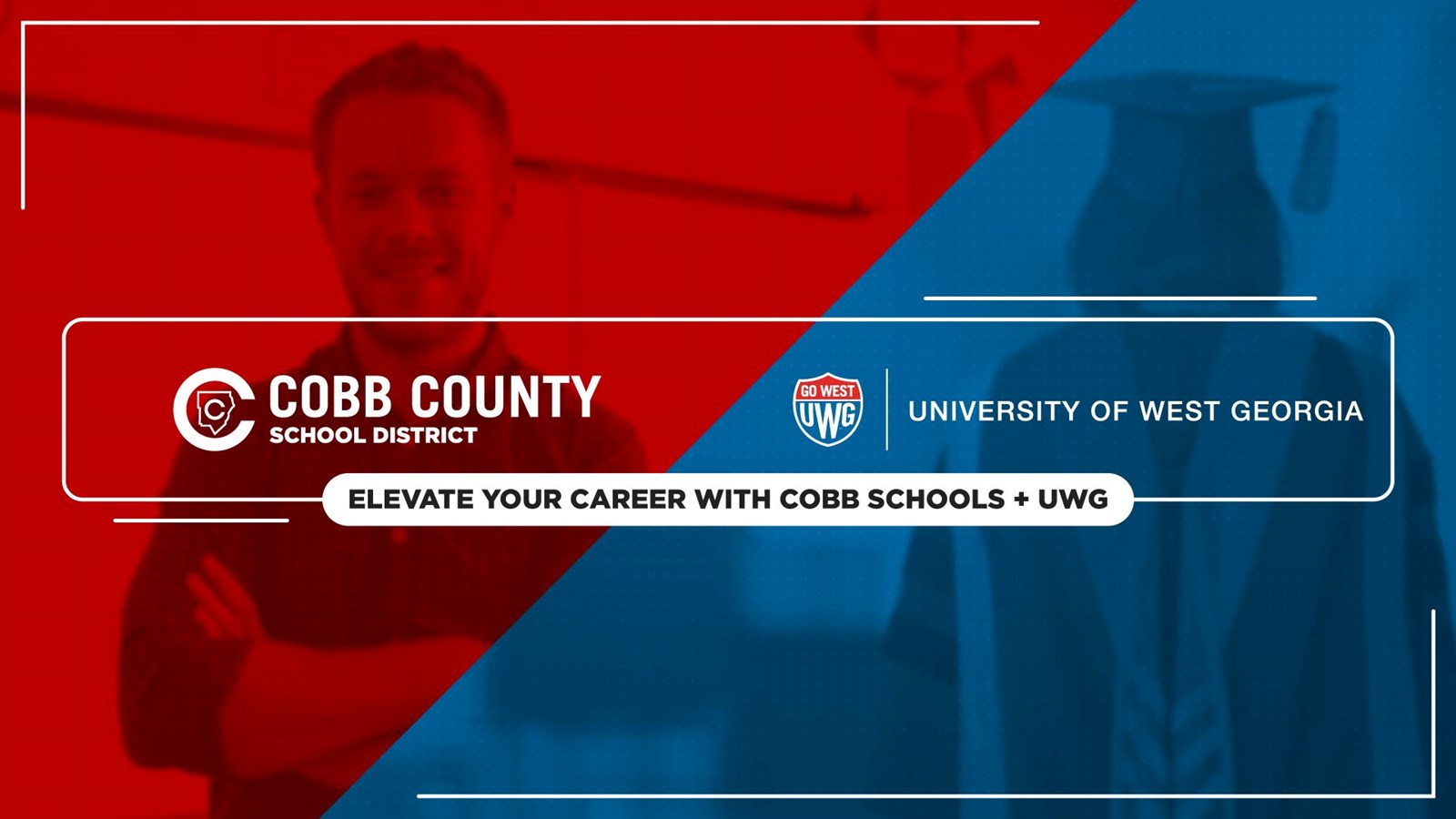 Once again, the Cobb County School District is leading the way and reinforcing Cobb as the best place to teach, lead, and learn. Superintendent Chris Ragsdale announced today that the District was partnering with the state's leading educator preparation program at the University of West Georgia (UWG).
Due to UWG's willingness to partner with one of the highest achieving large districts in the country, Cobb educators will be eligible to apply for the opportunity to pursue a master's through a doctorate in education at no tuition cost to them.
The program, called Georgia's BEST, will be limited to approximately 500 Cobb educators per year. It is made financially possible through the commitment of the University, the Cobb Board, and both President Kelly and Superintendent Ragsdale. Georgia's BEST is an acronym for "Building Educator Success Together."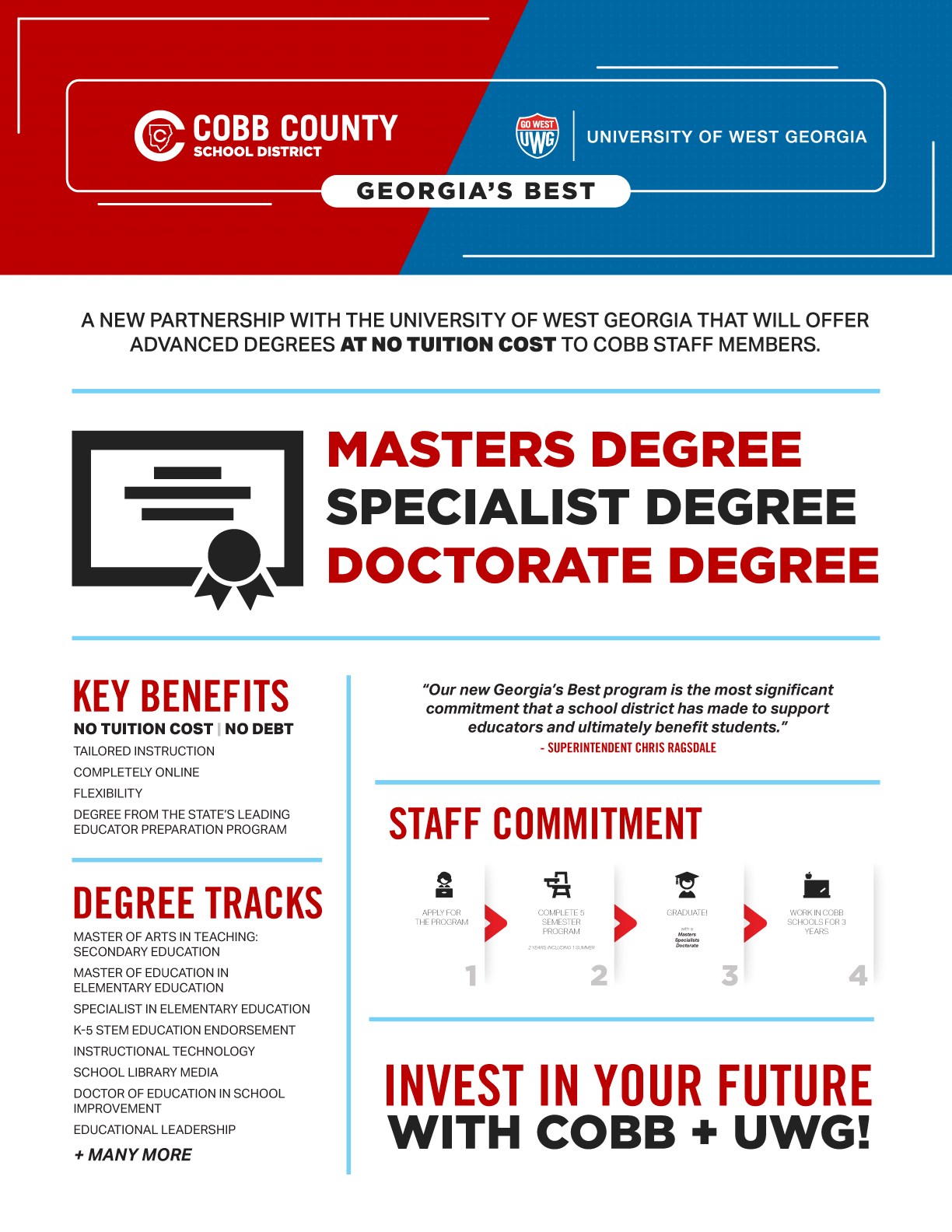 UWG's advanced degree programs include five semesters of learning for Cobb educators, who can start classes as soon as June 2023. All programs available through the partnership are online, which makes it easier for Cobb educators to improve their instruction for students while maintaining a healthy life and work balance.
"We have worked hard to recruit the very best educators in Georgia, and we need to retain that workforce. Our new Georgia's BEST program is the most significant commitment that a school district has made to support educators and ultimately benefit students. I am thankful to the Board for unanimously approving the costs associated with investing in our educators because in order to focus on student success, we must prioritize our team," said Superintendent Ragsdale.
Cobb is the only major Georgia school district with a partnership of this kind that enables educators to pursue advanced degrees at no cost to them.
Approximately 70% of Cobb educators have advanced degrees. In addition to the repeated historic raises for all Cobb Schools staff, Cobb educators with advanced degrees are the highest-paid educators, with similar qualifications, in the Atlanta metro.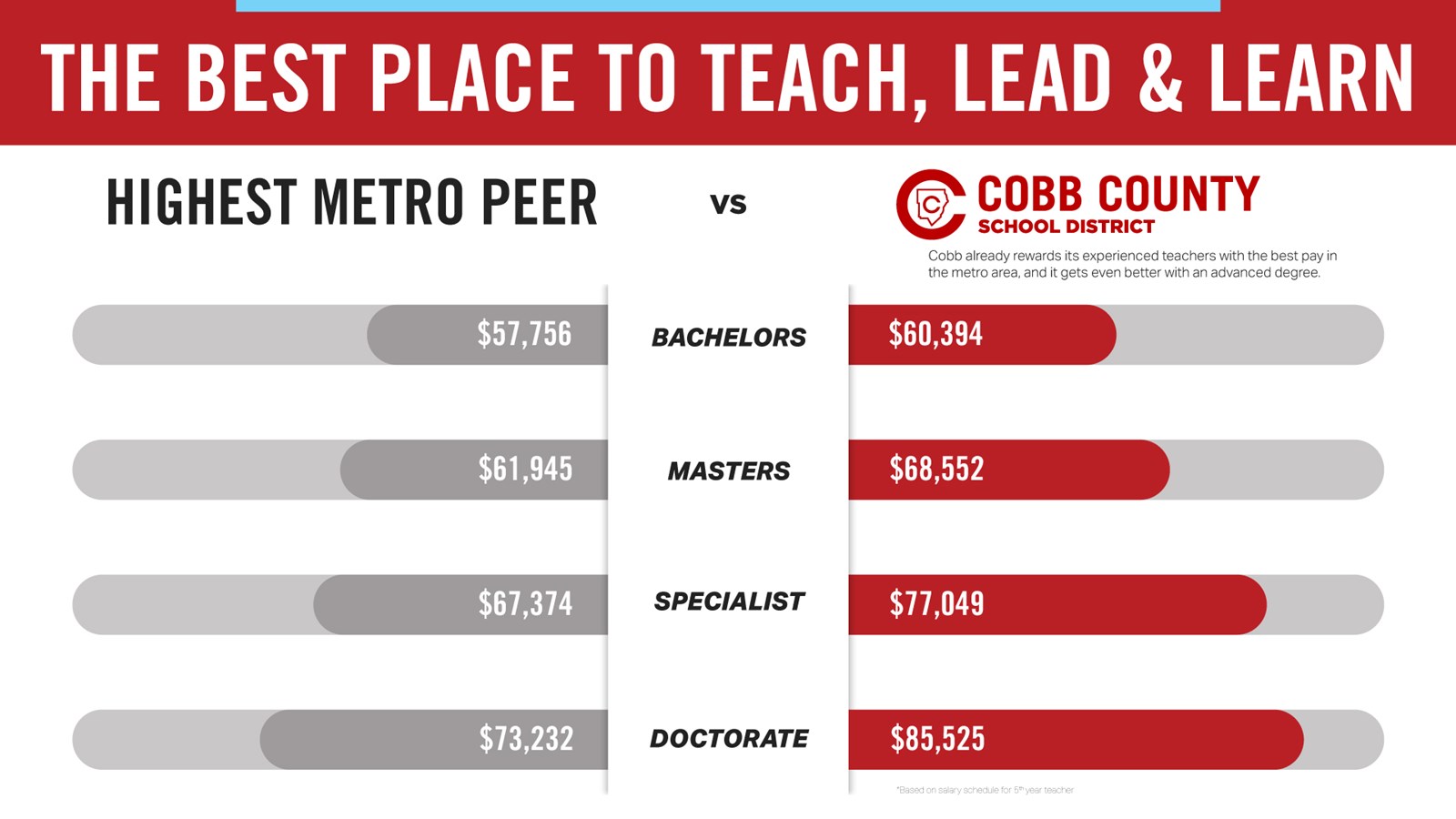 Based on the 2022-2023 salary schedule, a Cobb teacher with five years of experience earns about $6,874 more per year with a master's degree than a teacher with a bachelor's degree alone. At ten years, the difference rises to $8,786 per year, and at 20 years of service, the difference is more than $10,000 per year.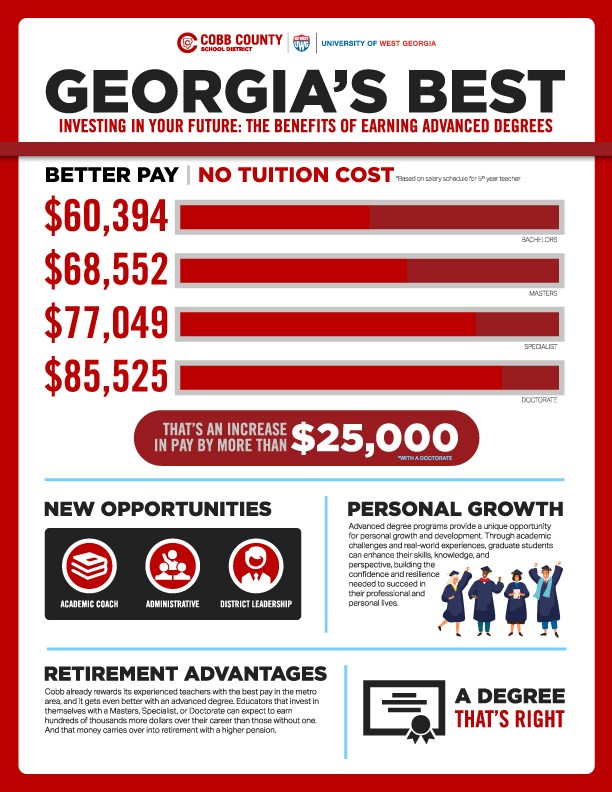 "The University of West Georgia is excited to partner with Cobb Schools to help educators increase their earning potential and – more importantly – be better prepared to teach Cobb students. We are confident UWG's advanced degree programs will help recruit and retain Cobb educators while building on the district's foundation of academic excellence," said Dr. Mike Dishman, UWG Dean of the College of Education.
More details are coming soon, including how Cobb educators can apply for Georgia's BEST program. Cobb educators interested in Building Educator Success Together can express interest in the program by filling out this form.
The partnership with UWG is another example of why Cobb Schools has been ranked among Georgia's Best Places to Work for four years in a row. This month, Cobb earned the additional recognition as one of America's Best Employers for 2023.
For those interested in joining the award-winning Cobb Schools team, the District is holding a job fair from 9:00 a.m. to 12 p.m. Saturday, March 25, at Truist Park.