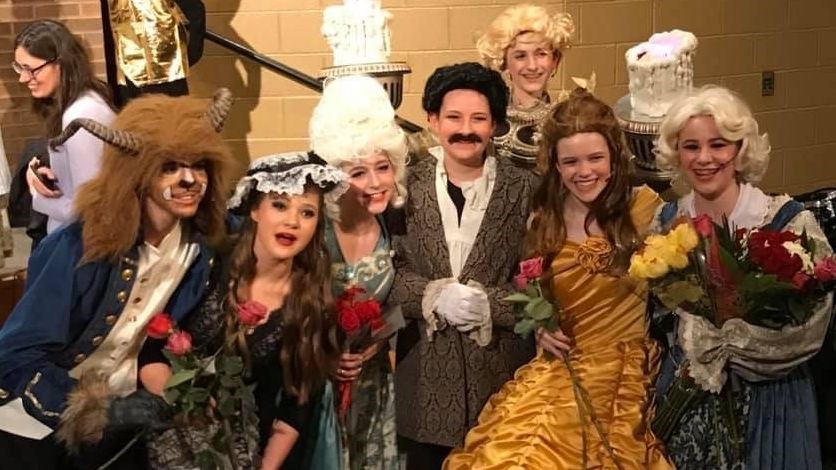 There are a variety of clubs and activities available to students at McClure. Meetings, times and locations are announced on the morning broadcast so always listen closely so you will know when the club meetings will be. Currently available clubs and organizations are listed below.
---
Advanced Women's Chorus
An audition-based 6th-8th grade choir that learns and performs an advanced repertoire of music. The chorus is led by Ms. Lennertz. The group will perform at each of the concerts during the year.
Black History Club & Competition Team
The Black History Club and Competition Team is a fun, competitive, and educational club for all 6th - 8th graders. We seek to raise and deepen the awareness of the vital role played by African-Americans in the rich history of our country. The team is sponsored by Ms. Anderson, Ms. Wilson, and Ms. Bruner. McClure's Black History Club & Competition Team is back for it's third year! Last year we placed 3rd in the region. This 6th- 8th grade team is not only fun, but also competitive, and educational. We seek to raise and deepen the awareness of the vital role played by African Americans in the rich history of our country. During the first nine-weeks, the inspiring stories of several, notable African Americans will be our focus. During the 2nd & 3rd 9-weeks, we will form a competition team and prepare to complete in the regional bowl in January/February 2023. Teams compete by answering a variety of black history-related questions in science, the arts, education, sports, entertainment, civil rights, politics and more in a fast-paced buzz-in style format.
Cobb Student Leadership Academy (CSLA):
The CSLA is a school district wide program that encourages leadership, service, and civic engagement. The McClure chapter is sponsored by Mr. Gandolfo. Each year the students identify and complete a service project to benefit the McClure community.
D & D Club:
This club is for the purpose of giving D&D players, or students who want to learn, the opportunity to participate in different campaigns designed by students. This is a welcoming and open environment for all who are interested. D&D campaigns will be created/facilitated by participating students with teacher supervisor (Mrs. Crowe). It will be once a week on Thursday or Friday afternoons (depending on the week) in Ms. Crowe's room, 646. Time will be from after afternoon announcements, until 5:30.
Drum Line:
Drumline entertains our McClure students and parents with fun cadences and beats! It is sponsored by Ms. Rider and Ms. McCardel. Students meet every Wednesday morning from 8:15-9:00. Every 7th and 8th grade percussion student is eligible to play!
FCA (Fellowship of Christian Athletes):
FCA is a student-led Christian gathering that is open to all students and is a place for friends, fun, & faith. The McClure FCA representative is David Como. The faculty sponsor is Ms. Ussery. FCA meets in the gym every Friday morning from 8:15-8:50.
Friends Club:
The Friends Club is looking for student volunteers to come together and build friendships with our students who have intellectual disabilities. Ms. Lewis is the faculty sponsor. General education students will provide time before or after school, engaging in conversations & providing assistance & support to students with disabilities (as their schedules allow). Students with disabilities will have the opportunity to practice social skills, develop self-esteem, & recreational skills. This also affords the general education students a chance to obtain an increased awareness of diversity. In the past they have done the following activities: holiday gift exchange, shared Valentines, searched for gold on St. Patrick's Day, after school cooking event, coloring eggs, and end of year Party.
Gender & Sexualities Alliance (GSA)
Formally known as Gay Straight Alliance, GSA is a student-run club for LGBTQ+ and allied youth to build community and organize around issues impacting them in their schools and communities. All students are welcome! The advisors is Ms. Sherer. The group will meet monthly to look for ways to promote inclusion and tolerance among the McClure community. The club has worked toward creating a video on bullying prevention. This year we plan to do themed parties, guest speakers, and fundraise for local organizations.
Intramurals:
Intramurals provide an opportunity for students to participate in games & activities before school. A calendar will be posted in the gym lobby. An athletic program for our students designed to promote quality sportsmanship, development on different athletic levels, character development, and decision making. No dressing out is required. Proper shoes must be worn. Intramurals will be Monday, Wednesday, and Friday from 8:00-8:50 am in the gym & is sponsored by Mr. Hausdorf and Ms. Smith. Activities will vary depending on the number of students involved and the time of year. In order to accommodate larger number of students our Intramural program is specialized by grade level. Mondays are for our sixth graders, Wednesdays are for the seventh grade, and eighth graders have their Intramural day on Thursdays.
Jazz Band:
Jazz Band plays both old and new! This club meets twice a week and performs at concerts and around Kennesaw and Atlanta. The band is sponsored by Ms. Rider and Ms. McCardel. Rehearsals are on Tuesday/Thursday mornings from 8:00-9:00. Every 7th and 8th grade Band student is eligible to play!
Library Learning Commons Ambassadors (LLC Student Crew):
The LLC Ambassadors is a volunteer service group that assists in the LLC during morning study hall and/or homeroom. The Ambassadors is sponsored by Ms. Harpin and Ms. Spurgeon. Typical duties & responsibilities include assisting with check-out/check-in, delivering notices & holds to homerooms, preparing displays, helping students on computers, collecting books from the book drops, assisting with Book Fairs, shelving books, and keeping our plants alive. More information will be available on the LLC website.
Maverick Makers:
Are you creative? Do you like to craft or build things? Are you interested in 3D printing or coding? If you answered "Yes!" to any of these questions, you should join the Maverick Makers! The group is sponsored by Ms. Harpin and Ms. Spurgeon. Thanks to CTLS, if you can't make it to a meeting, you can still do the activity on your own! We'll have different activities and challenges in modules that we'll work through together and/or independently. You can do as many or as few of the activities as you'd like. Announcements will be made in CTLS regarding materials and supplies. Supplies will be available for free. See the LLC website for more information.
Men's Chorus:
An extra group for the singing men of McClure! No audition necessary. The chorus is directed by Ms. Lennertz and rehearses throughout the year. They will perform at multiple concerts during the year.
McClure Chamber Sounds:
Orchestra students looking for a challenging extra-curricular performance ensemble are welcome to audition and participate in Chamber Sounds! The ensemble is lead by Ms. Alfano. Various concerts and community performances are planned throughout the county. Rehearsals are held before school each week.
McClure Drama:
McClure drama puts on a fantastic production every year! This after school opportunity provides students the chance to sing, dance, and act to their heart's content! The production is directed by Ms. Burchette, Ms. Crowe, Mr. Gandolfo, Ms. Heyser, Ms. Lennertz, and Ms. Rider. Auditions will be held in August and rehearsals will begin in September. There will be four shows in early February.
Modular Mavericks:
McClure's FIRST LEGO League competition team. It is sponsored by Mr. Swan. Students will meet and work towards completing tasks associated with FIRST LEGO League state competitions. The club meets from August to January of the school year.
National Junior Honor Society:
This invitation-only society focuses on building character, leadership, citizenship, scholarship, and service in the members. NJHS is sponsored by Ms. Davis. There are multiple volunteer opportunities in various service areas including the annual canned food drive. Additional opportunities are being added this year
News Team:
The McClure News Team is looking for those with an interest in broadcasting, reporting, technical support or feature writing. This group brings us the daily announcements and news in video format. Auditions for the News Team will be held at the beginning of the school year. News Team sponsors are Mr. Gandolfo and Mr. Hausdorf. The news team meets daily before homeroom. Members are assigned to specific days each week.
Tome Society:
Tome Society is a book club for students in which they read and discuss great books, create items to enter in literacy-based competitions, and participate in virtual and in-person literacy events. The club is sponsored by Ms. Harpin and Ms. Cera. The McClure Chapter of the Tome Society will meet monthly to discuss books from the Junior Tome It List. Free copies of each title will be provided to up to 10 regular members each month. Additional students may borrow these books from the library, read them on Sora, or purchase their own copy.