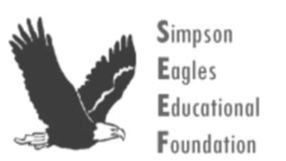 Support student success through SEEF
The Simpson Eagles Educational Foundation (SEEF) supports the academic needs of students, staff, and administration above and beyond the resources provided by Cobb County funding. Our 2021-2022 fundraising goal is $10,000, and WE NEED YOUR HELP!
100% of your donation is tax-deductible and will go directly to these critical initiatives:
• Salary for technology specialist
• Technology resources
• Annual academic program renewals
• STEAM program materials
• Teacher grants to enhance learning materials
• Capital improvements
Visit http://simpsonfoundation.net/donate-online/ to DONATE TODAY! Make sure to also check with your employer; many companies will match your donation to non-profit organizations.
Join us in our mission
Are you looking for a way to support your child's educational experience? Want to help build upon SEEF's success? Here's an opportunity to get involved and meet with key stakeholders in your child's school.
SEEF needs:
• Treasurer
• Breakfast Sales Coordinator
Both of these roles require a MINIMUM time commitment – this is NOT like your elementary school's foundation.
Please email president@simpsonfoundation.net to join us. We hold a virtual meeting once a month. Involvement with SEEF is an opportunity to get to know Dr. Mitchell better – she joins our meetings!