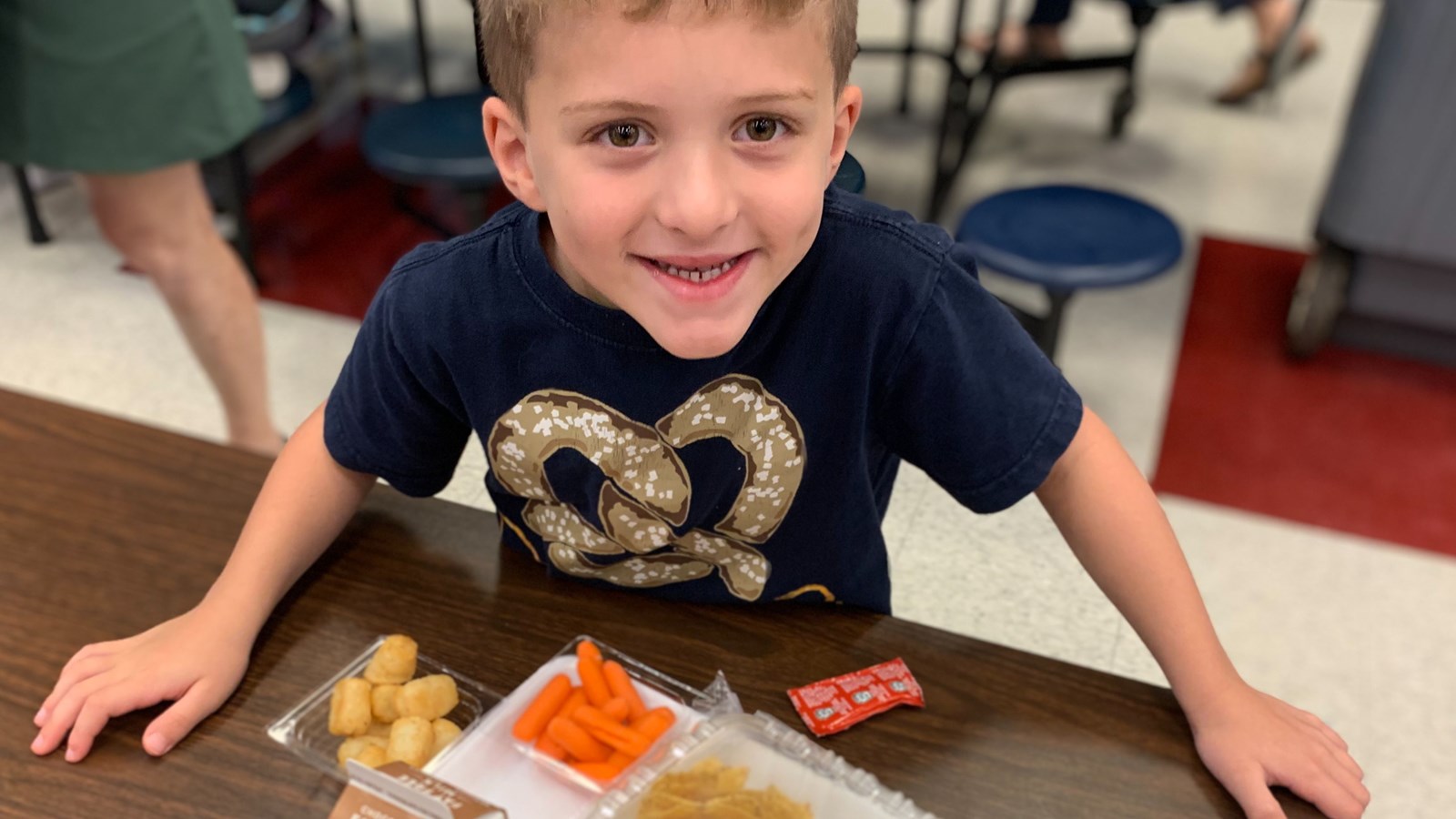 Meal Prices
BREAKFAST
LUNCH
Student All Levels - Reduced Price
$0.30
Student All Levels - Reduced Price
$0.40
Student All Levels - Full Pay
$1.75
Elementary Student - Full Pay
$3.25
CCSD Staff & Guests
$2.00
Middle and High Student - Full Pay
$3.50




CCSD Staff
$4.00




Guests
$4.25
Family Meal Application Information
A la Carte Purchases
Many schools have great a la carte items for purchase. All items meet USDA's Smart Snacks in Schools standards. This ensures that specific fat, calorie and sodium guidelines are met. Items offered include bottled water, 100% juice, baked snack items, ice cream, and protein rich snacks. These items are offered to enhance the meal experience or to save for an afternoon pick me up. Each school works to customize their offerings based on their customer's preferences. Contact your local school for a list of items offered and their prices.
Pre-Pay through MyPaymentsPlus (MPP)
To save time when coming through the serving line, you can add funds to your cafeteria account with a major credit card at MyPaymentsPlus.com or via the MyPaymentsPlus IOS or Android app.
To set up a MyPaymentsPlus account, you will need each child's CCSD Student ID number (or your EID if a CCSD employee). The student ID can be obtained by contacting your child's local school. Click here for information on setting up a MPP account.
Registering online with MyPaymentsPlus allows you to view your student's account balances, purchase history, and payment history online, and even be notified by email when account balances fall below a designated amount. You do not have to make prepayments to use these features.
Please note that a 4.75% program fee applies to each payment made through MyPaymentsPlus.com. The Cobb County School District does not receive any portion of these fees. All program fees go directly to MyPaymentsPlus to cover the costs associated with providing the service (website hosting, technical support, credit card processing, and other related bank fees).
For answers to MPP frequently asked questions or online support options, please visit the MPP FAQ or begin a Live Chat session from the HELP CENTER located at the bottom of the MyPaymentsPlus website. For technical assistance please contact MyPaymentsPlus support via email or telephone at 1-877-237-0946.
Cash
You may pay into an account for your student with cash or check sent to the school. If paying with cash at elementary school, put it in a sealed envelope with your student's first and last name and "Meal Payment" on it. Also, please write the teacher's name and grade on the outside of the envelope.


Checks
Checks must include the following:
Adult name
Check #
Name financial institution
Account #
Address and phone number
Date
School Name Café (ex. Acworth Café)
Student First & Last Name
Student ID #
We do not accept
Counter or "Starter" checks that do not have a check #, account #, or a name imprinted on them
Checks that require an authorization
If you need to know how much money is on your child's cafeteria account, you may call or email the school's café manager, or setup a free account at MyPaymentsPlus.com where you can view balances and purchase history. The cashier can also provide balance information to your student.
Charge Policy
Cobb County school administration has adopted a limited charge policy. If a student arrives at school without money, they are allowed up to $7.05 in charges at elementary school and $5.20 at middle school. Charges are not allowed for a la carte, adults, or at high school. For the students that have reached the charge limit, an alternate meal (such as a peanut butter sandwich and milk or a cheese sandwich and milk) will be provided. No alternate meal will be provided at breakfast.
Meal Accounts - Refunds, Transfers to Siblings, or Donations
If you have a student leaving the Cobb County School District, any remaining funds in their meal account can be transferred to another sibling in the district, refunded, or donated (donations will be used solely to pay off charges remaining from years before the USDA waivers that permit us to offer no cost meals). To request a refund, funds transfer, or make a donation, please submit your request using our online request form.
Optionally, if you are only transferring funds between siblings enrolled in CCSD, you have the option of doing so online via MyPaymentsPlus.com for any registered students on your account. There is a $2.99 convenience fee for this service for a full year of access to transfers.
Contact the Food and Nutrition Services office at 770-426-3380 if you have questions or need further assistance.


Non-Sufficient Funds (NSF) and Chargebacks
It is the policy of Cobb County School District (CCSD) Food and Nutrition Services that two instances of either:
A check payment returned for non-sufficient funds, stop payment, or closed account
A disputed MyPaymentsPlus online payment (chargeback)
Will result in permanent suspension of Check and/or Online Payment privileges for the duration of your child/children's attendance in the Cobb County School District. This revocation of payment privileges will extend to all members in the household.