New Principal Profile: Laura Fiedler, Frey ES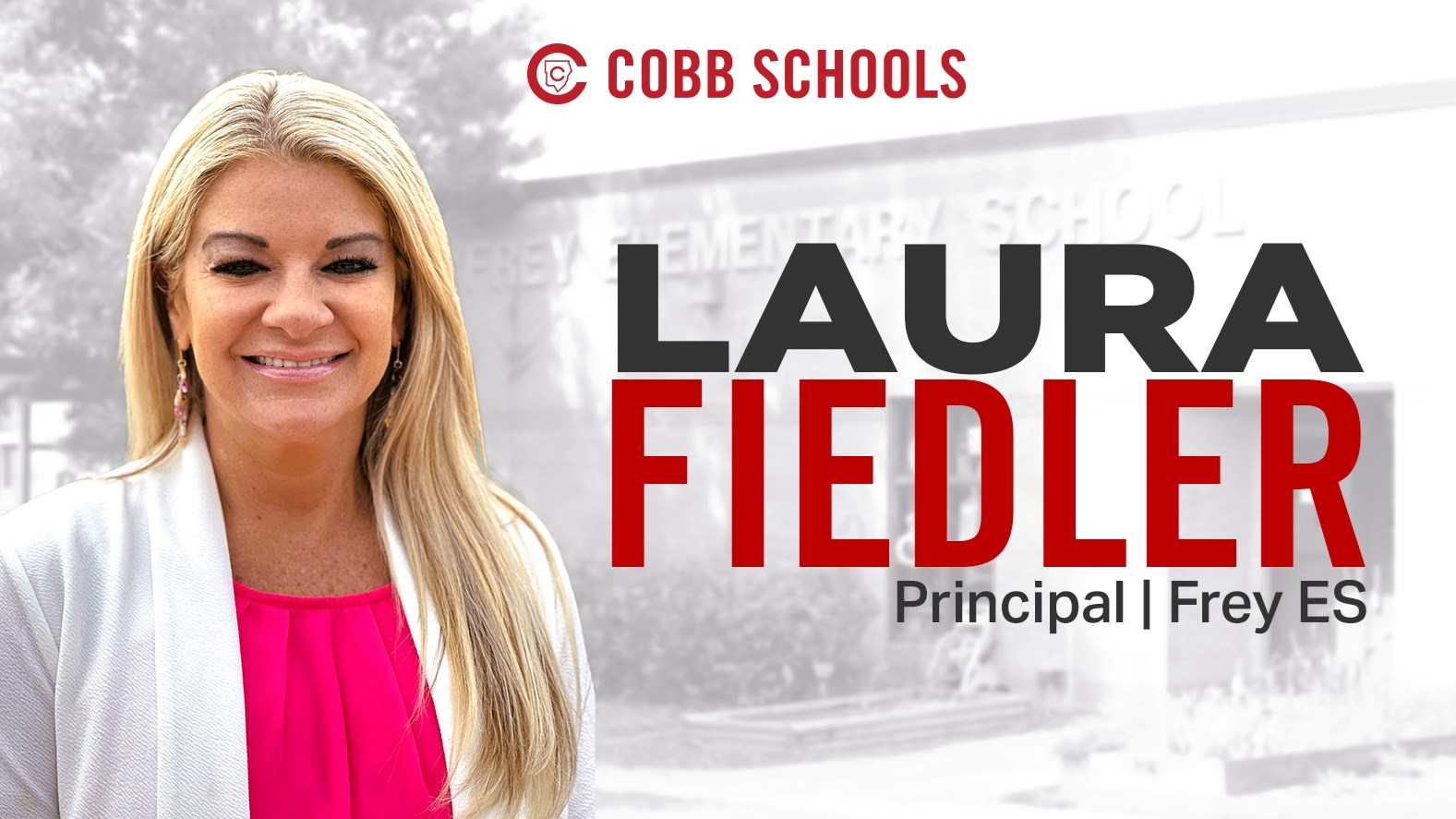 Principal Laura Fiedler will be taking over the leadership office of Frey Elementary for the 2023-24 school year. Principal Fiedler has a wealth of experience and is currently serving as the Principal at Sanders ES. She is excited to lead a school close to her home community of Kennesaw.
"I look forward to being a leader close by where I grew up and where my family and I reside," Principal Fiedler said. "I am a Cobb County graduate and attended Due West Elementary, Pine Mountain Middle School, and Harrison High School. Before Sanders, I was the assistant principal at Still Elementary and Kemp Elementary in Powder Springs."
"I am also eager to learn about Frey's unique culture and traditions," she continued, "as each school community has its own distinct character and strengths. I firmly believe that children will do anything for someone they love. The students will know that I love and care about them and want them to succeed."
In the following Q&A, Principal Fiedler describes her leadership philosophy and goals for Frey ES.
Question: Why are you excited about joining the Frey Elementary School Community?
Answer: I am beyond excited to join the Frey community, and I am grateful for the opportunity to embark on a new chapter of my educational journey. Joining a new school community allows me to build new relationships with students, teachers, parents, and staff members, as I value building relationships and creating a positive school environment. I believe that change can bring fresh perspectives and challenges that will allow me to grow both personally and professionally.
Q: What impresses you most about Frey ES students, and what can the school community expect to see under your leadership?
A: The Frey community is committed to encouraging the students to be academically successful while being involved in extra-curricular activities. The enthusiasm and smiles on the students' faces at Frey have made me feel very welcome and excited about this transition. When I see that the students are happy and love school, it makes my day! At Frey, a natural love for learning flourishes, paving the way for a lifelong journey of knowledge and personal growth.
Under my leadership, you will find dedication to ongoing academic improvement as well as a positive leader that works to build strong, trustworthy relationships with all. My hope is for ALL students to have a love for learning at Frey within every classroom. I am committed to celebrating the success of all students while working to teach our students to become life-long learners.
Q: What does student success look like to you?
A: Student success starts with all children having the confidence they need to succeed and giving 100% effort in all they do every day. It is about meeting the diverse needs of ALL students and providing systems of support that promote their well-being, growth, and academic achievement. Whether it is recognizing academics, student leadership, or community involvement, I take pride in the collective achievements and teamwork of the school. Working together as a team to do what is best for students is a priority, and I look forward to embracing, encouraging, and empowering the students at Frey.
Q: What do you like most about being an educator/principal, and what is your favorite memory as an educator?
A: The best thing about being a principal is positively impacting the entire school. As a leader, I set the tone for the building every day, creating a school culture where students want to come to learn and teachers want to come to teach! You will see me greeting students at the door every morning to welcome them to school. One of the best things about being a principal is seeing the students get off the bus or out of the car in the mornings and rushing to the door eager to greet you and hug you with a BIG smile!
My favorite memory as an educator was on my wedding day in June of 2004. I was teaching 4th grade at Ford Elementary and was very close to my students and families. My entire class attended my wedding, sat in their own personal "kids' section," and enjoyed the celebration with my family and friends. It is amazing now seeing these students who attended my wedding have weddings of their own. This was an exceptional day, both personally and as an educator.
Q: Outside of school, where might students, parents, or staff members run into you?
A: As a resident of Kennesaw, you will run into me anywhere and everywhere, but mainly spending time with my family and friends. Outside of school, you will find me in the softball stands cheering on my daughter Abby, volunteering at her dance studio and recitals, serving her a ball as she practices on tennis courts, and playing at our neighborhood pool and park. I enjoy long walks in my neighborhood, and I am a Clemson fan, so you may find me at a Clemson football game. If you don't see me around the Kennesaw/Acworth area, there is a good chance I am at the beach in Charleston, SC!
Welcome home to Frey Elementary and the Acworth community, Principal Fiedler! We look forward to a new school year under your leadership and know there are many good things to come at the school...