Arrival/Dismissal Procedures
Arrival in the morning begins at 7:15 am.
At 7:15 am, doors to the school will open. For safety and security reasons, parents are not allowed in the building and students may not enter the building until the bell rings at 7:15 am.
Classes begin at 7:45 am each morning.
On regular school days, the school day ends at 2:15 pm.
Morning Arrival by Car
Please have your students remain in the car until doors open at 7:15 am.
Pull up to the curb in front of the school. Pull as far forward as possible, stopping at the yellow sign next to "Spot 1."
Start of Car Line
Students should only exit the vehicles when you are stopped next to one of the eight paw prints on the sidewalk.
Students should only exit the vehicle on the building side of the car, onto the sidewalk. Do not let students exit in the parking lot unless they are accompanied by a parent in the building.
Students will enter the building through the front doors only from the car rider line.
Car Rider Lane
Bus
Please click here for information about bus routes.
Afternoon Dismissal by Car
We begin afternoon dismissal by car at 2:15 pm on regular school days.
Please have your child's dismissal number hanging and visible when in the car line. Our staff will begin organizing our students for dismissal based on the visible car numbers.
Students will be dismissed to the eight paw prints on the curb in front of the school. Do not exit your vehicle while waiting in the car rider line.
Afternoon Dismissal by Walk-Up Car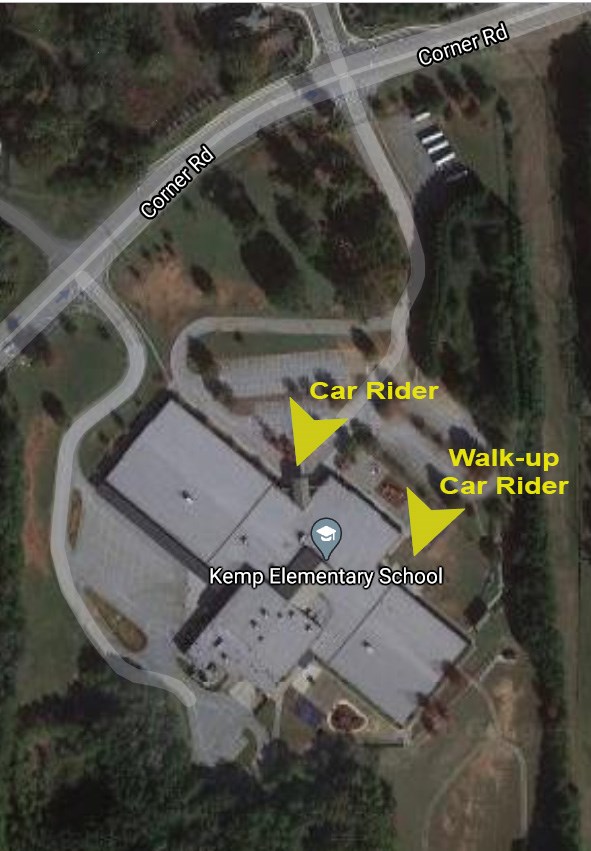 Dismissal MapWe begin dismissal for Walk-Up Car Riders at 2:05 pm. Please have your child's number ready to give to our staff when you arrive at the side door by the front playground.
Walk-up Car Rider Door
Transportation Changes
Please send in notes for transportation changes with your student upon arrival in the morning. Click here for a transportation note.
Carpool Procedure Information
Every student at Kemp Elementary will be given a carpool number. This number will be on a sign for your car as well as a tag on your students' book bags. All students will have a number even if they are not a regular car rider.
There are two options for carpool pick up. You can pick up by driving in the carpool line or by walking up to the WALK-UP car rider line. The procedures for using each of these are outlined below.
Car Rider Line
Hang your carpool number from the rearview mirror inside your car. A pants clothes hanger works best for this. If you have more than one number, please hang all signs. If you do not have a carpool number, you will be asked to park and come inside to pick up your child. You must have proper identification for us to release your child.
Drive through the carpool line and wait at the next numbered spot for your child to arrive. Please pull all the way to the next spot before stopping.
Please do not talk on your cell phone during this time.
Walk-Up Car Rider Line
When you arrive at 2:05 to pick up your child, park your car in a parking space. Do not enter the carpool line.
After parking, take your carpool sign with you to the walk-up car rider line. You must have this number for your child(ren) to be dismissed to you. We will not allow a child to leave without proper identification.

Please w

alk through the gate on the front playground, through the playground, and around the corner to the designated waiting area. Staff will be there to dismiss the students.