Lassiter names Jay McAuley new head boys basketball coach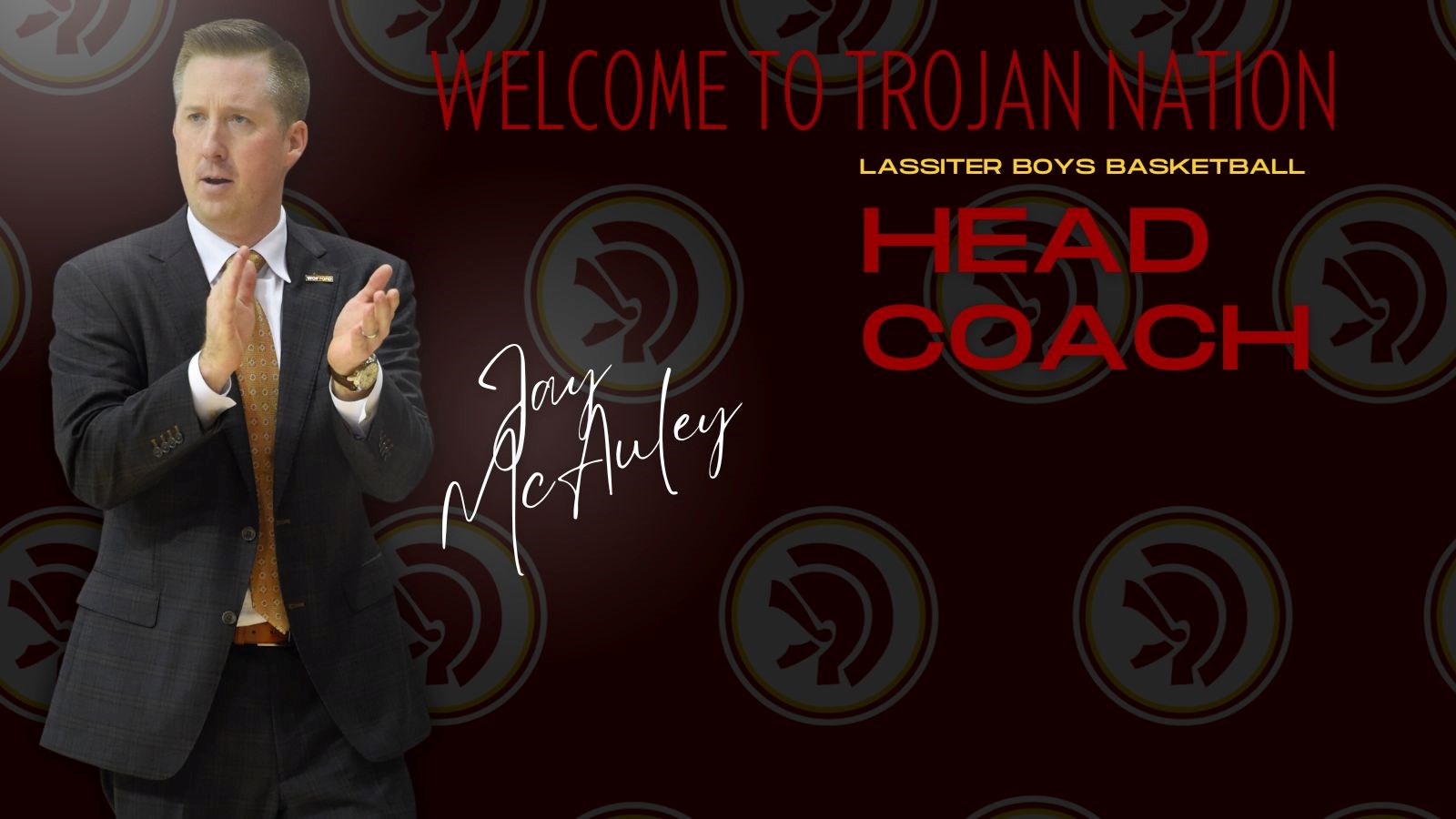 Former Wofford College coach and UGA alum to head the basketball program
Lassiter High School announced today that Jay McAuley has been named the new boys basketball head coach. McAuley, a former University of Georgia basketball player, spent the last four years as the head men's basketball coach for NCAA Division 1 Wofford College.
McAuley led the Wofford College Terriers from 2019 to 2023 with two 19-win seasons in 2020 and 2022. During his first season at Wofford, McAuley led the program to the championship game of the Southern Conference (SoCon) Tournament. His tenure is highlighted by the program's second win over an AP Top 25 team, a 68-64 win at No. 17 North Carolina (12/15/19), and a road win in 2022 over a Power 5 opponent the University of Georgia. Prior to being promoted to the head coach position at Wofford, McAuley was an assistant coach at Gardner-Webb University and Furman University.
"Coach McAuley will undoubtedly raise the bar for Lassiter Basketball," said Lassiter Athletic Director Coach Scott Kelly. "He possesses top-tier basketball knowledge and a proven track record of program building. We are thrilled to welcome Jay and his family to Trojan Nation."
Under McAuley's guidance, Wofford was among the nation's best in 3-point shooting – ranking seventh in the nation in 3-point field goals made per game during the 2020-2021 season (10.2), while finishing fifth in the nation in total 3-point field goals made (336) for the 2019-2020 season.
McAuley's tenure noted an emphasis on academic excellence. All Wofford student-athletes that exhausted their eligibility under McAuley graduated, with three being named Academic All-SoCon and 17 named to the SoCon Academic Honor Roll.
McAuley was named the 2022 Skip Prosser Man of the Year by College Insider Inc., presented annually to those who not only achieve success on the basketball court but who display moral integrity off the floor as well. McAuley was also featured in The Athletic's annual 40-under-40 publication, listed as No. 17 of the most 40 influential people in men's college basketball. Additionally, McAuley was named to ESPN's "40 Under 40" list, ranking the top 40 head coaches at the Division I level - with McAuley ranked No. 27.
"I am thrilled to lead the Lassiter boys basketball program and as a Cobb native, I am excited to bring my family home," said McAuley. "I look forward to being an integral part of the Lassiter community and using my experience in Division 1 basketball to build a program and culture that focuses on a high level of skill, teamwork, and fostering student-athletes as leaders."
McAuley played four seasons at the University of Georgia, followed by two years on the coaching staff. His time there included the 2008 team that won the SEC Tournament. He played in 17 games in his junior season and was a co-captain his senior year. After graduating with a degree in business education in 2006, he served as a graduate manager for two seasons and earned a master's degree in physical education. McAuley will join the Physical Education Department at Lassiter.
The Marietta, Ga. native is a graduate and hall of fame inductee at Pope High School. McAuley and his wife, Sallie, have two daughters, Addie (7) and Charlie (3).