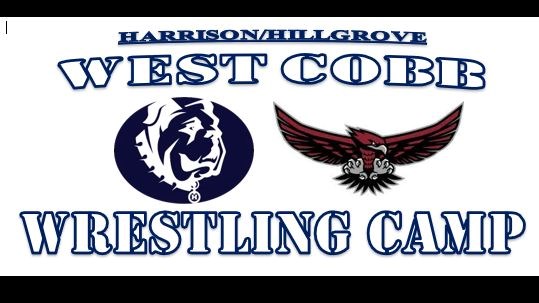 WHERE: HARRISON HIGH SCHOOL WRESTLING ROOM
WHEN: JUNE 13-15 FROM 10AM-2PM
WHO: GRADES K-8 no experience necessary (USA Wrestling Card Required)
https://www.usawmembership.com/login
HOW MUCH: $150 PER CAMPER with HALF OFF FOR A SIBLING
Pay by June 1st and receive $15 off a full priced camper, only $135!!!
(Price includes shirt)
REGISTRATION FORM: ( https://forms.gle/P9t72ikHbvBJUaTm8 )
ADDITIONAL INFORMATION:
Water will be provided but please bring more if needed. Campers will need to bring wrestling shoes, athletic shoes, workout clothes with extra change of clothes if needed, and bring their own lunch.
Please contact Jeffrey.crocker@cobbk12.org (Harrison) or Shawn.Slenczka@cobbk12.org (Hillgrove) for questions or concerns