Mabry Club Calendar 2022 - 2023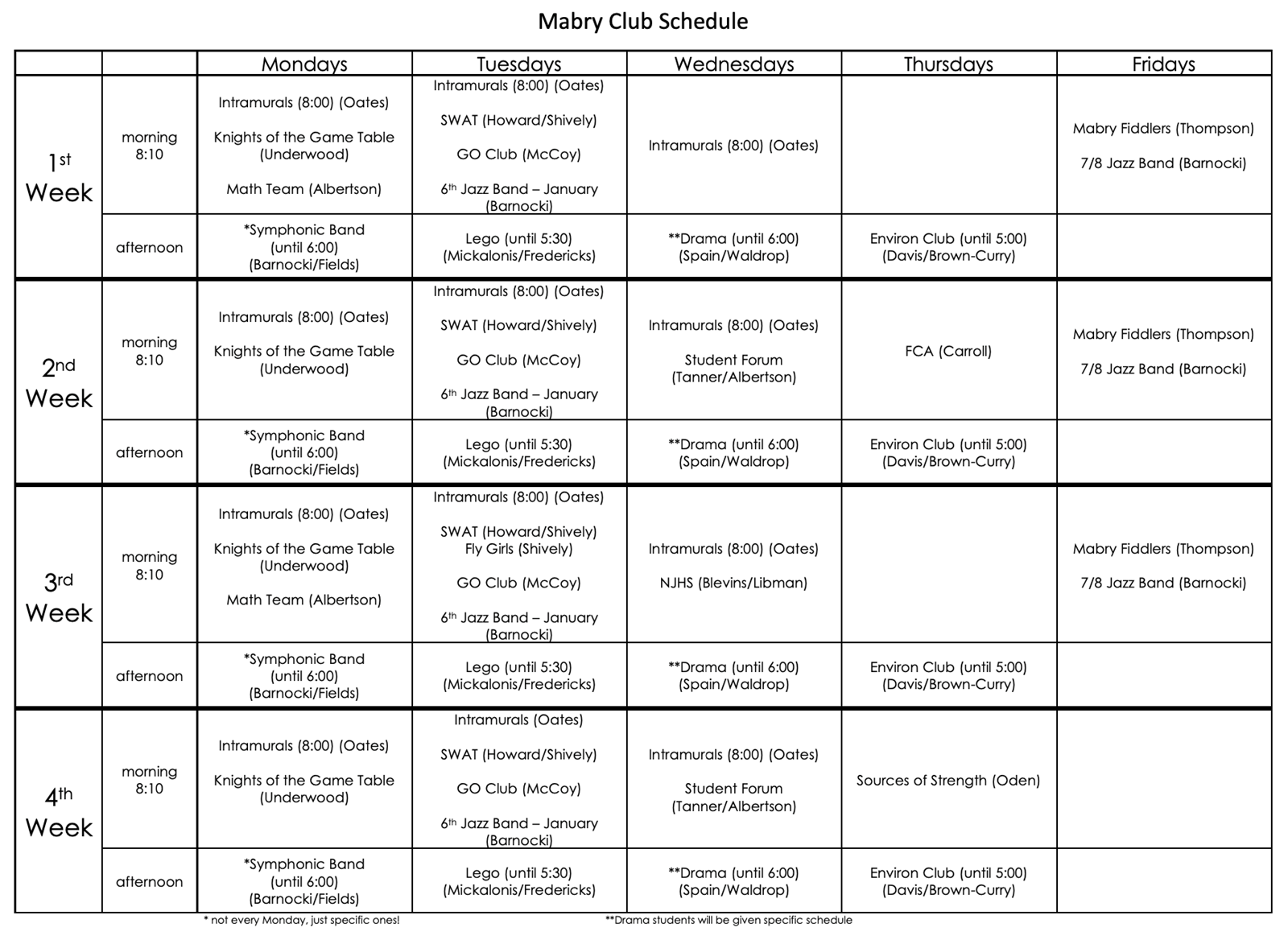 See PDF/Word Document below for text.
Band Groups
Jill Barnocki
Woodwind & Brass Choirs: Thursdays 8:00 am
7th and 8th grade jazz band: Wednesdays 8:00 am
6th grade jazz band: Tuesdays 8:00 am
Broadcast Team
Anita Norton
Daily at 8:15 am
Broadcast Team writes and produces a daily news show that is delivered throughout the school. Students learn how to use a video mixer, video camera, computer, and more. They practice organizational and speaking skills. The application for Broadcast Team will be available for new students in January.
Drama Club
Sandra Waldrop & Gregory Spain
Wednesdays 4:15 - 6 pm in the Theater
Mabry Middle School Drama Club (#MMSDC) promotes learning about theater through activities and productions that enhance the educational goals of our students and leads to friendships across grade levels. Students are given the opportunity to participate in supervised creative dramatic activities which include performances in front of an audience. Students will need to audition to join.
Environmental Club
Elizabeth Davis & Jil Brown-Curry
Thursdays 4:15 pm
Do you worry about the Earth? Do you want to make the Earth a cleaner place to live? Are you eco-friendly? If you answered YES to any of these questions, then Mabry's Environmental Club is the place for you! The club alternates weeks by picking up recycling and working outside in various areas around the school. This year the club will also be raising trout to release into the Chattahoochee River.
The Go! Get Organized Club
Michelle Gottenberg, Daniela Martucci, Leslie Anne McCoy, & Anita Norton
GO! Club will meet in the Learning Commons on Tuesdays at 8:15am starting on August 17th.
Come join the Go! Get Organized Club to learn more about the brain-based binder system proven to increase student success. All you need is a 1.5inch binder and an 8-pack of double-sided pocket dividers to get started.
Lego Robotics
Leigh Mickalonis & Felicia Fredericks
See club sponsors for schedule
Lego Robotics will participate in the FIRST LEGO league challenge this year. Students will build and program LEGO robots to accomplish specific missions related to this year's topic. They will also research and engage in a community project to make a real world connection to the robot missions. This is the club for you if you are interested in learning about science and technology!
Mabry Fiddlers
Nicole Thompson
Any orchestra student currently using a bow who wants to improve his/her skill and have fun. There are no audition requirements.
What type of music does fiddle group play? Fiddle and pop music
What is the benefit? Studies show that learning music by rote increases listening skills and improves intonation as well as memory function
Meet every Friday morning at 8:00 am in the orchestra room. Fiddle FUN Fridays!
Math Team
Krissie Albertson
The goal of the Math Team is to successfully compete in local CCSD math competitions, create an enthusiasm among students around mathematics, and promote the creative problem solving aspects of the subject.
Day and time to be determined.
National Junior Honor Society
Diane Libman & Cindy Blevins
3rd Wednesdays of each month in the Media Center at 8:10 a.m.
National Junior Honor Society is an 8th grade club whose purpose is to create enthusiasm for scholarship, to stimulate a desire to render service, to promote leadership, to develop character, and to encourage good citizenship in the students of Mabry Middle School. Students are identified for membership based on report card grades during the last nine weeks of 6th grade and the first two nine weeks of 7th grade.
Reading Club
Anita Norton
Will meet before school in the Learning Commons. The day and time to be determined.
Reading Club participates in the Helen Ruffin Reading Bowl competition each January, reads and discusses books, and helps out in the Media Center. The club meets in the Media Center. As we approach the competition, there will be some before/after school meetings.
Sources of Strength
Krissie Albertson, Brittanie Brennan, Marcia Harden, Amy Hinsley, Eve Israel, Anita Norton, Lauren Oden, Rachel Shively, Jennifer Stepp, Michelle Perlin.
The mission of Sources of Strength is to provide the highest quality evidence-based prevention for suicide, violence, bullying and substance abuse by training, supporting, and empowering both Peer Leaders and caring adults to impact their world through the power of connection, hope, help and strength. Sources of Strength seeks to spread Hope, Help, and Strength into every corner of our Mabry community!
See Adult Advisors for meeting schedule
Student Forum
Jonathan Tanner, Jordan Griffin, Brittanie Brennan & Krissie Albertson
Meets on the 1st and 3rd Wednesday morning of each month at 8:10 a.m.
Mabry's Student Forum provides students a voice in the decision making process as related to student/school needs and concerns. Student Forum members represent all grade levels, and work with the school administration to provide activities for Mabry students.
S.W.A.T.
S.W.A.T.
Evan Howard, Anita Norton, & Rachel Shively
Will meet before school in the Learning Commons. The day and time to be determined.
S.W.A.T. stand for Students Working to Advance Technology. SWAT club members will be undertaking technology challenges using the engineering design process to identify problems and create unique solutions to solve problems using drones, 3D printers, coding and more! They also help new students learn the ins and outs of Mabry's technology resources, and troubleshoot issues for staff as requested.