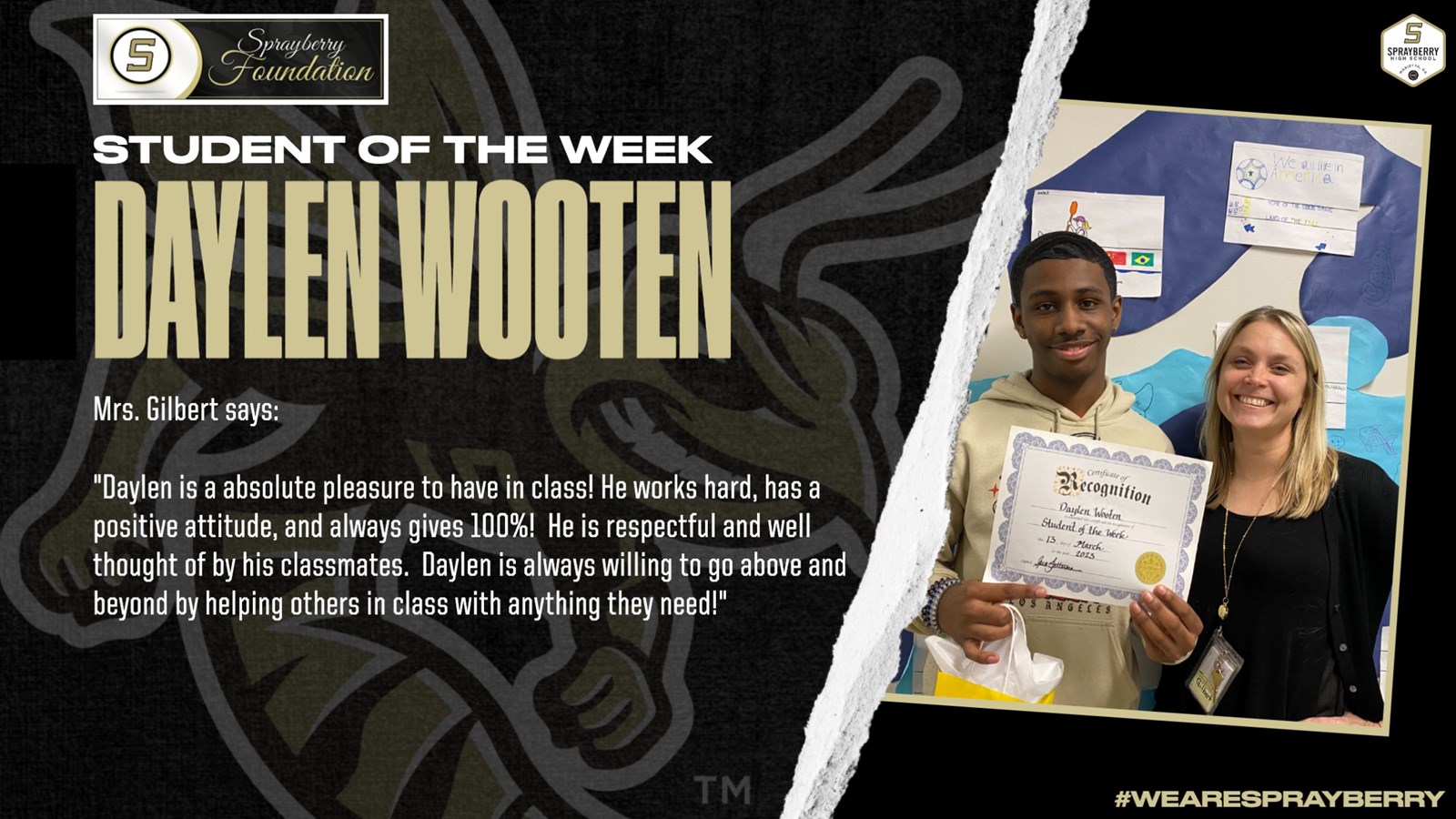 Congratulations to Daylen Wooten on being named our Sprayberry Foundation Student of the Week for March 3-17, 2023!
Mrs. Gilbert says:
"Daylen is a absolute pleasure to have in class! He works hard, has a positive attitude, and always gives 100%! He is respectful and well thought of by his classmates. Daylen is always willing to go above and beyond by helping others in class with anything they need!"
Thank you to the Sprayberry Foundation for sponsoring Student of the Week and providing a goodie bag!
Past Student of the Week Recipients
| | | |
| --- | --- | --- |
| WEEK | STUDENT | NOMINATING TEACHER |
| March 13-17, 2023 | Daylen Wooten | Mrs. Gilbert | World Literature |
| March 6-10, 2023 | Ava Lyons | Ms. Mullen | Forensics |
| February 27-March 3, 2023 | Ashly Drekha Martinez | Ms. Power | American Literature |
| February 13-17, 2023 | Marielle Tabb | Mrs. Moseley | H. World Literature |
| February 6-10, 2023 | Neel Krishnan | Mr. Cook | Orchestra |
| December 12-16, 2022 | Ellison Hood | Mrs. Moseley | H. World Literature |
| December 5-9, 2022 | Nasir Beccles | Mrs. Gilbert | World Literature |
| November 28 - December 2, 2022 | Angela Seoung-Matthews | Mrs. Palen | Art |
| November 14-18, 2022 | Jordyn Hemphill | Ms. Pace | Front Office |
| November 7-11, 2022 | Laura Oliveira Costa | Ms. Buldoc | Electronics |
| October 31 - November 4, 2022 | Ryana Warrayat | Mrs. Gibeaut | Attendance |
| October 24-28, 2022 | Eryn Sellers | Mrs. Mullen | Honors Anatomy |
| October 17-21, 2022 | Ava Panariello | Mrs. Lancee | AP Psychology |
| October 10-14, 2022 | Skye Lee | Mme Sanderson | French |
| October 3-7, 2022 | Chris Mago | Mr. Shields | Physics |
| September 19-23, 2022 | Alahna Richard | Mr. Roberts | Chorus |
| September 12-16, 2022 | Rohnelle Fyffe | Sra. Ryan | Spanish |