Class of 2023 Graduation Information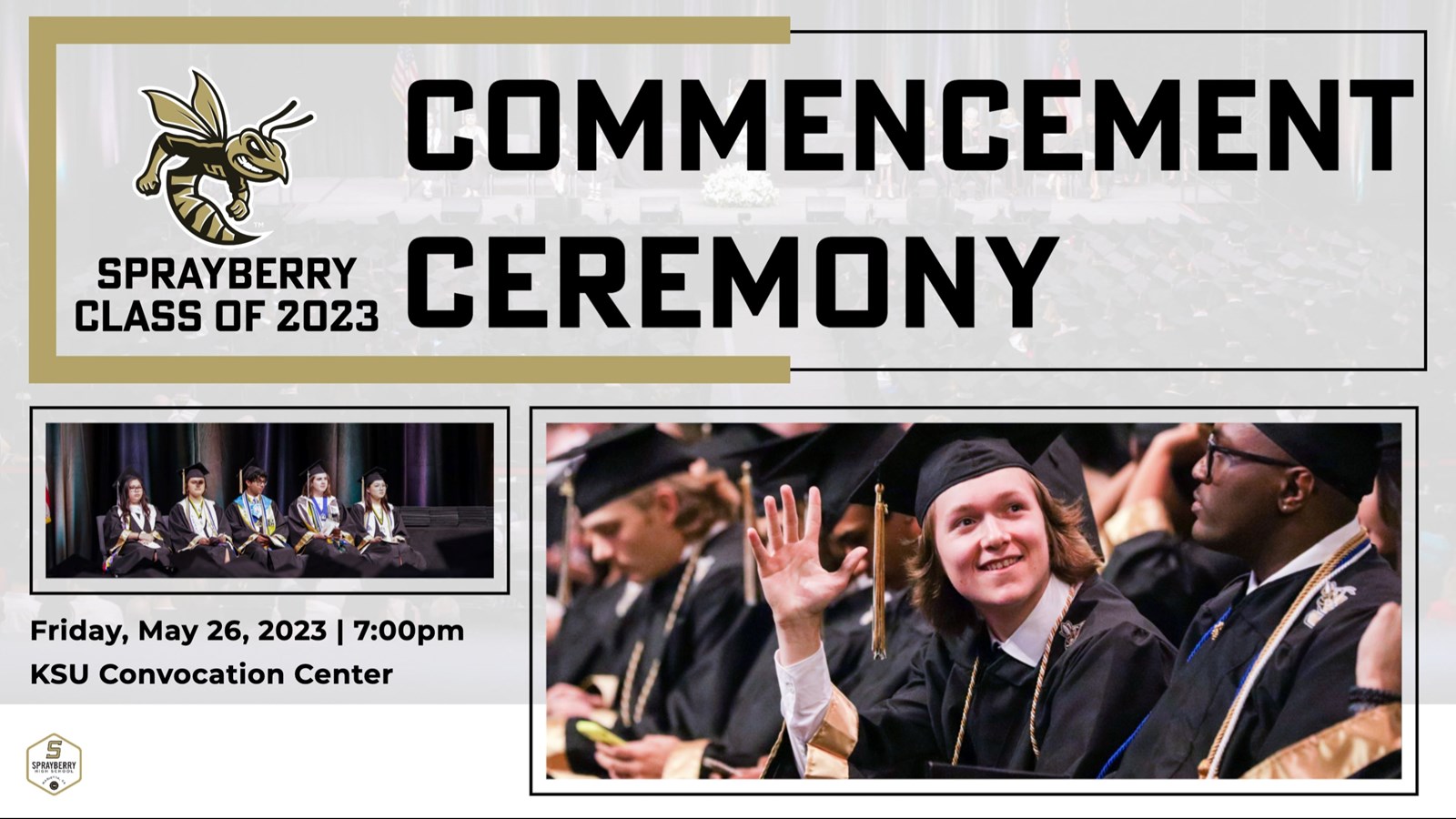 Information for the Class of 2023 Commencement and Schedule of Activities can be found in the Resources section below. Copies of this document are also available in the Attendance Office at Sprayberry High School.
GRADUATION CONTRACT DUE
Graduation Contracts are due April 14, 2023
SENIOR FINAL EXAMS
May 11, 2023 | 3rd & 4th Blocks
May 12, 2023 | 1st & 2nd Block (Early Release Day for Seniors)
GRADUATION COMMENCEMENT PRACTICES
May 22, 2023 @ 9:00am | Honor Cords will be distributed at this practice
May 23, 2023 @ 9:00am | Commencement Tickets will be distributed at this practice. Students will be required to sign for their tickets.
May 24, 2023 @ 9:15am | Technical Rehearsal at Kennesaw State University for students who are speaking or performing.
ALL PRACTICES ARE MANDATORY!
Board and school policies (such as tobacco and drug/alcohol use, dress code, etc.) will be in effect.
SENIOR WALKS
Kincaid Elementary School | May 19, 2023 @ 8:30am
Addison Elementary School | May 19, 2023 @ 1:30pm
Bells Ferry Elementary School | May 19, 2023 @ 1:30pm
Chalker Elementary School | May 19, 2023 @ 8:30am
McCleskey Middle School | May 22, 2023 @ 12:30pm
Mountain View Elementary School | May 23, 2023 @ 8:15am
Blackwell Elementary School | May 23, 2023 @ 11:30am
Sedalia Park Elementary School | May 23, 2023 @ 12:00pm
Nicholson Elementary School | May 24, 2023 @ 11:30am