| Staff Member | Caseloads | Phone Number | E-Mail Address |
| --- | --- | --- | --- |
| Keeva Hollinhead, Counseling Dept. Chair | Student Last Names A-G | 678-594-8240, ext. 021 | Keeva.Gatlin-Hollinhead@cobbk12.org |
| Andra Cole, Counselor | Student Last Names H-O | 678-594-8240, ext. 064 | Andra.Cole@cobbk12.org |
| Mandy Mooney, Counselor | Student Last Names P-Z | 678-594-8240, ext. 020 | Mandy.Mooney@cobbk12.org |
| Adonica Bailey, Site Coordinator | | 678-594-8240, ext. 065 | Adonica.Bailey@cobbk12.org |
| Karen Hidalgo, Guidance Clerk | | 678-594-8240, ext. 022 | Karen.Hidalgo@cobbk12.org |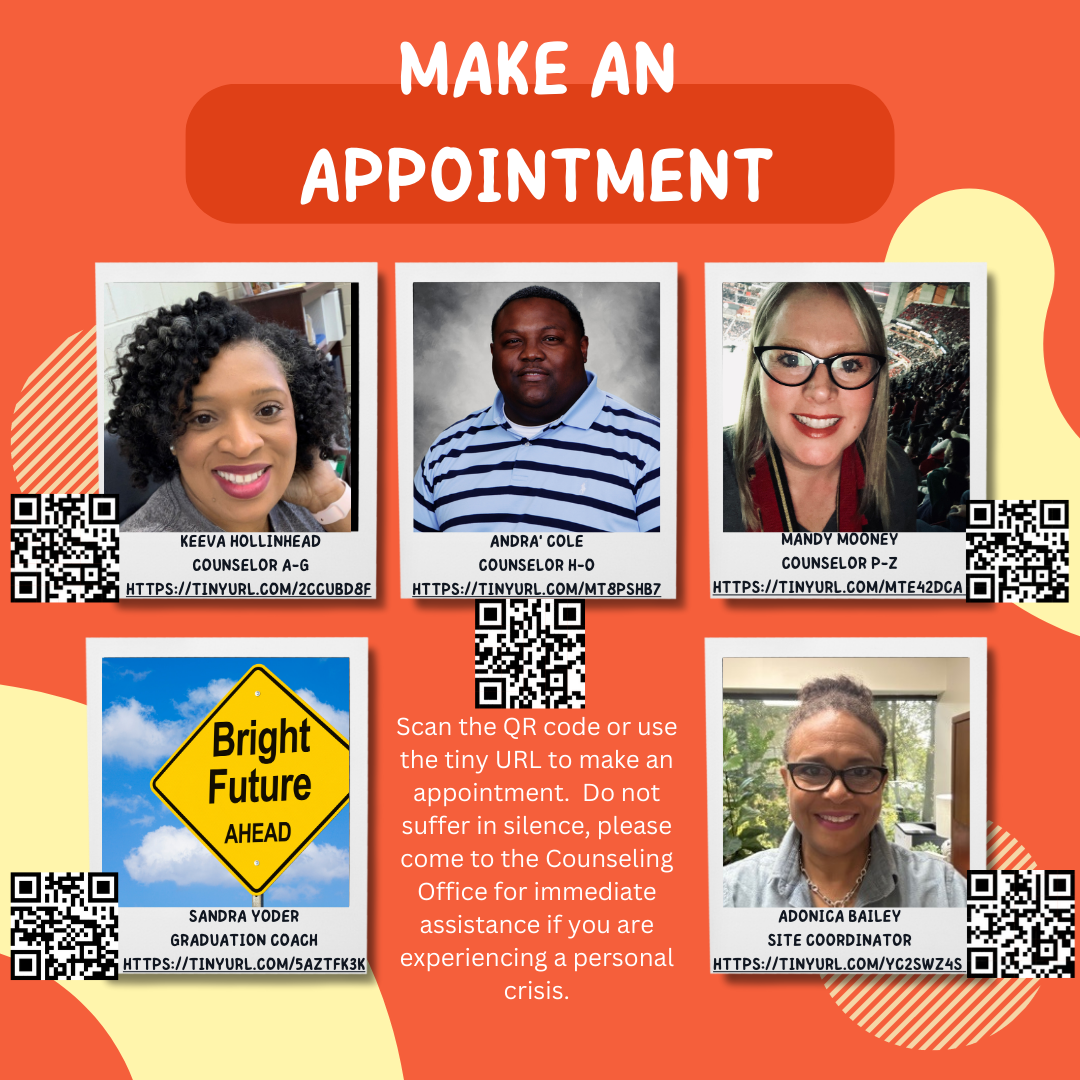 Click HERE to view dual enrollment information.
Dear Parent,
We are excited to announce that Cobb Horizon High School is continuing the SOS, Signs of Suicide Program, as a part of our school-wide suicide prevention efforts.
Please log in to this free educational site for information on warning signs and risk factors for youth suicide, access useful resources, and to learn more about the key message all students will learn: ACT (Acknowledge, Care, Tell).
You can preview the video your student will watch and take an anonymous online mental health screening on behalf of your child. To access this mental health resource, visit www.sossignsofsuicide.org/parent. The counselors will start providing classroom lessons during the month of February. Please take the time to review the resources below.
If you have any questions, please feel free to contact Keeva Hollinhead at 678-400-7717 or email keeva.gatlin-hollinhead@cobbk12.org.
Estimado Padre de Familia,
Nos complace anunciar que Cobb Horizon High School va a continual con el programa, el Portal de Señales de Suicidio SOS, como parte de nuestros esfuerzos de prevencion del suicidio en toda la escuela. Inicie una session en esta pagina web educativa que es gratuita para obtener informacion sobre las señales de advertencia y los factores de riesgo del suicidio juvenile, accede a recursos utiles y obtener mas informacion sobre el mensaje clave que todos los estudiates aprenderan: ACT (Reconocer, Cuidar, Contar). Usted podra obtener una vista previa acerca del video que su estudiante vera y tomar una evaluacion anonima en la pagina web acerca de la salud mental en nombre de su hijo/hija. Para accede a este recurso de salud mental, visite la siguiente pagina web: www.sossignsofsuicide.org/parent. Tambie por favor, revise la carta de consentimiento. Los consejeros comenzaran a brindar lecciones en el salon de clases despues de las vacaciones de otoño.
Si tiene alguna pregunta, no dude en comunicarse con Keeva Hollinhead al 678-400-7717 o por correo electronico keeva.gatlin-hollinhead@cobbk12.org.
Services available through the counseling office are:
Academic Counseling/Planning
Student Records and Transcripts
College and Career Planning
SAT and ACT Testing Information
Financial Aid and Scholarship Information
Prevention/Intervention Services
Personal Counseling for Students
College and Career Websites
Testing Information
Scholarships/Events
Click here for application fee waver information for Georgia colleges in March.