Cobb Schools Welcomes Staff Back at District Kickoff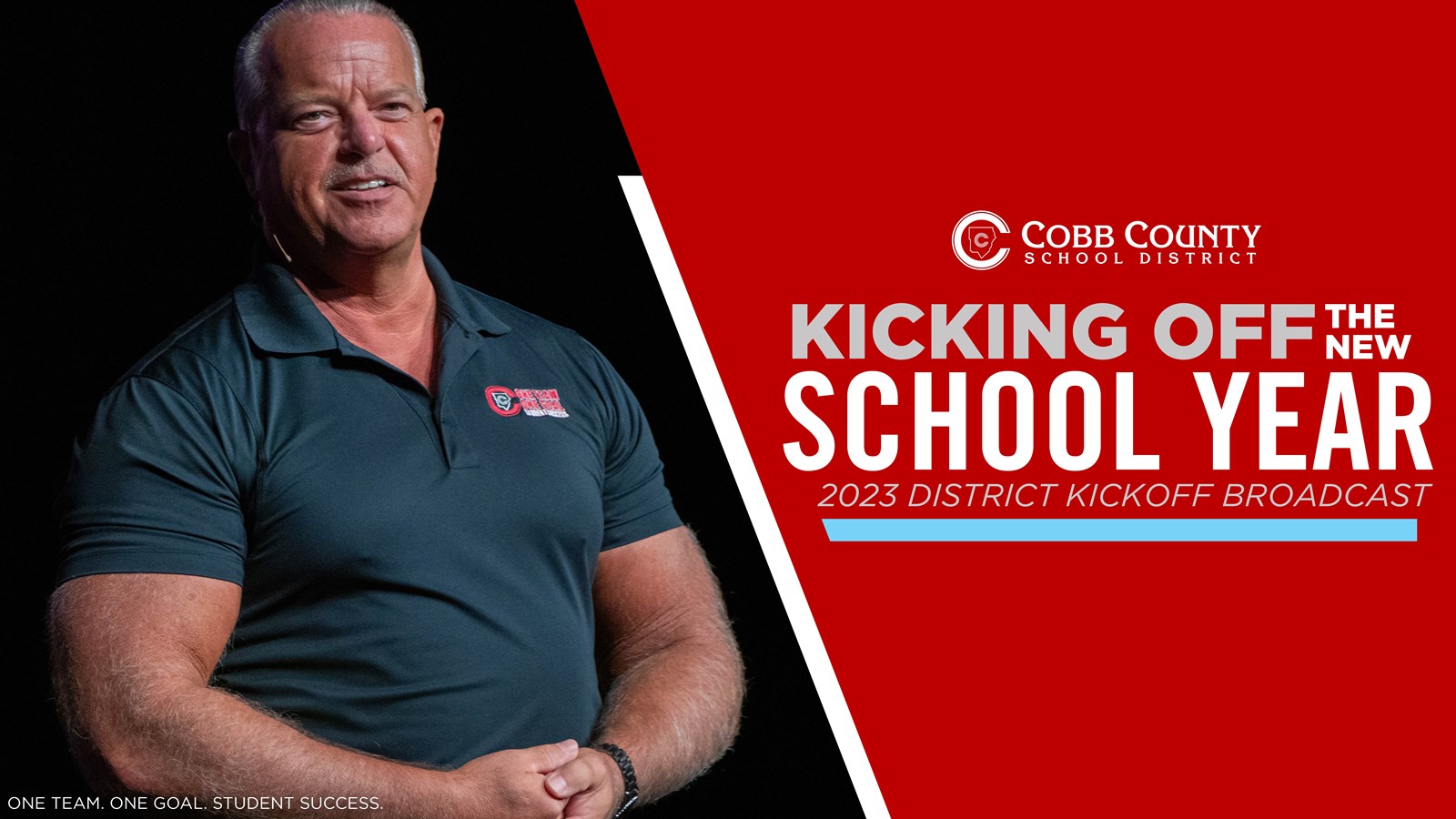 "While some things change, others do not," said Cobb Board of Education Chairman Brad Wheeler. "Your mission still is Student Success. Cobb Schools has a tradition of excellence, and you all are part of that. What you do is not easy, but the charge is to stay focused and prepared every day. I would say to you to enjoy that challenge and the opportunity to affect students' lives."
So began the 2023-24 District Kickoff Broadcast for all Cobb Schools employees. Teachers, administrators, and support staff around the county were all tuned in to see and hear what message Superintendent Ragsdale had for the One Team heading into another school year of teaching and learning.
"You are here because you are the best of the best, and you're joining the best of the best," Superintendent Ragsdale said before publicly congratulating the 2023 District-Level Teachers of the Year: Dr. Elizabeth Goff, Annelisa Bellack, and Suzette Spinelli. These three teachers will receive a free car of their choice from Ed Voyles for a year for their hard work and tireless dedication to the goal of Student Success.
Superintendent Ragdale once again highlighted the three District priorities and, just as he did at Leadership Kickoff, commented that consistency was the theme for this coming year, which means keeping the priorities the main focus and teaching the standards in the classroom.
Cobb's three priorities are:
• Ensure that Cobb is the best place to teach, lead, and learn.
• Simplify our foundation for teaching and learning in order to prepare for innovation.
• Use data to make decisions.
"Regardless of the game you're in, you stay consistent. When you're winning, and you stay consistent, you're going to continue to win. And that's my expectation," the Superintendent said to the nearly 19,000-member Cobb Schools Team. "We're not going to jump on every fad, whim, and trend that comes through education. We're going to bring consistent opportunities for success for all students."
Expounding on the third priority—using data to make decisions—the Superintendent was clear about Cobb employees. "When you look at our academic performance, nobody can compare. Nobody. This is not anecdotal information. This is empirical data; we are first in the metro in every academic subject. We're going to continue to use data to make decisions. Every decision that's made in this organization has you at the root of it. "
Highlighting the 2024 Budget and another healthy raise for the One Team, Superintendent Ragsdale plainly stated that Cobb's budget will always be employee-centric.
"It was an intentional effort, and the Board has been on board with this strategy for nine years. We are the highest paid in the metro Atlanta area in every category today."
Recognizing the challenging task that educators face every day, the Superintendent also pointed to Cobb's newest initiative to help teachers advance in their careers and professional development: Georgia's BEST.
"I can never pay teachers what they're worth. But there are other things that we can do, and that's what we're going to continue to do..." Other metros districts have indeed followed Cobb's lead by introducing similar programs of their own. "But we were first," Cobb's leader said with a smile.
Superintendent Ragsdale also mentioned that Cobb would stay persistent on school safety, utilizing tools like Centegix and regular drills throughout the year.
"We will be doing unannounced code red drills again, but that certainly does not mean we're going to have plain-clothed people trying to access the campus and the building. We're not doing that. We never have. We never will. It simply means Cobb Schools PD will show up, talk to the principal, announce that there's going to be a drill, and then issue a code red drill...our leaders and police officers say it is important to be able to see how every school reacts in an unannounced, code red drill."
Closing out his address, the Superintendent reminded his staff to stay consistent: "Bottom line for today, again, is consistency. You're going to hear that. You're going to continue to hear that because that's the focus. Teaching and learning, and creating the environment so that our nine thousand teachers—who are the best teachers on the planet— can do what they do better than anybody else. Thank you for what you do, and have a great year!"
Nearly 700 members were on-site at the event, and their reactions were enthusiastic and thankful.
"I am definitely ready for the school year," said English teacher Danielle Crandall. "I feel that the learning engagement institute we had really got me pumped up, along with today's address. I am ready for the kids to come back on Tuesday!"
Physics teachers Shelley Howerton said he was happy to hear so much confirmation that Cobb was back on top among metro districts and mentioned that it coincides with his own experience in Cobb Schools. "I feel very valued here, not just because of pay, but as a valued member of the team. I'm so glad to hear that Cobb is seriously competitive and on top with those around us. I love what I do, and I can't wait to meet my students next week and make a difference in their learning."