He's got Heart! Chris Ragsdale named National Superintendent of the Year!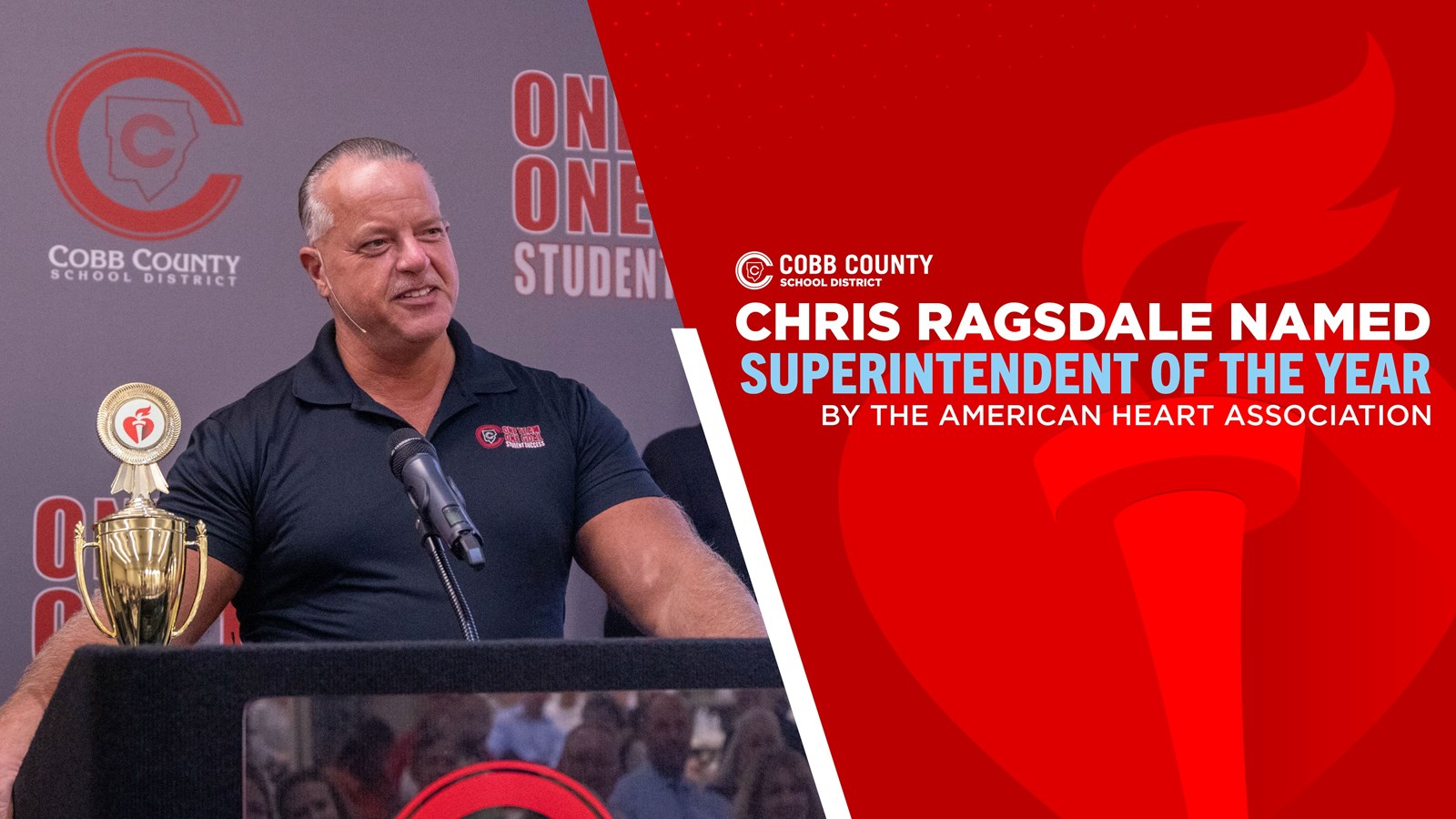 From coast to coast, people from around the country tuned in to hear Cobb Superintendent Chris Ragsdale named the National Superintendent of the Year by the American Heart Association. The annual Kids Heart Challenge and American Heart Challenge awards ceremony, held virtually, recognized Superintendent Ragsdale for his commitment to ending cardiovascular disease, the nation's number one killer, through the Association's in-school programs.
"We are incredibly proud of Chris Ragsdale and all of his work in supporting whole body health for all," said Scott Webb, board chairman of the American Heart Association in metro Atlanta and vice president, account services, Pointnext Technology Services at Hewlett Packard Enterprise. "Schools play a vital role in building a foundation of healthy living for future generations, and we are thrilled to see our lifesaving mission touch the lives of students, schools, and educators right here in metro Atlanta."
The Superintendent of the Year award is given each year to a superintendent who has been instrumental in growing the Kids Heart Challenge, American Heart Challenge and/or District Heart Challenge program(s) in their district. Superintendent Ragsdale was nominated by local American Heart Association staff for the national award. According to the American Heart Association, Superintendent Ragsdale is fully invested in the Association's mission and sets the expectations for his schools and leaders to participate in the Kids Heart Challenge and American Heart Challenge. He leads by example and encourages all students in Cobb County to live a heart-healthy lifestyle.
Under Superintendent Ragsdale's leadership, Cobb Schools was crowned the top school district in the nation for dollars raised for the 2021-2022 and the 2022-2023 school year. In addition, Cobb Schools set a record for the most dollars raised in one school year by a single district. For the 2022-2023 school year, Cobb County schools raised $770,000, making American Heart Association history earlier this year. Prior to the national championship announcement, King Springs Elementary School was recognized for setting a new Cobb Schools record for raising $45,000 for the Kids Heart Challenge.
"It goes without saying how deeply humbled I am to receive this award. However, it cannot go without saying that this award would not be possible without the remarkable efforts of our incredible team of students, teachers, staff members, and parents," said Superintendent Ragsdale. "They came together in an amazing way to support the work of an organization that is dedicated to saving and improving the lives of so many throughout our communities, our states, and our nation. Thank you on behalf of the entire Cobb County School District for this recognition; we are all honored to be a small part of the amazing work that the American Heart Association is doing."
During the awards ceremony, Superintendent Ragsdale was described as a "true champion" for the American Heart Association mission and someone they would like to "clone." He was also praised for his "leadership and support."
Superintendent Ragsdale was not the only award recipient from Cobb Schools. The American Heart Association also named Cobb Online Learning Academy PE teacher Alesha Whitaker the American Heart Challenge Rookie of the Year for the high school level.
"It's so encouraging to see schools, students, and educators serve as a catalyst to improve health," said Marsha Jones, volunteer chairperson of the board of the American Heart Association. "This year's awards winners demonstrate that through passion, dedication, and leadership, nothing can stand in our way as we drive toward a world of longer, healthier lives for all."