Cobb Schools honors Employees of the Year, names District level winners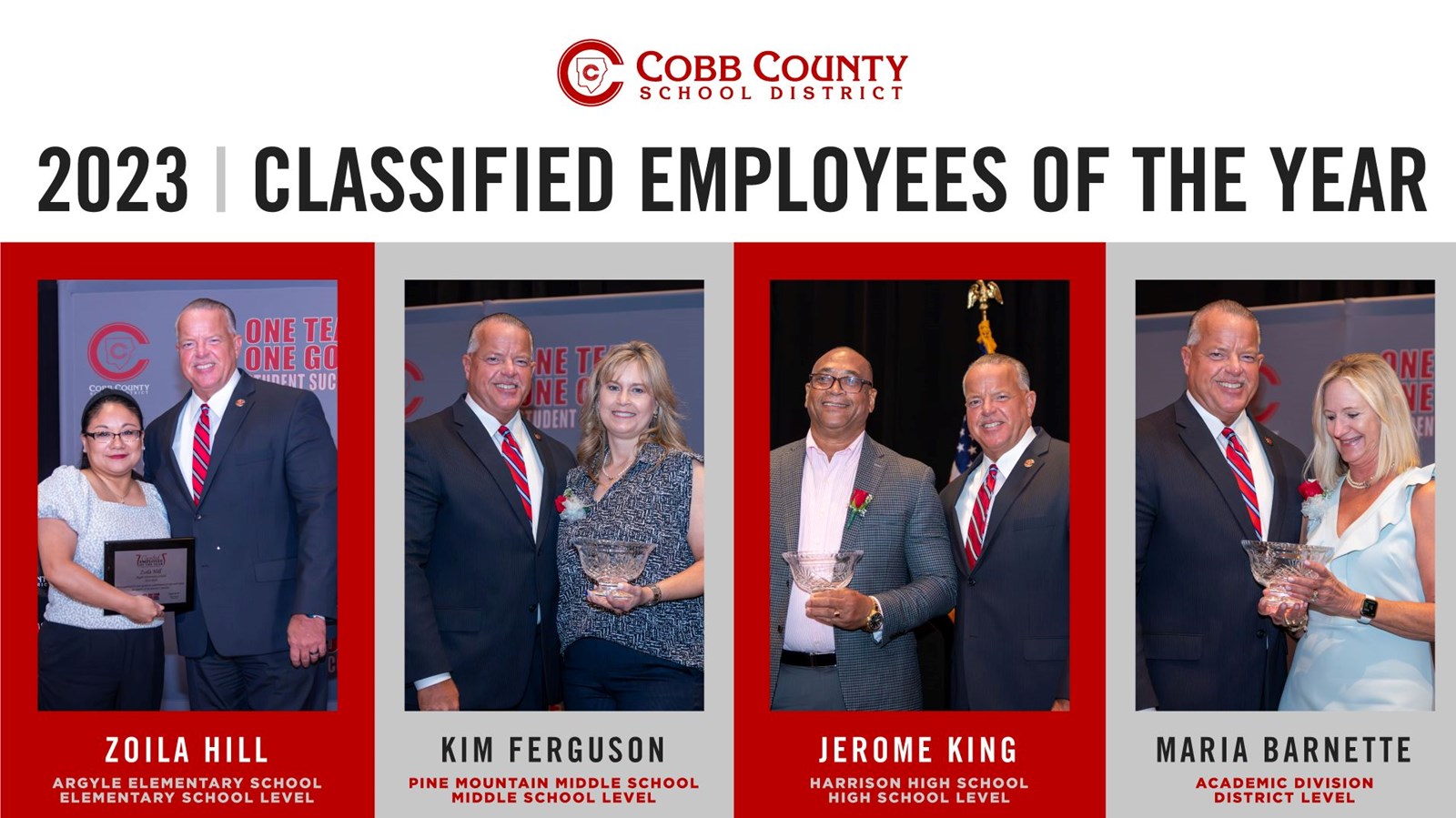 "Simply the BEST!!!" Although that praise was directed at one employee, it sums up how principals, teachers, and families would describe each of Cobb's 2023 Classified Employees of the Year.
Every year, Cobb Schools leadership, Board members, and other members of the school community come together to recognize the Classified Employees of the Year (CEOTY). The honored guests come from schools and departments across the District. This year, the recognition ceremony took place at the Cobb Energy and Performing Arts Centre.
"Supporting our parents, answering phones, driving buses, feeding students, keeping our schools safe and clean - it's impossible to teach well if these things aren't happening. The Superintendent has made teachers and those who support teachers a priority - today is one small way to thank the half of our "Team" who support teachers," praised John Floresta, Cobb Schools Chief Strategy and Accountability Officer.
The CEOTY luncheon included a surprise for four of the honorees who were named the elementary school, middle school, high school, and central office level winners
| Cobb Schools Classified Employee of the Year | Position | School/Department | Level Winner |
| --- | --- | --- | --- |
| Zoila Hill | parent facilitator | Argyle Elementary School | Elementary School Level |
| Kim Ferguson | clerk | Pine Mountain Middle School | Middle School Level |
| Jerome King | custodian | Harrison High School, | High School Level |
| Maria Barnette | secretary | Academic Division | District Level |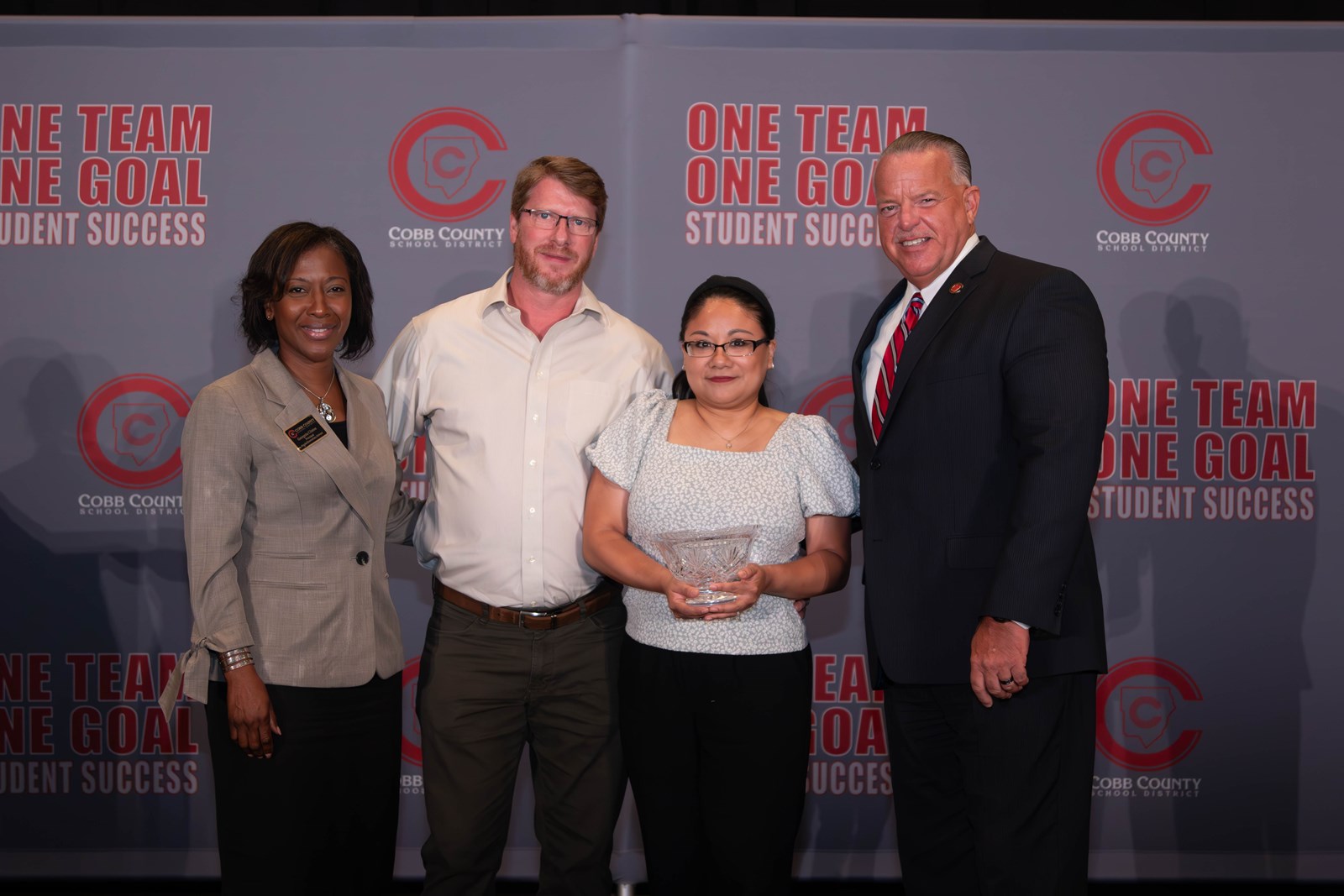 According to Argyle Principal Georgette Clinton, Cobb's Elementary School Level winner exemplifies what it means to be a dedicated team member.
"You lead with your heart, and you are truly invested in serving as a liaison between our Argyle families and our staff," Principal Clinton told the Argyle Employee of the Year. "Zoila goes beyond the call of her duties and responsibility to provide high-level support and assistance to families and staff each and every day. Our families and staff not only seek her assistance but also her advice and guidance because we all know she has a heart for children and families and works tirelessly to ensure their needs are met. Zoila is compassionate, caring, dedicated, and passionate about her job and operates as if it is a mission."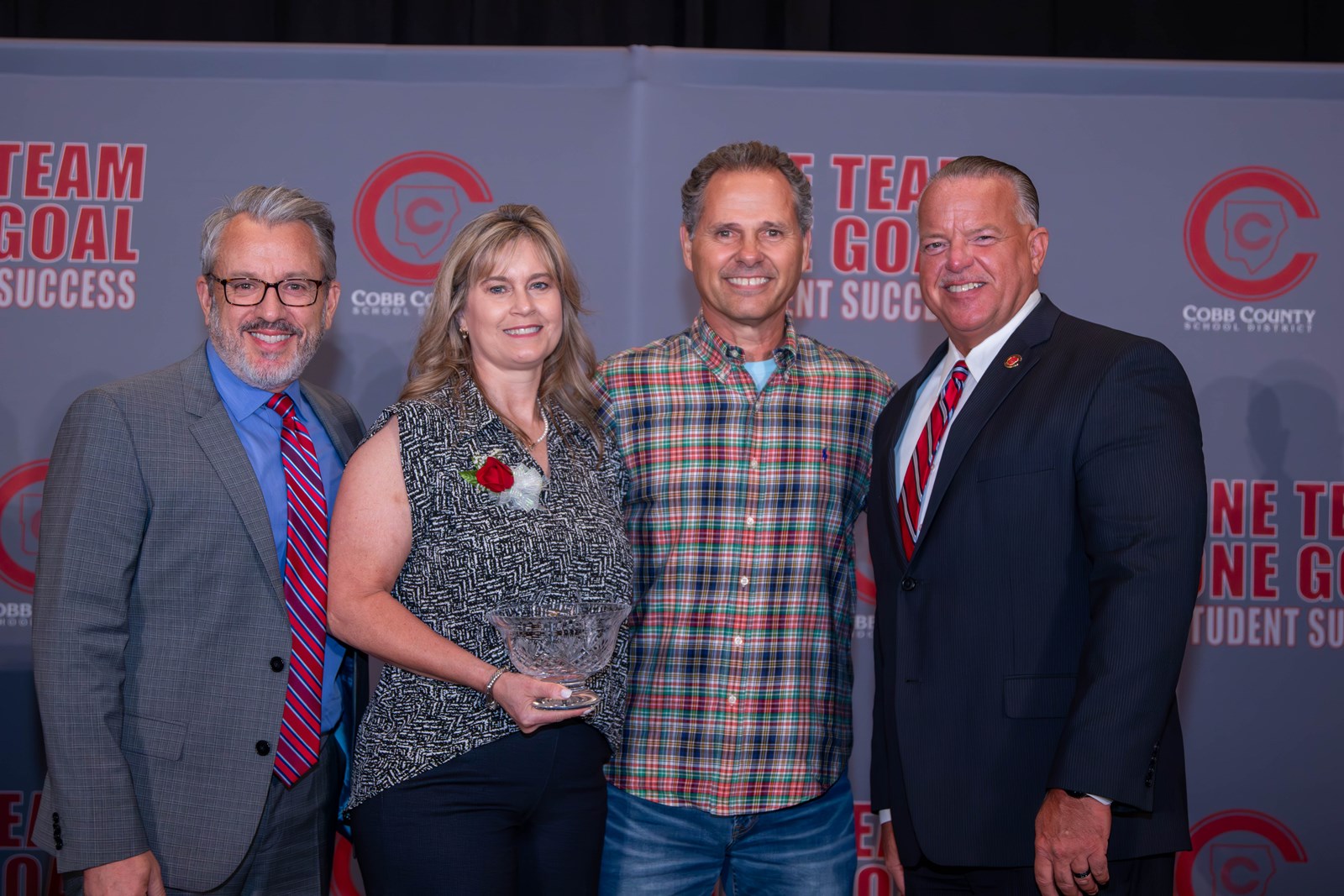 There may be a reason why Ms. Hill stands out as the Elementary Level Employee of the Year and treats her job as a mission.
"I love what I do and love making a difference in the students' lives," Ms. Hill said.
She is not alone. The Middle School Level winner also loves her job; Ms. Ferguson enjoys working with her teammates and students every day.
"[Kim Ferguson] is all about taking things to the next level. Whether Kim is working with a parent who may be upset coming into the front office, or trying to help a substitute come into the school and get to the class they need to be at, or helping a teacher make copies, Kim is all about taking things to the next level. It is an honor to have [Kim] at Pine Mountain Middle School," applauded Pine Mountain Principal David Nelson.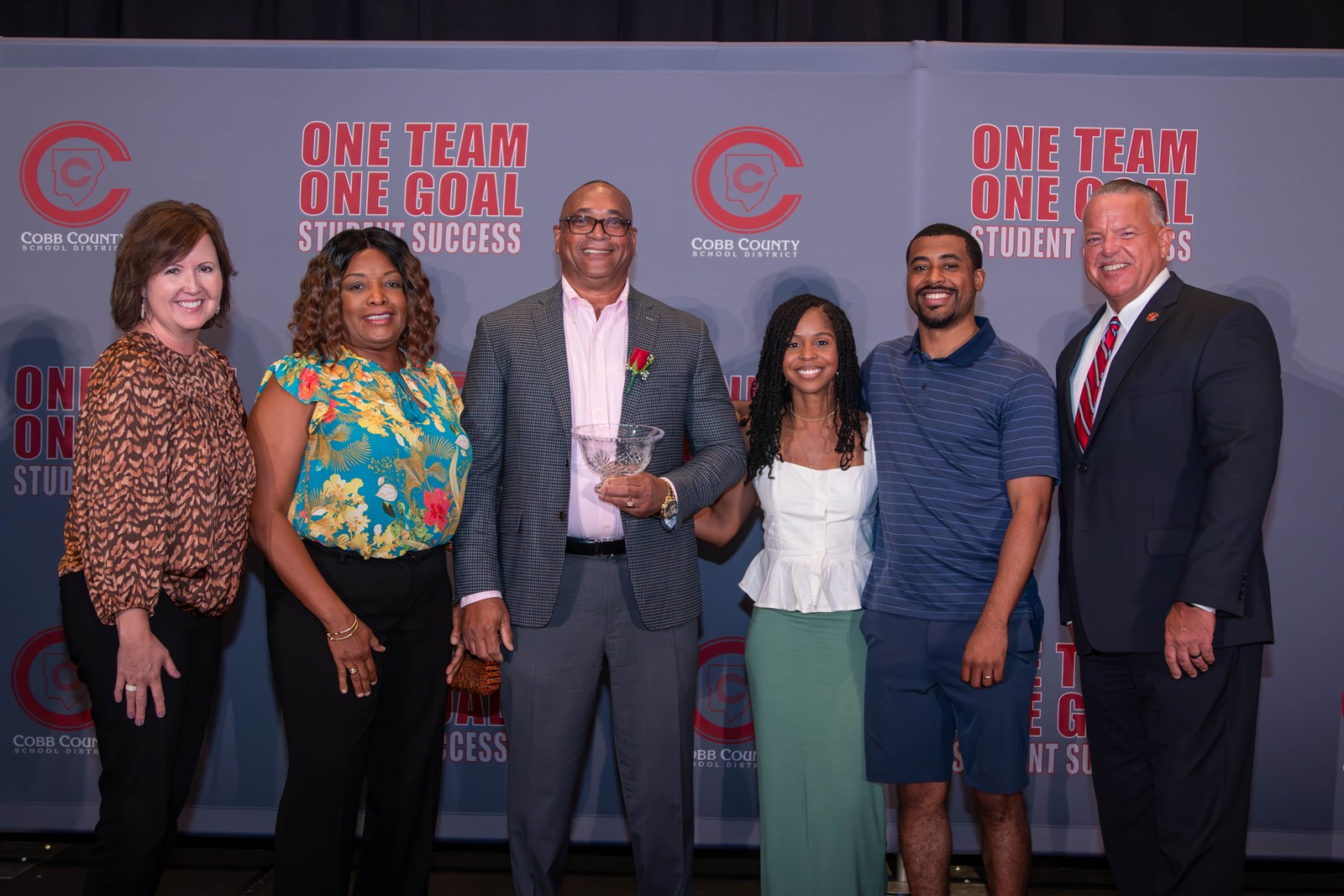 Cobb's High School Level winner must love his job. He drives almost 2 hours to work at Harrison High School, and for that, his Harrison colleagues are so grateful because he brightens their day.
"His smile is infectious. It doesn't matter what kind of day I am having; when I see Jerome, he always says in his Jamaican accent, 'How do you do my dear?' and I can't help but smile," revealed Harrison Principal Ashlynn Campbell. "He is always so joyful. I asked a few people about Jerome, and the common theme is that he is just a great guy and willing to do whatever is asked of him. He loves to work, and no task is too small. He truly exemplifies One Team. One Goal. Student Success.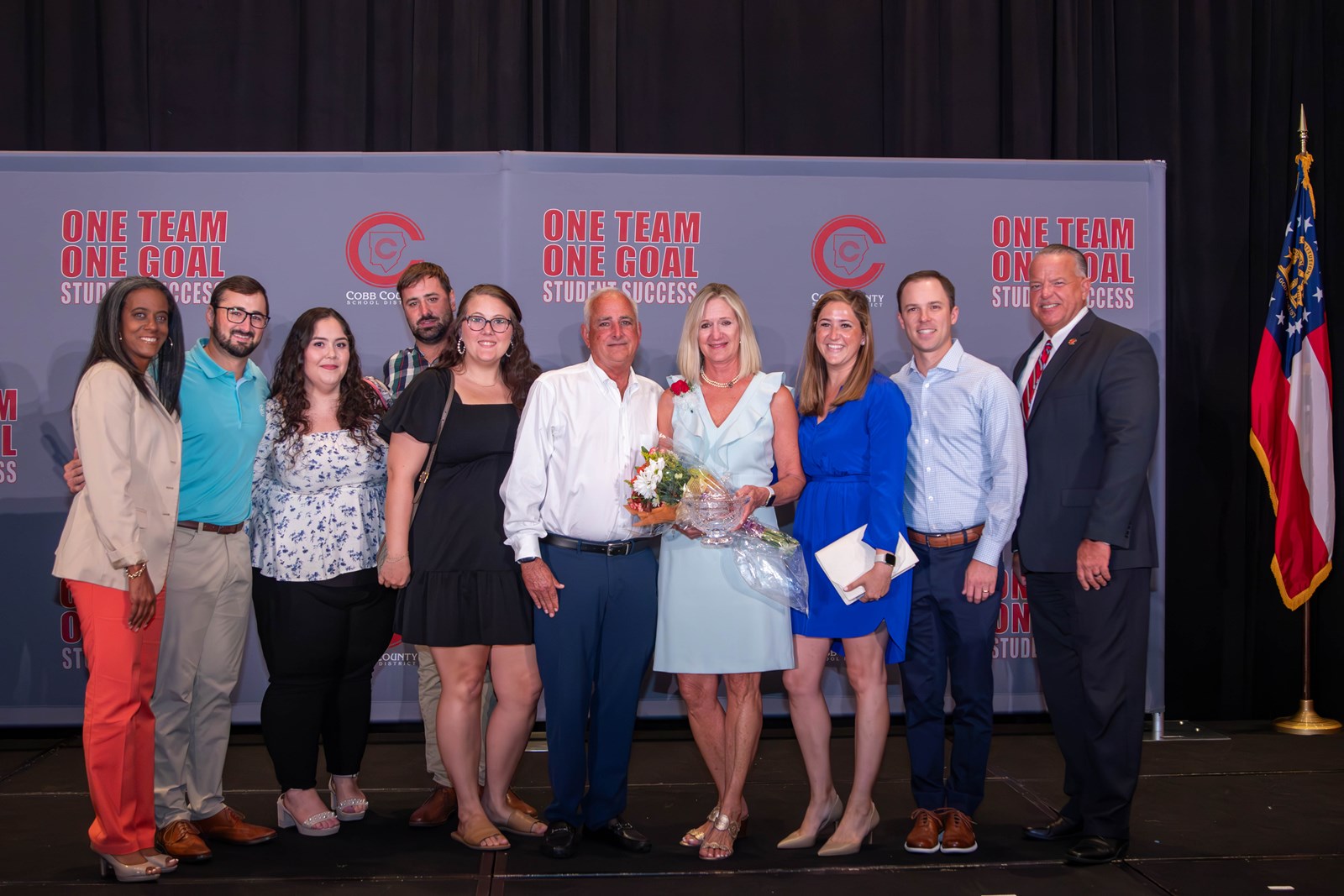 Jerome is also known for being generous. He loves to cook Jamaican recipes, and on occasion, he will cook for our custodial team. He always finds a way to brighten your day."
Every day, Maria Barnette gets to learn something new and help a teacher, parent, or student from another country, and that's the favorite part of her job as a secretary supporting the ESOL and Title III Department.
"Maria strives to provide the best support to all stakeholders, internal and external," commended Dr. Tiffany Honoré, Cobb Schools Director of Federal Programs. "As a bilingual secretary, Maria is often approached for assistance with our bilingual families, whether that is supporting transportation, food services, or our homeless education program. Maria's unwavering work ethic, passion, and drive have raised the bar for the entire ESOL, Title III, and IWC team."