Class of 2023 Graduate Information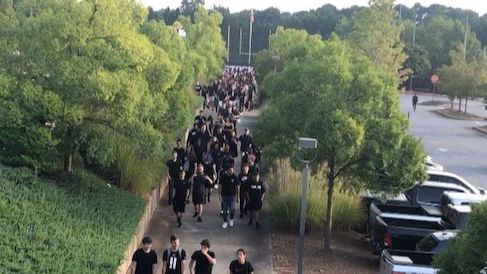 CAPS, GOWNS & TICKETS:
If you have not picked up your Cap & Gown order, please stop by the front office between 9am-12pm to pick up your order. Please visit www.ATLGrad.com to place your order if you have not already done so. You may not participate in the commencement ceremony without the Kell High School Cap & Gown designed by ATLGrad.
The instructions to access the Student Portal are attached to this page. The graduate will request the number of tickets desired for their guests. However, the graduate is not guaranteed the number requested. Graduates and parents/guardians should discuss the number of tickets the graduate should request for the family. Graduates who do not submit a request will receive 2 tickets. The deadline for requesting tickets will be Friday, March 24. Once tickets are allocated, graduates and parents/guardians will be notified that the number of tickets granted may be viewed in the Student Portal.
Each guest ticket for schools with a ceremony at Kennesaw State University will have a unique barcode and will be valid only for the ceremony, date, and time shown on the ticket. Lost or damaged tickets cannot be replaced. Once a ticket is scanned for entry to the venue, it is no longer valid and cannot be re-used for further entry or re-entry. ALL guests, including babies, must have a valid ticket.


Class of 2023 Graduation Details:
Date: Monday, May 22
Time: 7:30 pm
Location: KSU Commencement Center
Additional details regarding the timing of graduate arrival at KSU, tickets, parking, and other relevant information will be shared over the course of the second semester.
Kell Seniors,
Your year is finally here!! We are excited to celebrate YOU, 2023 senior Kell student. It may seem far away, but graduation will be here fast, and there are many steps leading up to this event that are critical to complete. The first step we are excited to help you begin is ordering your required graduation cap and gown and optional graduation announcements and apparel.
Our vendor for all things graduation, ATL Grad, will help you through the whole ordering process. Please see the ATLGrad website below to get further information and complete your order.
Orders should be placed as soon as possible, but must be placed by November 18, 2022; after this date, prices and packages change.
See the link to ATLGrad to order your Kell Graduation Apparel: https://atlgrad.com/