Students, Staff Say 'Thank You' for King Springs Ed-SPLOST Rebuild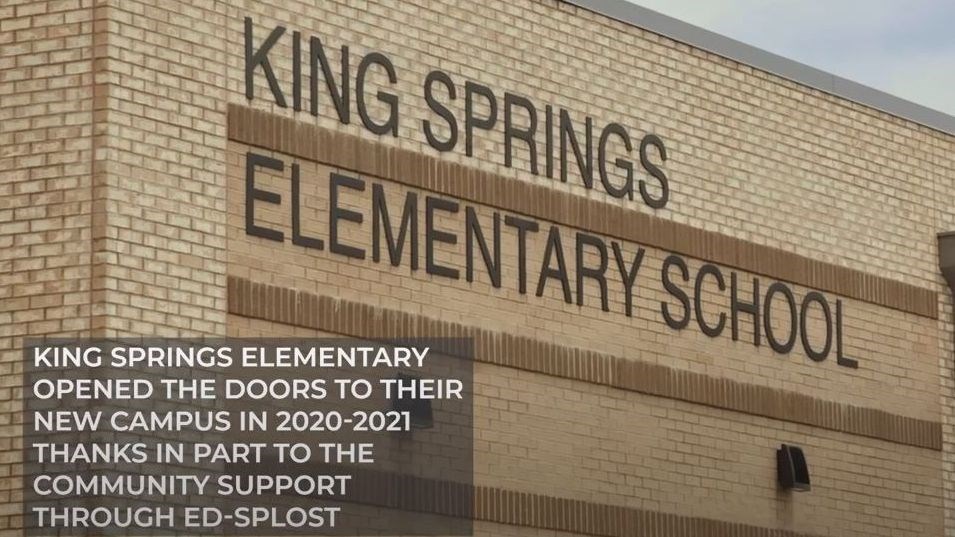 "We love this new building! It's beautiful," praised Kings Springs Elementary School teacher Elizabeth Miller.
From the expanded space in the classrooms and cafeteria to technology upgrades and the well-equipped playground, students and teachers alike are thankful for the rebuild of King Springs Elementary School. Thanks to the community's support of Ed-SPLOST, the state-of-the-art facility opened its doors to students in Fall 2020.
"There's more space in the rooms," explained King Springs 5th grader Jayla, "This school is just amazing. It is a really good environment for learning."
The extra space—That is definitely a big selling point for the teachers at King Springs too.
According to one fifth-grade teacher, there is lots and lots of space for students to move around to do small group activities.
"We have a building that is large enough for everybody who is in the King Springs community to be under one roof connected every day," applauded fifth-grade teacher Patricia Calvin-Thomas, who has been serving students for almost three decades.
There is more about the new Ed-SPLOST rebuild that has teachers and students singing its praise.
"We have a bigger library. Now we have this huge gym that we can run and play in," shared second-grader Finley.
Ed-SPLOST Expansion Underway at Pebblebrook
King Springs students also pointed to the new technology and computer labs where students can learn.
"A lot of what we do is technology related, and so through the help of the funding from Ed-SPLOST, we got a video production room," said Susan McCurry, King Springs media specialist. "It is a great experience for all the children to get that hands-on experience with technology."
Beyond all the new upgrades and roomy classrooms, students describe King Springs as "a happy place to be" and "a nice school."
Calvin-Thomas summed up the feelings of students and staff who were able to make history as part of the first year inside the new school.
"Thank you for giving us an opportunity to live and thrive in this great new building," the veteran teacher said. "We appreciate you valuing education."