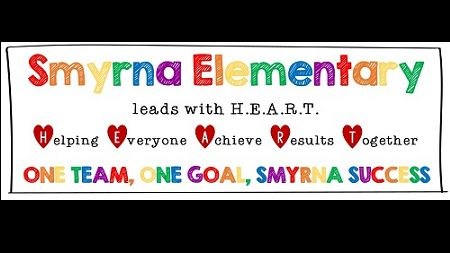 Collective Commitments
Support each other professionally and personally!
Increase positivity and encouragement by growing "The Power of Yet" among students, parents, and staff!
Accept nothing less than growth and success for everyone!
School Tours
Tours of Smyrna Elementary School will be held the first Wednesday of each month at 10:00 a.m. Can't wait to see you here!!!
Smyrna Student Leaders are
S - Selfless
T - Trustworthy
A - Attentive
R - Responsible
S - Successful
Vision
Leading with H.E.A.R.T. Helping Everyone Achieve Results Together
Mission
One Team, One Goal, Smyrna Success!
School Schedule
School Schedule Printable
School History
The property for the school was assembled from 3 different owners:
The City of Smyrna
Halpern Enterprises
Robert and Jennifer Young
The majority of the property was purchased from Halpern Enterprises, owners of the former Belmont Hills Shopping Center property which was located on the corner of Windy Hill Rd. and Atlanta Rd. in Smyrna. The area that is now the Smyrna ES playfields, extending to Ward St., was once the Smyrna Commons apartment complex. The natural area bordering the school was owned by the Young family and was purchased by the School District. Smyrna ES also abuts the north and east side of Campbell High School.
A new road has been constructed for access to the new school. Halpern Enterprises constructed the new road and the roundabout starting at Fleming St. and ending just west of the roundabout. The city of Smyrna built the section of road starting at Ward St. and connected it with the portion of the road that Halpern built. The school is centered on the roundabout.
The school has 61 instructional units and can house 962 students. It is a 2-story facility. Kindergarten and Primary classrooms are housed on the first floor, and Intermediate classrooms are on the second floor. It has 143,107 square feet. It is the first LEED certified school in the Cobb County School District.
A school garden has been established and will be supported by students, staff and community volunteers.
There is a natural area on the campus adjacent to Fleming St. that is a dedicated conservation area. In this natural area, there is a gazebo and a walking trail to access it.
The playfields for the elementary school are fenced and have access controls on the gate. After school hours and weekends, the public will be allowed access to the fields. During school hours, the gate will remain locked. There is also an open space between the playfields and Ward St. that will be accessible by the public.