Back to School: All About Food and Nutrition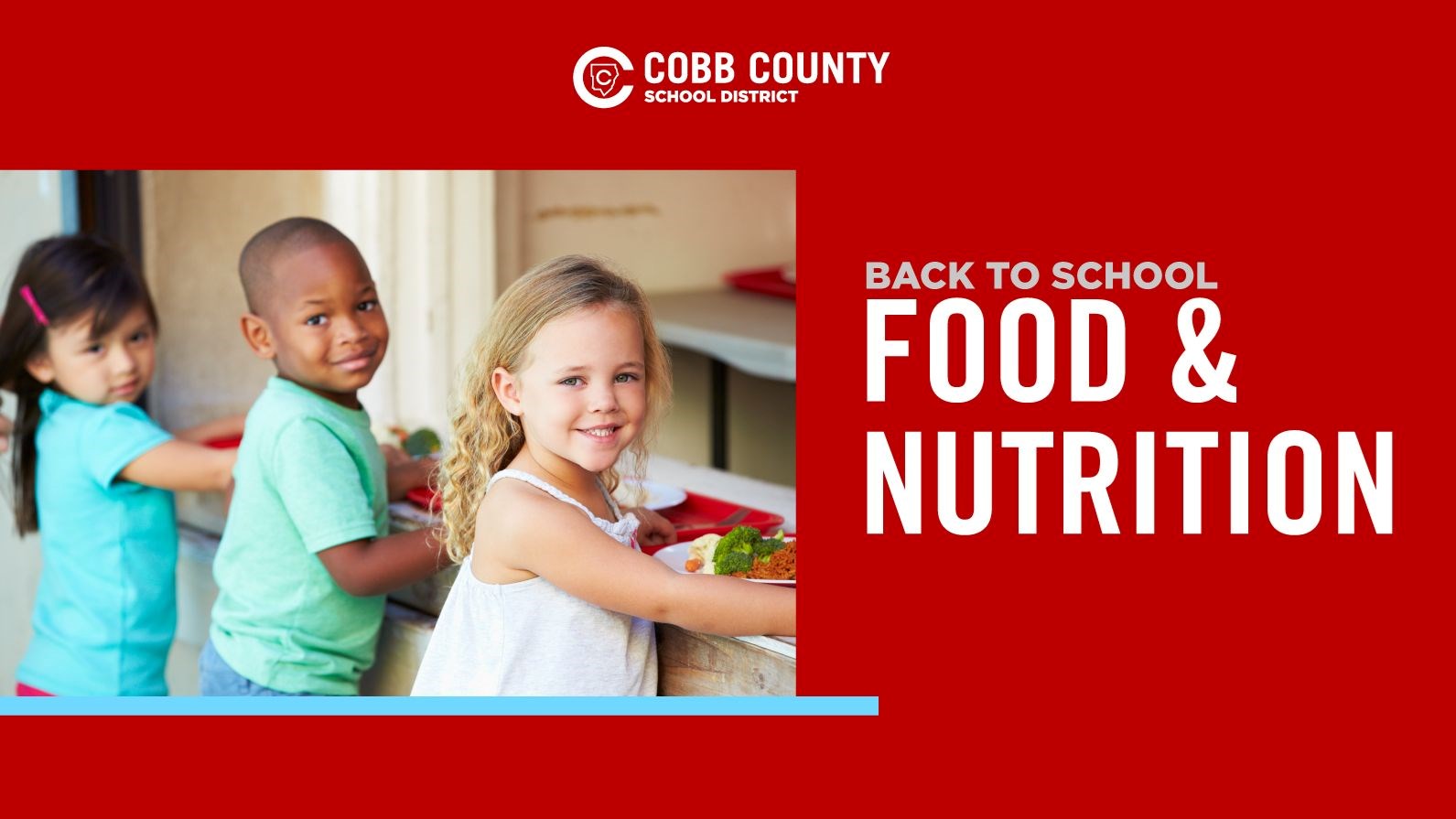 Did you know the Cobb Schools Food and Nutrition Services team dishes up more than 63,000 lunches and more than 25,500 breakfasts every single school day? Starting on August 1—the first day of school—the 900 school nutrition team members will once again help fuel student success with nearly 400,000 pounds of fresh, local produce.
What's on the menu?
Check out the breakfast and lunch menus for the first semester here. Menus are subject to substitutions based on availability, but the intent is to serve the posted menu daily at every school. When changes are necessary, the school nutrition team members will attempt to substitute the scheduled menu item with another that is as similar as possible.
What's the cost?
As students return to learning in August, meals will no longer be provided at no charge to all students. However, school meals are a great value and a huge convenience for busy families.
How to Pay for Meals:
To save time when coming through the serving line, families have multiple options to add funds to a cafeteria account:
• Call 1-866-535-1707 to use a major credit card by telephone
• Go to https://www.mypaymentsplus.com/welcome
• Access the MyPaymentsPlus app.
For more payment options, visit the Food and Nutrition Services webpage.
How to Apply for Free or Reduced-Price Meal Benefits:
• Families eligible for free or reduced-price meals must complete an application to receive them – all other students must pay full price for their meals.
• Food and Nutrition Services strongly encourages all families who believe they may be eligible for meal benefits to apply before the start of the school year.
• Families must pay for school meals until their application is processed and approved.
• The Online Family Meal Application can be found on the Food and Nutrition Services webpage.
• Families that apply and are eligible could receive free breakfast and lunch or at a reduced price (Breakfast for $0.30 and Lunch for $0.40) during the school year, depending on the current federal eligibility guidelines.
• Eligible families can also use their notification letter as proof of eligibility in the meal program for discounts on testing, services, camps, and various application fees.
Does Cobb have a Charge Policy?
The Cobb County school administration has adopted a limited charge policy. Students who arrive at school without money are allowed up to $7.05 in charges at elementary school and $5.20 at middle school. Charges are not permitted for a la carte items, adults, or at high school. The school will provide an alternate meal (such as a peanut butter sandwich and milk or a cheese sandwich and milk) for the students that have reached the charge limit. No alternate meal will be provided at breakfast. If you feel you qualify for free or reduced-price meals, please complete the Online Family Meal Application as soon as possible. The application can be found here.
Do You Have a Student with Allergy and Special Nutrition Needs?
In accordance with USDA regulations, School Food Authorities (SFAs) must ensure children with disabilities have an equal opportunity to participate in and benefit from the National School Lunch Program (NSLP) and School Breakfast Program (SBP). SFAs are to make reasonable modifications to accommodate children with disabilities. This includes providing special meals, at no extra charge, to children with a disability that restricts their diet. Learn more here.
Does the Food and Nutrition Team Help with Classroom Celebrations?
Yes! Host a celebration in your student's classroom without the hassle. Contact your school's café manager to discuss how the Food and Nutrition Services team can serve your birthday, classroom parties, or holiday needs. Learn more here.
More Food and Nutrition Facts for Families:
Cobb Schools Food and Nutrition Services has an average health inspection score of 99%.
Cobb County students can find healthy choices in their cafeterias every school day made with name-brand products that you use at home.
School meals meet federal nutrition standards ensuring students can choose from fruits, vegetables, whole grains, lean proteins, and low-fat or fat-free milk. Meals also meet limits on calories, trans-fat, and sodium. The FNS team works hard to make these nutritious choices delicious and appealing to Cobb students.
School meal programs nationwide continue to experience many of the same supply chain issues that have impacted restaurants and grocery stores throughout the pandemic.
Cobb's school nutrition team is committed to ensuring students have access to healthy meals each school day.
Given widespread shortages and delayed deliveries, there may be last-minute changes to the regular menus based on availability.
We hope parents and students will be patient as we sort through these supply chain issues.
Although there may not be the same number of menu choices that are typically offered, the Cobb Schools team will be sure that all students are fueled for a successful school day.
For learners not attending on-site in SY22-23, meal kits will no longer be available. The USDA waiver that allowed the District to offer this option ended on June 30, 2022.
More Questions?