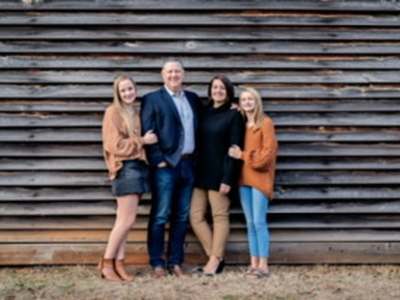 I began my educational career in Cobb County as a teacher in 1998. Throughout my twenty six years in Cobb, I have served at Riverside Elementary, Brumby Elementary and Mount Bethel Elementary prior to joining East Side in 2018. I am honored to continue to serve the East Side community as building principal for the sixth school year. East Side is an excellent school with engaged, happy, and kind students; supportive and involved families; and dedicated, caring, and passionate teachers and staff. As a leader, I believe that it is the schools' job to not only educate our students, but also to ensure that each child feels loved, welcomed, and supported in our school building. As a staff, we strive to do just that on a daily basis. I am excited to continue to focus on the East Side mission, which is: Encourage- Engage- Empower.
On a personal level, my family and I are involved members of the East Cobb community. My husband, Mark and I have two daughters- Ainsley who attends Rhodes College and Addison who attends Pope High School. I feel very fortunate to live and raise my children in this community, where I am blessed to work and serve. If you see us around and about in East Cobb, please take time to stop and say hello!
The future of East Side is bright! I am excited to see what we can do together as we work towards encouraging, engaging, and empowering every person every day!
East Side IS a school of excellence where ALL succeed!