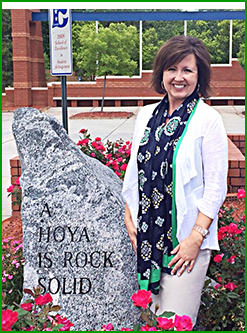 Hello, Harrison High!
Welcome to the 2023–2024 school year! I am excited to begin another school year as principal at Harrison! I grew up in West Cobb and attended Due West Elementary, Pine Mountain Middle, and North Cobb High School where my Hoya connections began. In fact, an early experience I had with Harrison is that I was present at the first-ever pep rally with my husband in 1991 to present the newly formed staff and student body their initial mascot: an English bulldog raised by my family! I am honored to carry on the legacy of excellence as Harrison's principal and will always remember that Harrison built a tradition from the ground up when the school was founded in 1991 around the vision of "Helping Our Youth Achieve Success." This vision means that our staff commits to strengthening college and career readiness skills, so our Hoyas are highly competitive at the state and national levels for college admissions and prepared for their next steps after high school graduation. Over the years, our community has thrived because of its dedicated students, talented faculty, supportive stakeholders, and strong extra-curricular programs. As principal, I can assure you that I will continue to foster these traditions as we begin Harrison's 32nd year of excellence. I always look forward to partnering with our stakeholders to advance all areas at Harrison (academics, athletics, and fine arts).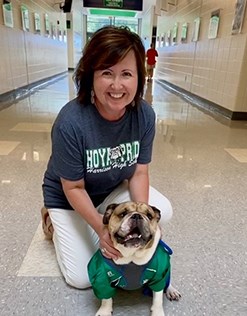 I began my teaching career at Lassiter High as a language arts teacher and later taught at Kennesaw Mountain High School. I have also served the Cobb County School District working as an area lead teacher at Barber Middle School and supporting K–12 teachers in the West/North Cobb area schools. I later returned to Lassiter as an assistant principal until I found my way to principalship at Harrison High. I have a B.S. in English education from the University of Georgia (Go Dawgs!), a master's degree in educational leadership with a technology concentration from Kennesaw State University, and a specialist degree in educational leadership from Kennesaw State University. I am married with two sons, and you will probably see us out and about at Harrison events!
Sincerely,
Ashlynn Campbell
Principal