Back to School: All About Buses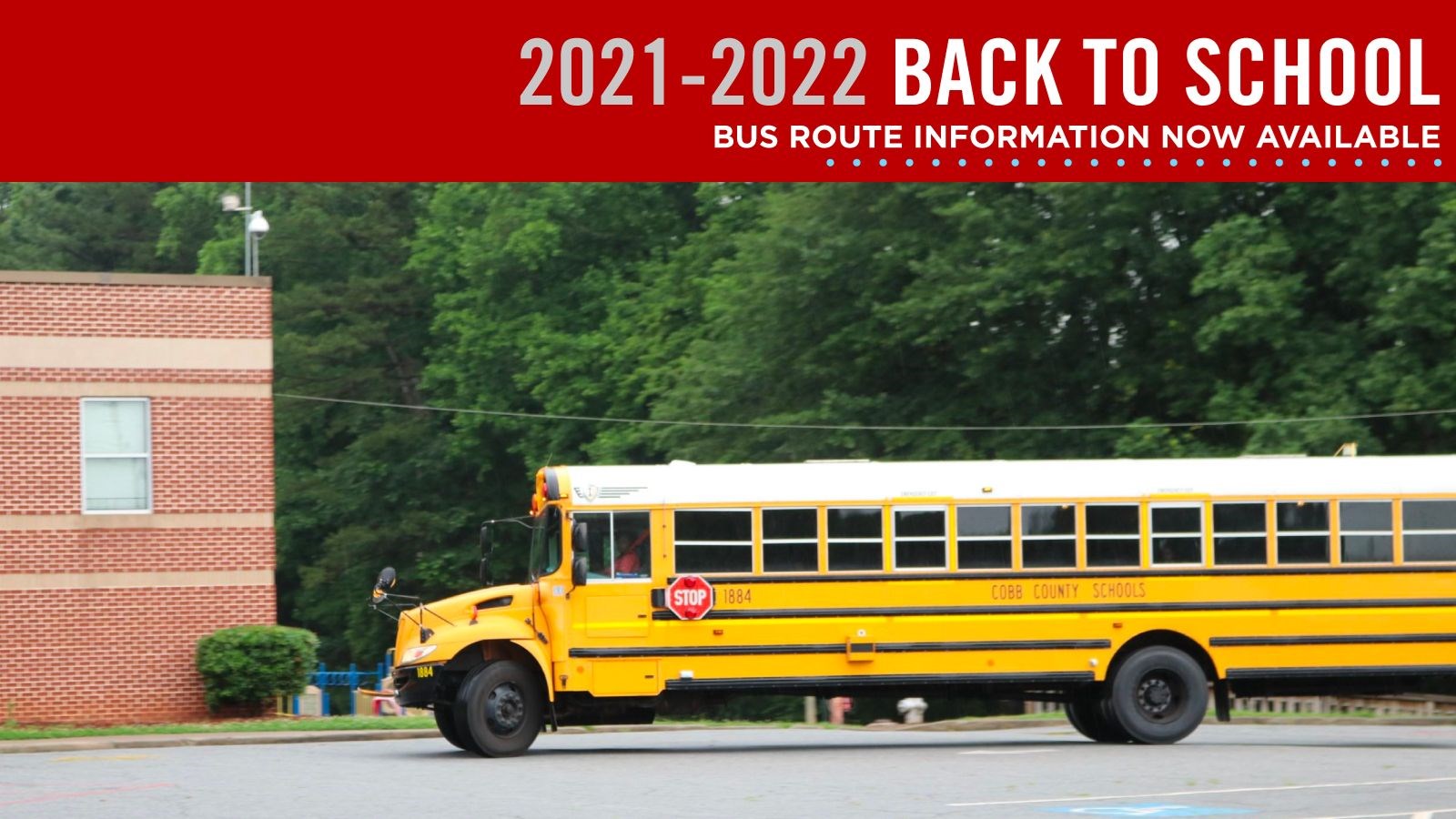 The first day of school is August 2, and the Cobb Schools fleet of yellow buses is preparing to roll out. So now is the time to get ready for that first day of school bus ride.
Find your Bus Route.
Plan ahead and use the Cobb Schools Bus Route Finder to locate the 2021-2022 bus route for your child.
The Bus Route Finder not only helps families determine available bus stops it also helps families locate the schools a student is eligible to attend. There are more than 37,000 bus stops throughout the Cobb County School District and about 870 bus routes.
To get started, you will enter your address and select the student's grade. Slight adjustments continue to be made, so verify your bus and stop information ahead of the start of school.
Please note: Special Education students DO NOT USE the bus route finder to view routes. A Transportation employee will contact you with bus stop information or visit Frequently Asked Questions for more information.
Download the Here Comes the Bus app!
Use the Here Comes the Bus App to track your bus arrival and departure daily. Parents of student bus riders and students need to register for their secure login for "Here Comes the Bus" by going to the Here Comes the Bus website and use the CCSD school code 87881. You will need to download the free HCTB App from Google Play or Apple App Store.
Don't forget water.
Due to potential extreme heat, water will be allowed on the buses during August and September only. All students may bring water in containers with a screw-on lid. If you have any questions, don't hesitate to get in touch with the Transportation Department at 678-594-8000, or email your Transportation Area Supervisor, whose email can be found on the Cobb Schools Transportation website.
Arrive on Time.
Students should be at the bus stop at least five minutes before the scheduled bus arrival time.
For Parents of children 8 years old or younger, read on.
What's that yellow tag?
A yellow tag will be issued to students who are 8 years old or younger. Please attach it to your child's book bag. This tag will assist transportation staff to quickly identify that your student is 8 years old or younger, which provides another safety net for the proper delivery of your child. Please keep the yellow tag on the top strap of your child's book bag. It must always be visible to the driver for the entire school year. For safety purposes, do not write or remove the tag.
Join the kindergarten/first-grade ride-along:
To help Cobb's youngest learners, the Cobb Schools Transportation Department is rolling out the District's big yellow school buses on Friday, July 30, ahead of the first day of school for a kindergarten and first-grade ride along. Parents will join their young learners on the ride to school and back home. Bus pickups will follow the same morning route at the scheduled stop and pick-up time as the first day of school. Learn more here.
Got more questions?
Find answers to other Frequently Asked Questions related to the bus here.