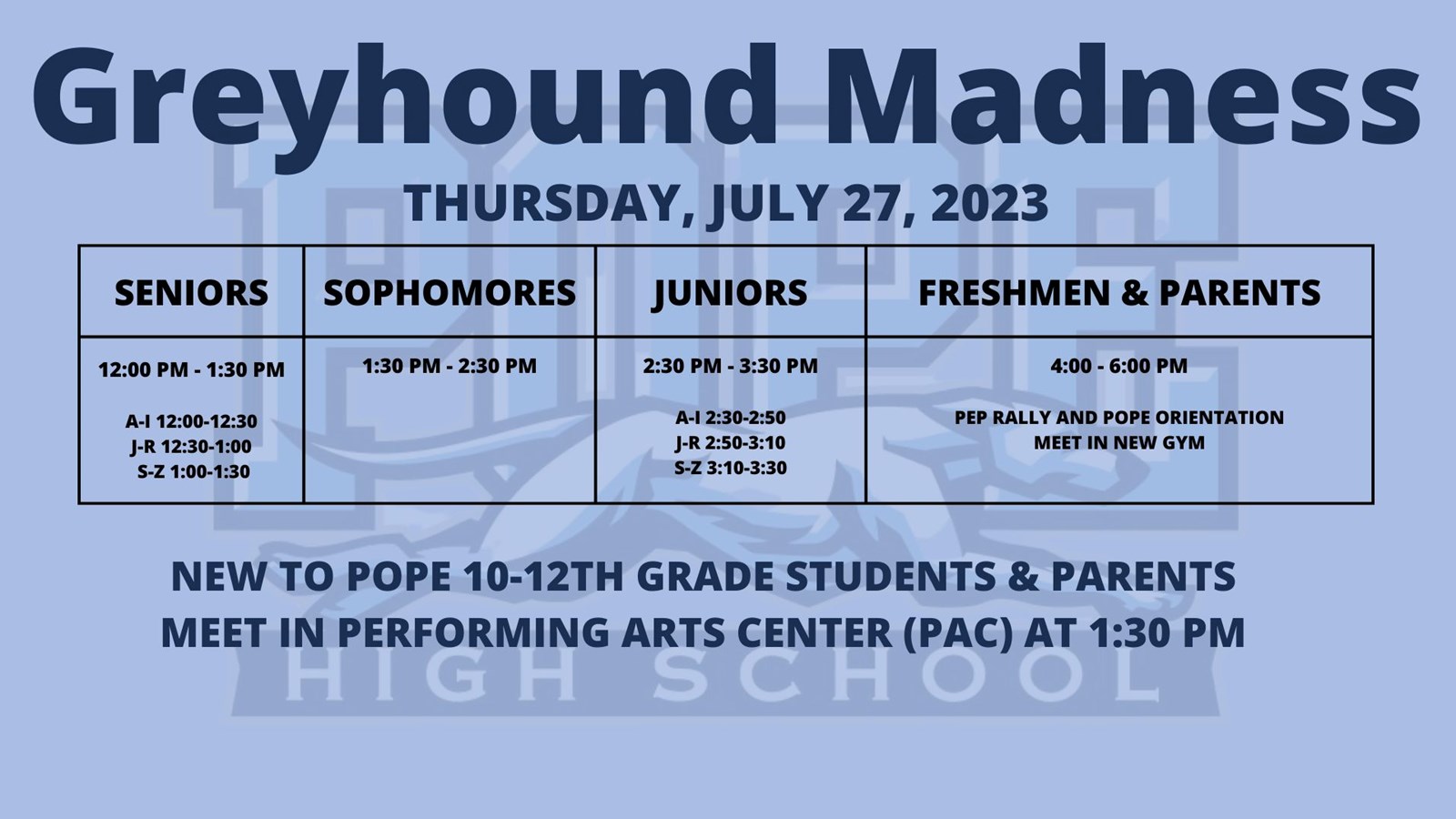 Returning Seniors

Returning Sophomores

Returning Juniors

Freshmen & Parents

New Students & Parents

12:00 pm - 1:30 pm
1:30 pm - 2:30 pm
2:30 pm - 3:30 pm
4:00 pm - 6:00 pm
1:30 pm
A-I 12:00 - 12:30
J-R 12:30 - 1:00
S-Z 1:00 - 1:30


A-I 2:30 - 2:50
J-R 2:50-3:10
S-Z 3:10 - 3:30
Pep Rally and Pope Orientation
Meet in New Gym
Meet in the Performing Arts Center (PAC)
Things to do at Greyhound Madness:
PARKING will be issued in front of the Greyhound Theater during Greyhound Madness for:

Seniors WHO COMPLETED THE PARKING PERMIT REQUEST AND APPLICATION PROCESS
Eligible junior recipients of the parking lottery. The parking lottery application must be complete by July 19, 2022. Juniors who receive a parking space will be notified by July 21, 2022.
*Eligible students who are out of town during Greyhound Madness can pick up their decal the first week of school.
Take yearbook photo in the Learning Commons (freshman, sophomores, and juniors)
Athletic Pass and Bleed Blue T-Shirt Pick Up in the cafeteria
Join the PTSA located on Main Street or online at Pope PTSA Sign Up Link

Join PTSA before Greyhound Madness (GM) to receive a voucher from the PTSA table at GM for free Bruster's Ice Cream during GM at Pope High School! Ice cream is also available for purchase.

Visit the Pope Foundation on Main Street or online at Pope Foundation Donation Link
Pay Student Fees in the cafeteria or skip the line and pay online beginning July 14
Purchase Pope spirit wear in the cafeteria- accepting cash, check, and charge
Set up Lunch Account in the cafeteria or skip the line and pay online beginning July 14
Tour Pope clubs, sports, and organizations in the Auxiliary Gym
Pick up school-issued laptop in the Learning Commons. Click Here for Opt-In Instructions. *Textbooks will be available the first 2 weeks of school for students to pick-up before school & during lunches.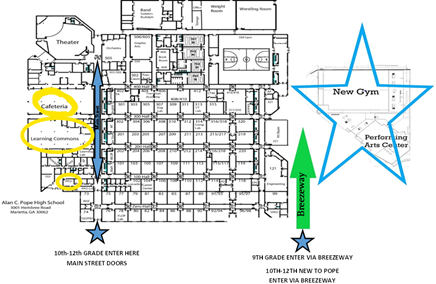 ---
FRESHMAN STUDENTS & PARENTS OF FRESHMEN 4:00 PM - 6:00 PM
PEP RALLY AND POPE ORIENTATION: MEET IN THE NEW GYM
Following the pep rally students:
Students are assigned to Advisement (homeroom) groups
In addition to the staff advisor, each student group is assigned student ambassadors
Students will complete the following with their advisor and student ambassadors:

Orientation in assigned advisement class
Review a presentation about what to expect as a Pope Student
Students can ask questions of the advisor and student-ambassador
Tour the school
Visit clubs and organizations tables in the auxiliary gym
Following the pep rally parents:
Parents will go to the PAC for a presentation from Mr. Bradford, our counseling department, PTSA, and Pope Foundation
Pick up athletic passes and purchase spirit wear in the cafeteria
Meet up with your student to visit clubs and organizations tables in the auxiliary gym
---
NEW STUDENTS & PARENTS TO POPE (10-12 GRADE) 1:30 PM
POPE ORIENTATION: MEET IN THE PERFORMING ARTS CENTER (PAC)
Items for new 10th-12th grade students and parents:
Presentation from the Pope counseling department, PTSA, and Pope Foundation
Review a presentation about what to expect as a Pope Student
In addition to the staff advisor, each student group is assigned a student ambassador

Students can ask questions of the advisor and student-ambassador
Go on a tour of Pope

Pick up athletic passes and purchase spirit wear in the cafeteria
Visit clubs and organizations tables in the auxiliary gym