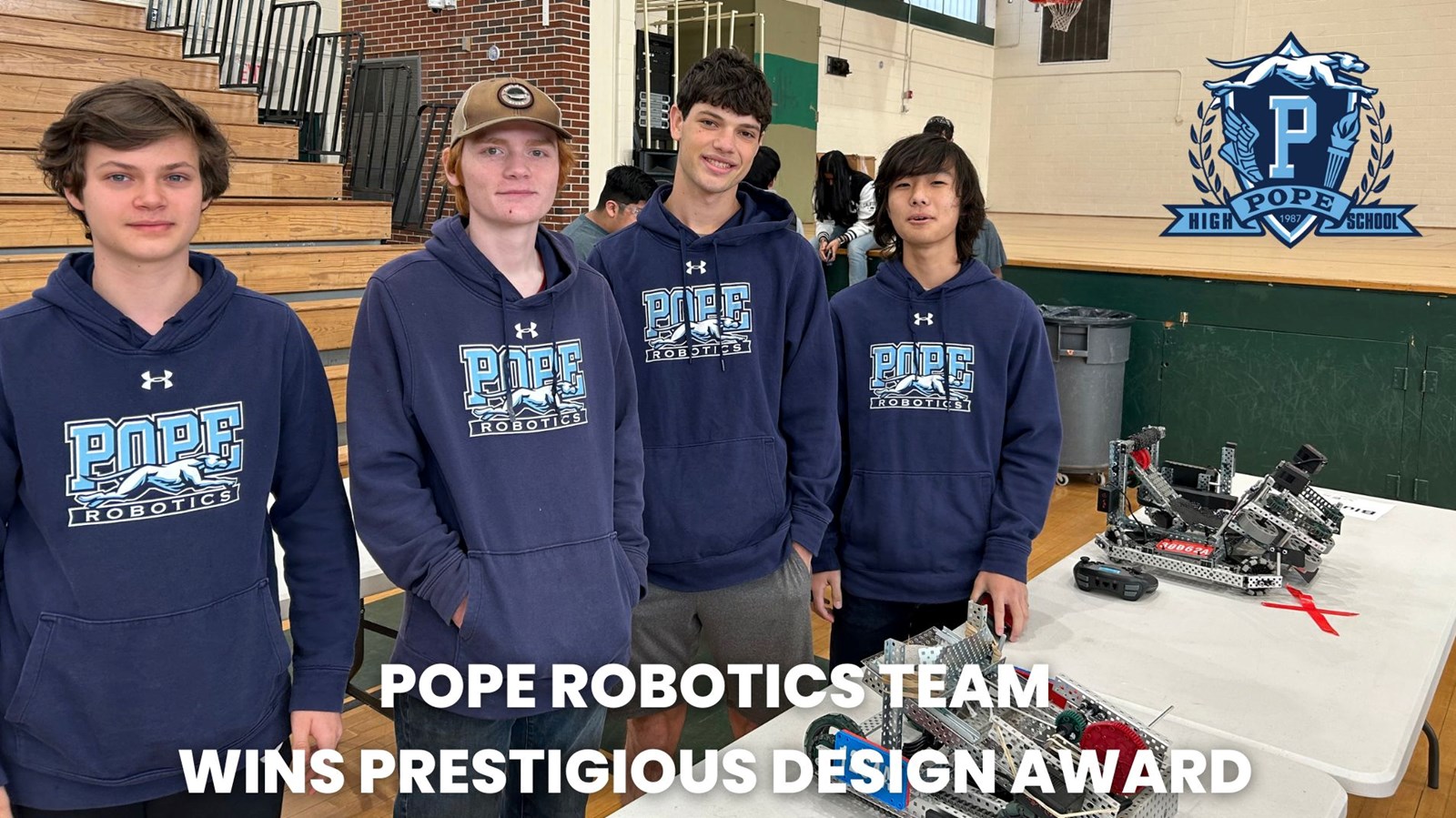 Pope's Robotics Team #30062A competed in the VEX Robotics Over Under Competition sponsored by Cross Keys High School on Saturday, November 4, 2023. The Competition Team consisted of Dylan Mashini, Ari Low, Austin Bruder and Ichiro Okochi. The Pope Team was awarded the Prestigious Design Award for the competition. The Citation reads that the Design Award is presented to the Team that demonstrates the most organized and professional approach to the design process, project and time management, and team organization. The Team's Engineering Notebook provided a clear and complete documentation of the Team's robot design process and the development of their game strategy.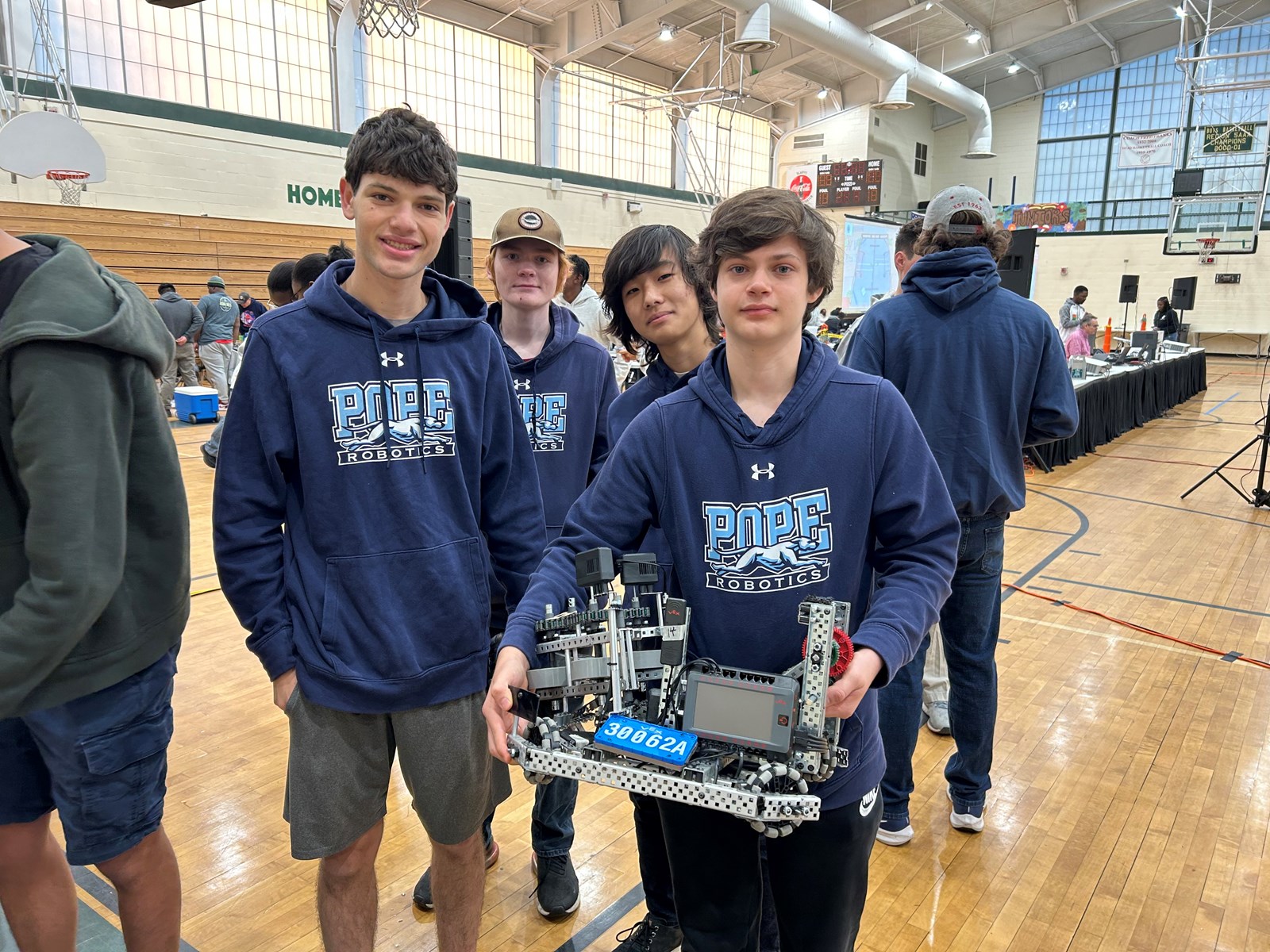 ---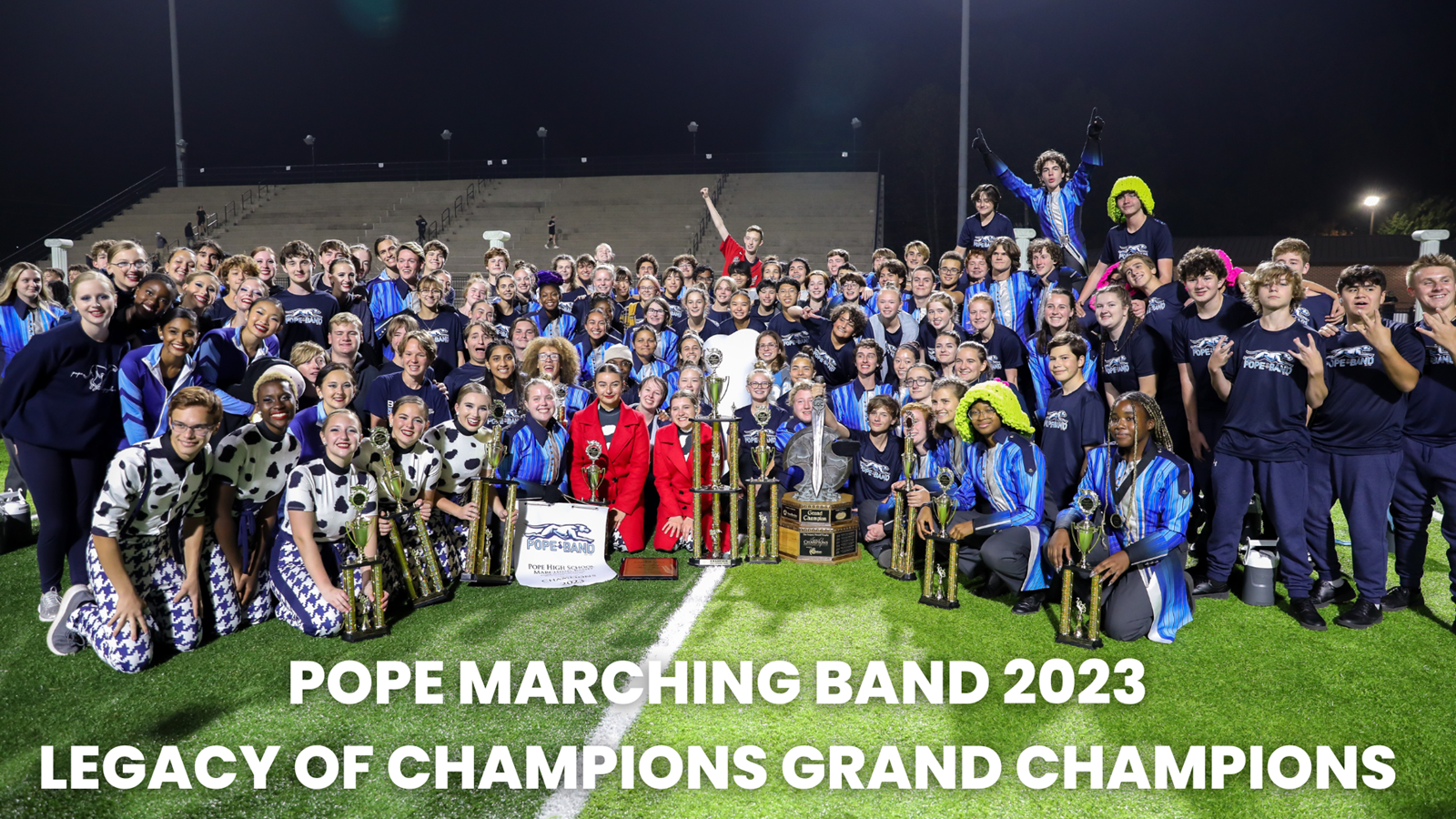 The Pope Marching Band concluded their competitive season on Saturday, October 28, 2023 being named the 2023 Legacy of Champions, Grand Champions at Carrollton High School. Video of Performance: https://www.youtube.com/watch?v=Fis2klZMQ2A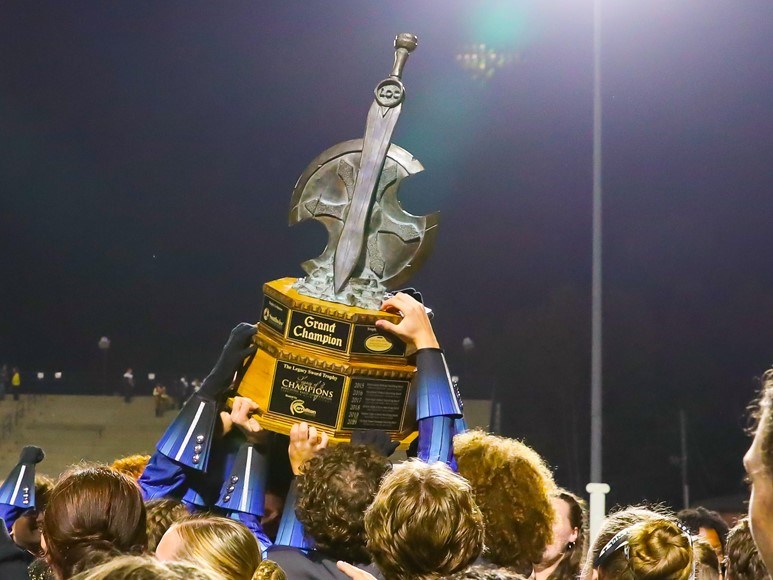 The Pope Marching Band was named "Bands of America Regional Finalists" on October 21, 2023 at East Tennessee State University in Johnson City, Tennessee. Our show "WOOF" is all about dogs... check out this weekends final performance here: https://www.youtube.com/watch?v=2Wb3eWYiuBM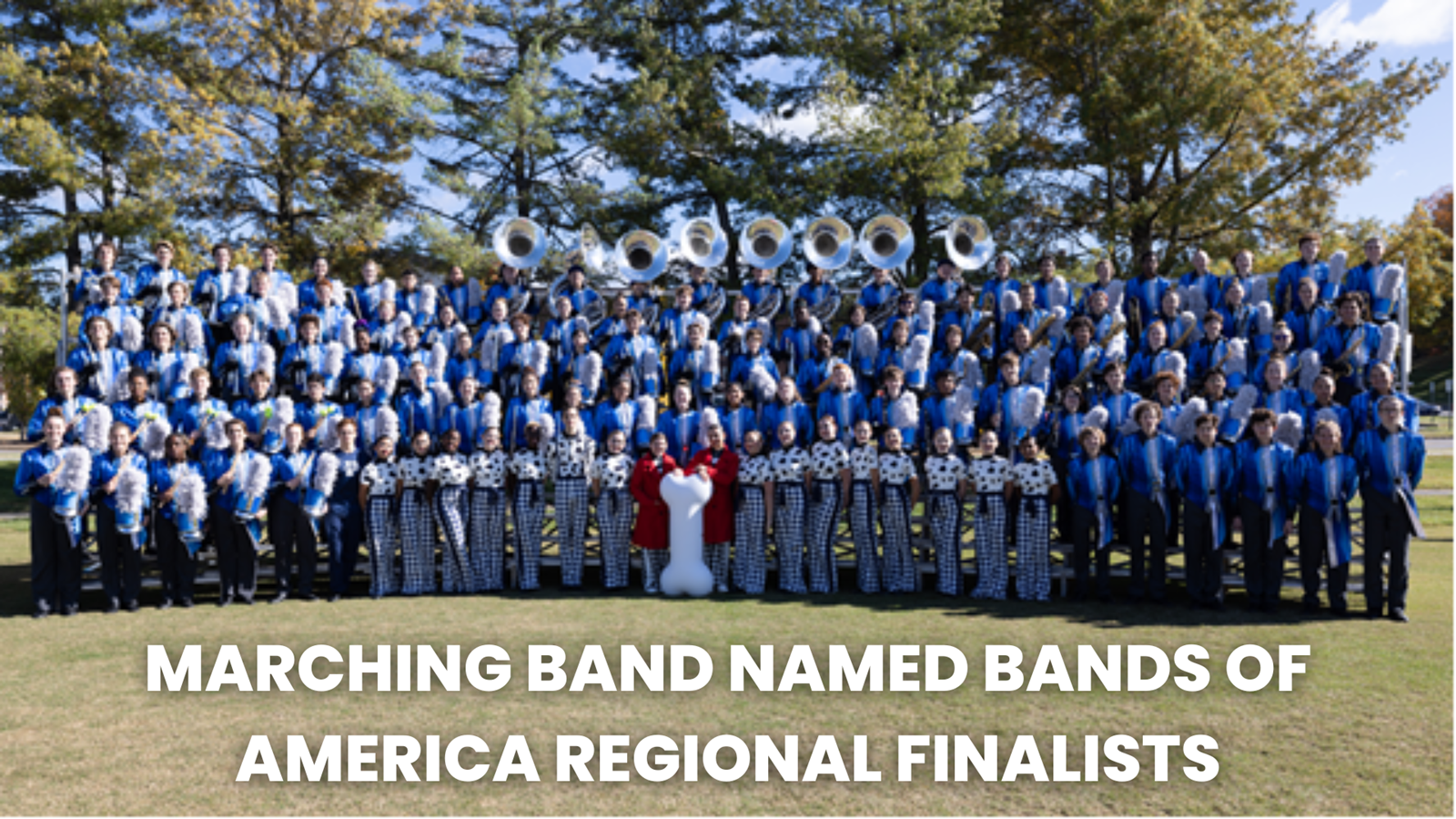 ---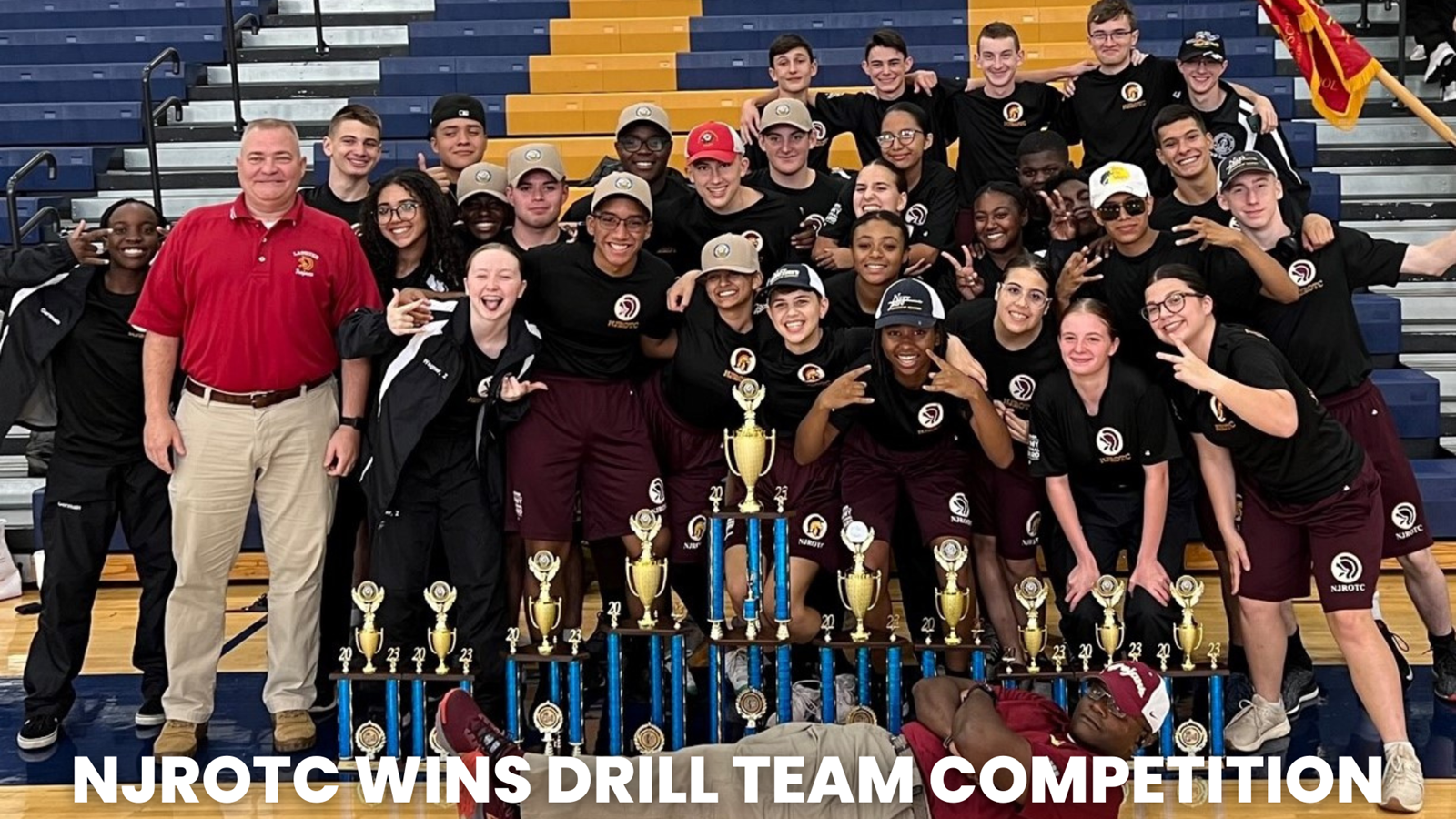 The NJROTC had a successful week, which included an Annual Military Inspection and successful outcome at the Drill Team Competition.
On October 12, 2023, they had their Annual Military Inspection (AMI). AMI is an annual event held in the Lassiter gym, in which the Unit is inspected by the Commander of NJROTC for our local area (Department of the U.S. Navy). It is conducted to ensure that the Unit operates and maintains U.S. Navy standards. ALL cadets in issued uniform are inspected for:
Proper wearing of the Navy uniform (cover, appearance of uniform, insignia, name tag, medals, ribbons, shoes, shiny belt buckle, and polished/shined leather shoes
Personal appearance (hair appearance & cut to U.S. Navy standards, clean shaven)
Knowledge – General U.S. Navy knowledge, General Orders & Chain of Command
Classrooms, Unit Offices, Unit Supplies & files are inspected & audited
The semi-formal inspection includes an exhibition of armed Color Guard & unarmed drill followed with a "Pass and Review" parade of the entire Unit.
On Saturday, October 14, the Lassiter Pope Kell NJROTC unit competed in it's first Drill Team Competition of the year at Eagle's Landing High School, and the results were:
1st Place - Overall
2nd Place - Overall Drill
2nd Place - Personnel Inspection
1st Place - Armed Exhibition
3rd Place - Unarmed Exhibition
3rd Place - Unarmed Basic
3rd Place - Athletics
3rd Place - Pushups
3rd Place - Academics
3rd Place - Individual award for pushups Jasmine Marshall-Watts
4th Place - Individual award for curl ups Nicole Cadavid
The team is now qualified for the Regional Competition set for early March 2024.
Next up: Saturday, Oct 28th - Sprayberry High School Drill Comp.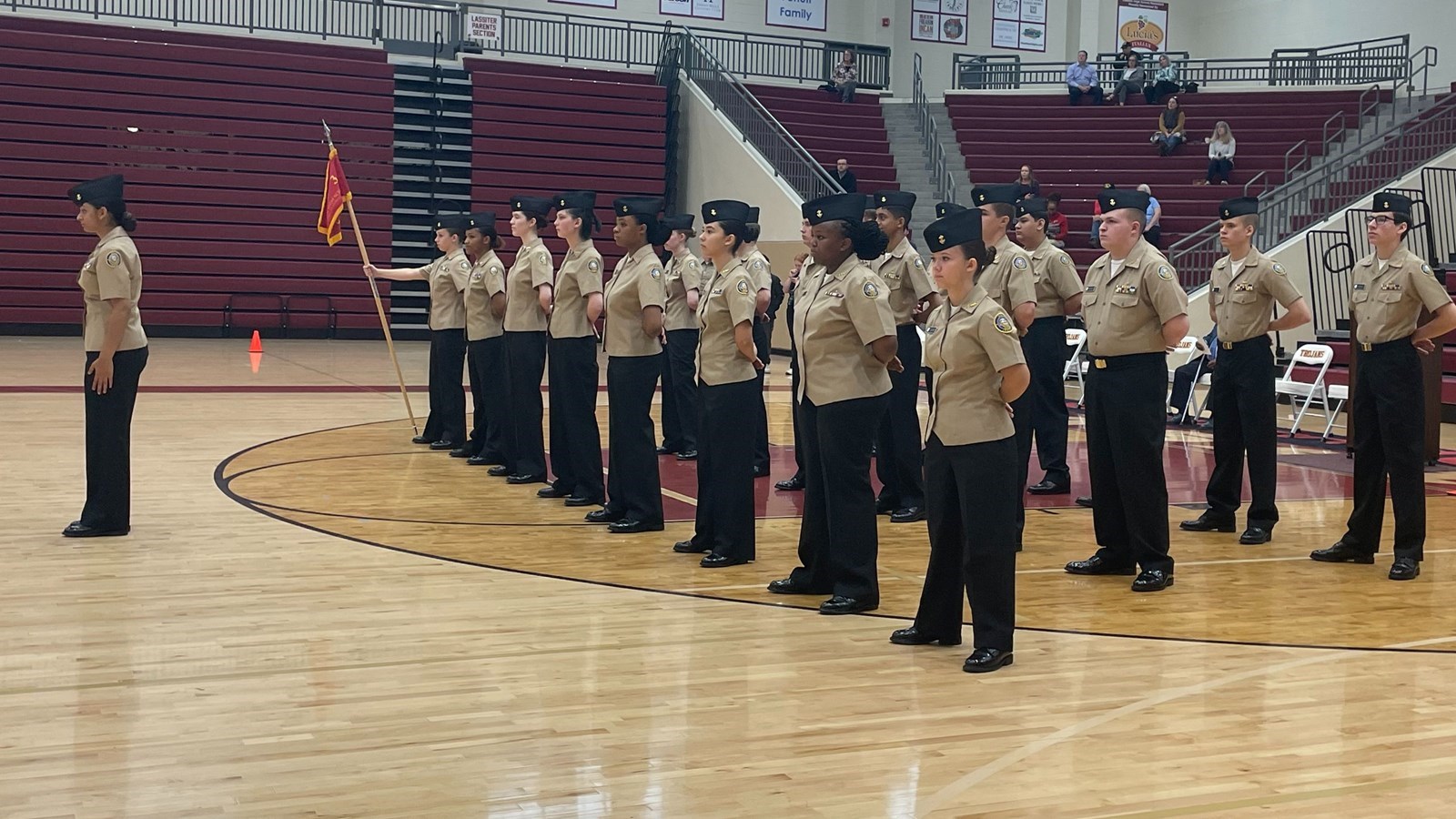 ---
Pope would like to congratulate the following students who have earned the honor of a National Merit Semi-Finalist:
Cristanne Goodwin, Hayden Menezes, Clara Murray, Jay Natu, Simon O'Connor, Michael Soule and Paul (Trey) Trotti. About 16,000 students representing less than 1% of high school seniors in the U.S. qualify as National Merit Semifinalists as a result of their outstanding PSAT results. These students will now go on to compete for the honor of National Merit Finalist and the possibility of scholarship money for college. Your Pope Family is so proud of you!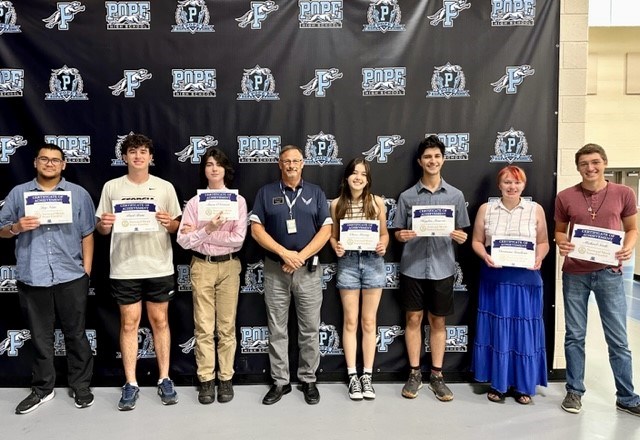 Pope would like to congratulate the following students who have earned the honor of a Commended Student for the National Merit Scholarship program: Bryce Chapin, Mircea Ghetu, Caitlyn Holmes, Prakash Mitra, Carly Oubs, William Steiner, Siho Sung, Joshua Tenery, Mateo Weeks, Benjamin Wingate and Sean Yan. These students scored in the top 96% on the PSAT. Though they will not continue in the competition for National Merit Finalist awards, they still may be considered for some corporate sponsored awards.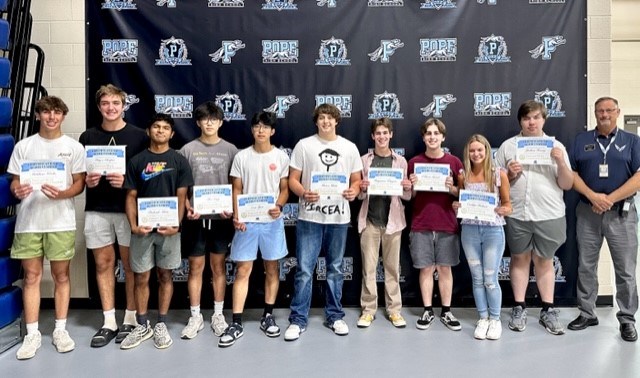 ---
Students at Pope High School earned academic honors from the College Board National Recognition Programs. These programs celebrate students' hard work in high school and showcase their strong academic performance. The academic honors for rural area, Black, Indigenous, and/or Latino students are an opportunity for students to share their strong academic achievements with colleges and scholarship programs that are seeking to recruit diverse talent.
"We're thrilled to celebrate our students and recognize them for the great work they've been doing. We're proud of their strong academic performance in the classroom and on College Board assessments like the PSAT and AP exams," said Mr. Bradford. "There's so much that makes our students unique, and receiving this honor reinforces this as an asset for their future."
The criteria for eligible students include:
GPA of 3.5 or higher
PSAT/NMSQT or PSAT 10 assessment scores that are within the top 10% of assessment takers in each state for each award program or earned a score of 3 or higher on 2 or more AP exams in 9th and 10th grade.
Attend school in a rural area or small town, or identify as African American/Black, Hispanic American/Latino, or Indigenous/Native.
Pope's awardees are Anna Callison, Bryce Chapin, Dylan Woodcock, Imanol Chopeitia, Laila Nixon, Madison Satsatin, Maliq Sims, Meghan Pascual, Nicolas Leonardo, and Tyler Wold.