Osborne Welcomes Community to Partner in Ed Summit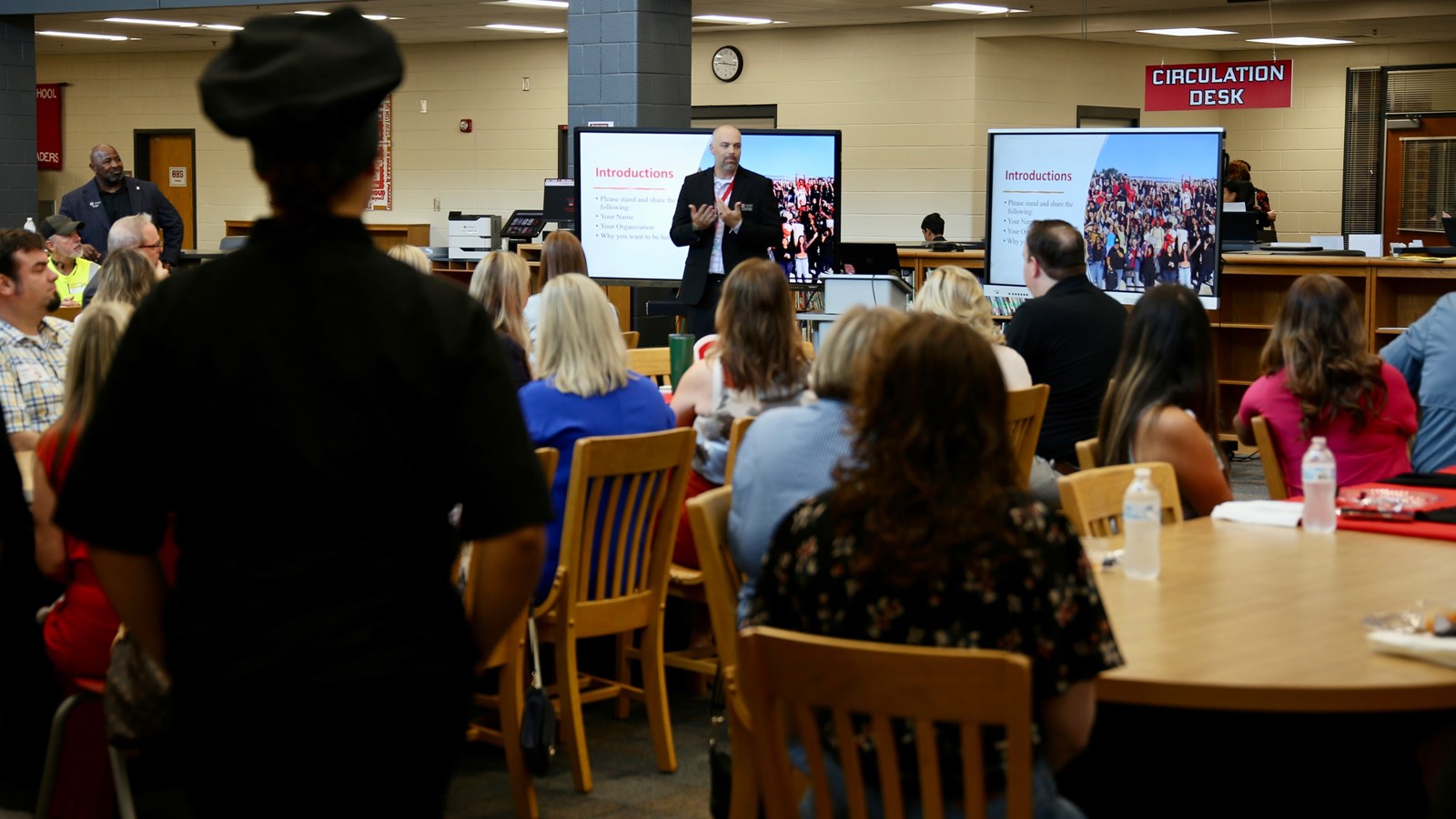 Greeted by smiling and helpful students on the front sidewalks, more than 60 community members and business leaders entered Osborne High School for the Partner in Education Summit this past Tuesday morning. The Summit was organized by Assistant Principal Dr. Ben Needle and was an overwhelming success.
"We have a special community here, from kindergarten to twelfth grade," Dr. Needle said. "We wanted to bring together our schools, local businesses, and organizations to share the vision and create partnering and networking opportunities. The greater good of the community is the goal, and the large turnout today is spectacular and encouraging."
A student string quartet set the mood in the Media Center, while a delicious fresh breakfast was prepared and served by Cardinal culinary students. Many other young men and women—representing the school's JROTC program, the football and baseball teams, student government, and CITA—helped guests feel welcomed and appreciated.
Post 2 Board of Education member Becky Sayler and Cobb Chief of Staff Sherri Hill were in attendance, as were many of Osborne's administrators and educators. After everyone had a chance to enjoy the food and meet those around them, Dr. Needle asked the guests to stand and formally introduce themselves and their organizations.
Leaders from the Cobb Chamber, Cobb EMC, LGE Credit Union, Bank of America, Modern Woodman, Edge Home Finance, Heritage Benefit Solutions, C.W. Matthews, Life Church, West Cobb Church, the Latin American Association—to name but a few—were among the special guests. They were joined by administrators from Osborne's elementary and middle feeder schools, as well as the Cobb Schools Foundation and Cobb Collaborative.
Once all were acquainted, Principal Troy Jones delivered an inspiring message about his vision for Osborne and the surrounding community. He pointed out that the school has doubled in size in the last decade and continues to grow.
"Our community is wonderful, and I implore you to be a part of it. Everything we do, we do as a family. When you walk onto this campus, you will feel loved and supported. Everyone is welcome," Principal Jones said.
"We are Osborne proud, and we are coming. We will blow the doors off this community and want you to be part of it. This is mutually beneficial, so let's do this together!" Principal Jones concluded to applause.
Dr. Needle then highlighted the dramatic increase the school has experienced with its social media accounts. "It is evidence that the community is hungry to know what is going on in our school," he said.
Athletic Director Ron Boggs also invited attendees to be part of helping the school with several unique opportunities. "We want our coaches to be able to focus on our athletes and not on all the logistics it takes to run a program," he said. "There are many ways you can partner with us to add value to our kids and empower our coaches." AD Boggs mentioned three needed projects for potential partners to consider: baseball and softball scoreboards, a windscreen for the sports complex, and new bleachers in Cardinal Stadium.
The final speaker, CITA Director Dr. Tiffany Barney, briefly discussed and highlighted the Cobb Innovation and Technology Academy, the District's cutting-edge career academy that prepares students in 17 different career pathways. Dr. Barney invited attendees to visit CITA and witness the exceptional training students receive, as well as the many opportunities the academy presents for local businesses.
The consensus opinion from guests, educators, and students after the Partner in Ed Summit was optimism and excitement for what lies ahead for Osborne and the nearby community. With such positive and motivated leaders, the future certainly looks bright for the Cardinals and their stakeholders.