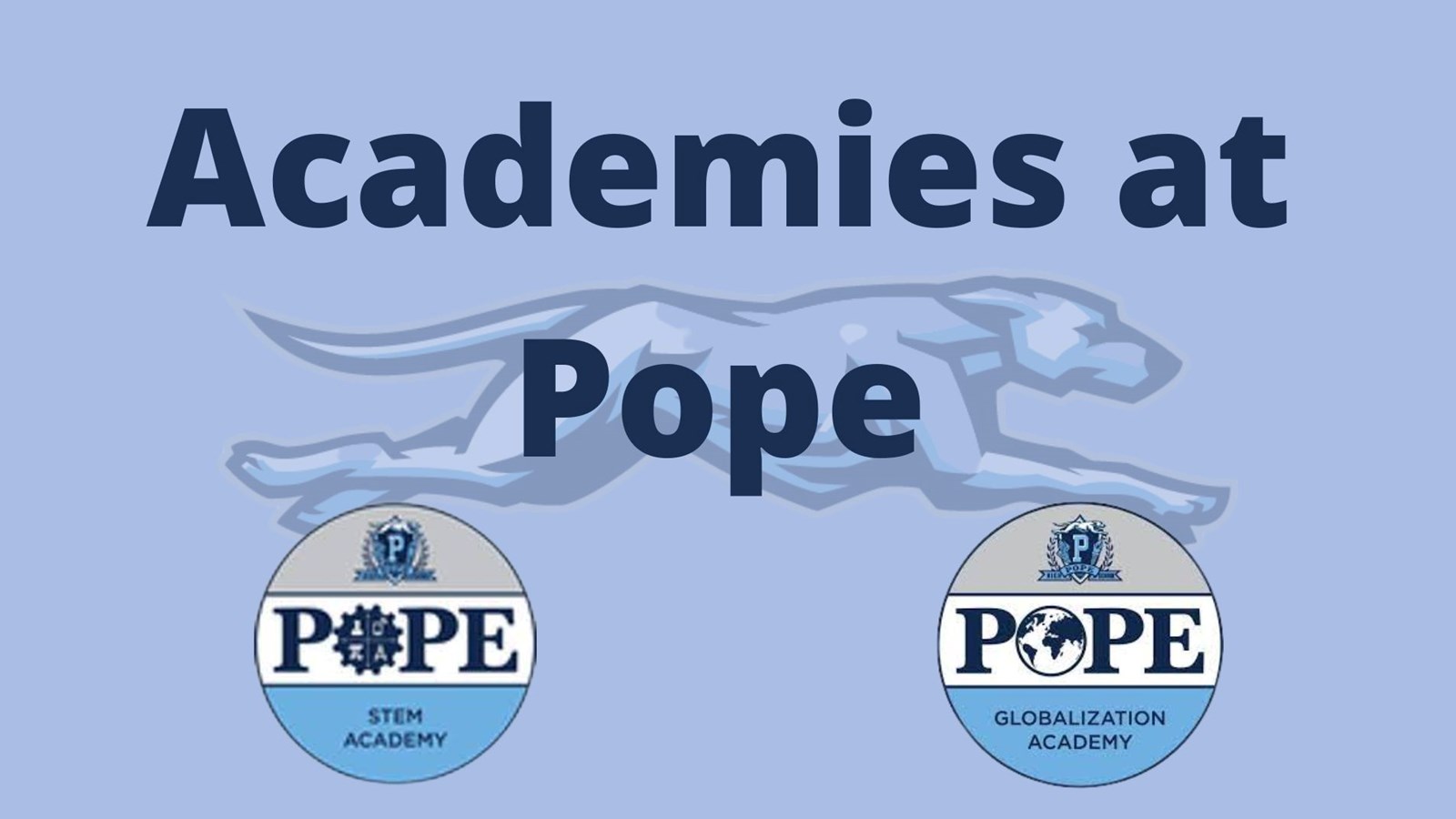 Pope High School does not have availability for School Choice for the 2021-2022 School Year.

Scroll down for Timeline
College and Career Pathways @ Pope High School
Academies @ Pope Mission
To cultivate future leaders in high demand fields including STEM and Global Connections. The Academies offer specialized curriculum and experiential opportunities to explore their areas of keen interest and develop 21st century skills.
What are the Academies @ Pope?
The Academies @ Pope are career pathways that offer a unique and rigorous curricula which combine academic and occupation-related course requirements to students of exceptional merit. The goal of the Academies @ Pope is to prepare students for college and expose them to high-tech, high-need career options in STEM and Global fields
The culture of the Academies @ Pope is an environment where students receive personalized instruction enhanced with enriching learning experiences. Academy scholars collaborate with their high-achieving peers to propose, plan, and design solutions to real-world problems. Our project-based interdisciplinary learning provides opportunities for students to understand problems STEM experts face in the real world. STEM scholars will have opportunities to engage with industry experts throughout their program.
Why Academies?
The College and Career Academy Network launched by the lieutenant governor requires students to complete a pathway in high school to prepare them for college or a career. The state has taken other steps requiring students to identify a career pathway focus in middle school.
Who should choose the Academies at Pope?
The Academies @ Pope are designed for talented scholars who have a serious interest in STEM or Global career fields. Academy scholars should be creative self-starters who maintain high expectations for themselves and enjoy working in a team environment. These scholars should be interested in exploring a variety of learning opportunities that extend beyond the typical school day.
How do Academies differ from traditional curricula?
The Academies @ Pope's enriched curricula includes:
Preparation for college AND high-demand, high-wage careers
Parent and community involvement
Personalized learning environment for ALL students
Engaging curriculum and instruction
Practical work experiences such as job shadowing and internships
Opportunities for online courses, college credit, and professional certifications during high school
Project-based, interdisciplinary learning
Enrichment opportunities that extend beyond the traditional coursework
How do I become a scholar in one of the Academies @ Pope?
Future Academy scholars must apply online to their choice of the Academies @ Pope. The applicant will submit standardized test scores, teacher recommendations, and written essays.
Arabica with Academies Flyer 2023
Attention School Choice Applicants: If you are NOT in the Pope Attendance Zone, you will have to go through the School Choice Application process.
Applications
STEM ACADEMY FORMS
Applications are closed for the 2024-2025 school year
GLOBALIZATION ACADEMY FORMS
Globalization Academy Application 2024-2025
Globalization Academy Recommendation Request