Class of 2023 Commencement Information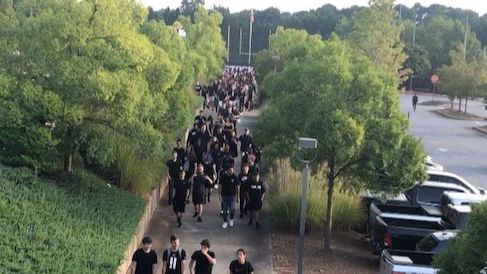 Class of 2023 Commencement Details:
Date: Monday, May 22
Time: 7:30 pm
Location: KSU Commencement Center
CAPS, GOWNS & TICKETS:
If you have not picked up your Cap & Gown order, please stop by the front office between 9am-12pm to pick up your order. Please visit www.ATLGrad.com to place your order if you have not already done so. You may not participate in the commencement ceremony without the Kell High School Cap & Gown designed by ATLGrad.
Need additional Commencement Tickets?

Ticket allocations have been distributed and can be found via the Student Portal; if you were a December graduate, please email Amelia Sanders for ticket allocation confirmation.

If your family needs additional tickets, please complete the request form here: https://forms.office.com/r/p7Rj9iAA0s. This additional ticket request form will close on May 1st and no further requests will be taken until after graduation practice on Thursday, May 18, 2023. Additional tickets are not guaranteed and will be distributed equitably.


All tickets will be distributed at the Commencement Ceremony practice held at Kell HS the morning of Thursday, May 18, 2023; the practice is required for all seniors planning to participate in the ceremony.
SENIOR SIGNING DAY
Congratulations on ending the near of your Senior Year! We are proud of all that you have accomplished and look forward to celebrating you. Kell is pleased to host our Academic Signing Day on May 19th. This event is designed to celebrate the academic achievement and success of the senior class. Similar to the ritual of an athletic signing day, senior scholars will be recognized as they publicly "sign" a certificate of commitment to the college or university that they plan to attend in the Fall of 2023 or branch of the military they plan to join.
To participate, complete the form Senior Siging Day.docx and submit this form to Ms. Young by the due date.